The drone industry has taken flight, introducing a new form of media production that pushes the boundaries of photography, journalism and cinematography. Academy of Art University students have the opportunity to be part of this exciting shift in communication in the new drone production classes at the Academy's multimedia school.
Drone production courses give students hands-on experience with remote-controlled aircraft, enabling exciting aerial footage. In our courses, students explore strategies and techniques used by professionals to conduct aerial photography and cinematography, employing industry-standard equipment to capture stunning visuals from angles never before possible.
"If you want to discover photography or discover your images from a different perspective, take your vision to a different perspective. The drone program is a good place to experiment." —Steve Kotton, Associate Director, School of Communications & Media Technologies
Flight Club
Drones play a key role in empowering the creative voices behind the future of entertainment and news. Drones are a smaller and less expensive option compared to the helicopters and cranes commonly used in productions to capture spectacular footage. In addition to cutting down on production costs, drones reduce the number of safety risks, because they are unmanned and put no on-board crews in harm's way.
Amazing Heights
Courses emphasize creative storytelling with high production values. The classes teach students the art of cinematography using drones, as well as the different ways drones can piloted safely, following Federal Aviation Administration rules and regulations.
Each student is issued a small personal drone and starts by learning how to fly in a controlled environment. As students advance, they move on to medium-sized models that can fly for several miles. Eventually, students take the controls of a large professional drone manufactured by DJI, the industry's largest company. Students who complete the program will be fully qualified for employment as cinematographers and aerojournalists, prepared for federal certification.
"As a student in the first semester of this class, I appreciated it, and I'm glad I registered for it," says Weilin "Willie" Liu (MA 2016, Communications & Media Technologies). "Before this, I had no chance to learn or even to touch a drone, although I had heard about them many times. In the class, our instructor [Patrick Egan] taught us the most accurate way to fly the aircraft and, more important, the rules of flying drones—both the law and the ethics."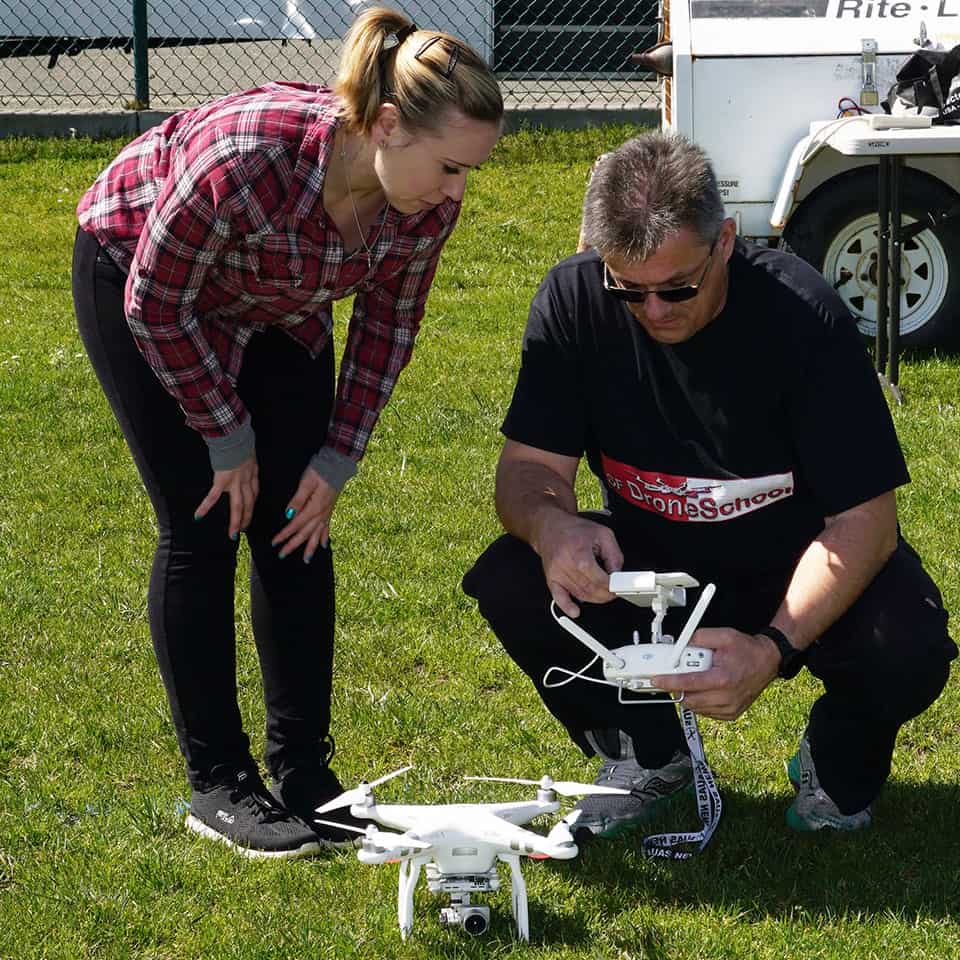 "The two principal benefits for artists are in storytelling and visualization. A drone allows the audience to travel with characters while hovering above a car roof, or to put the audience fast and low over an expanse of water or snow—something you can't do with a boat or helicopter." —Richard Hart, Faculty, School of Communications & Media Technologies