In 2011, Aaron Aikman was in the audience viewing 20th Century Fox's revival of the beloved Planet of the Apes series. Just five years later, this School of Game Development graduate and former basketball player found himself as HALON Entertainment's lead engine artist working on the trilogy's final installment, War for the Planet of the Apes.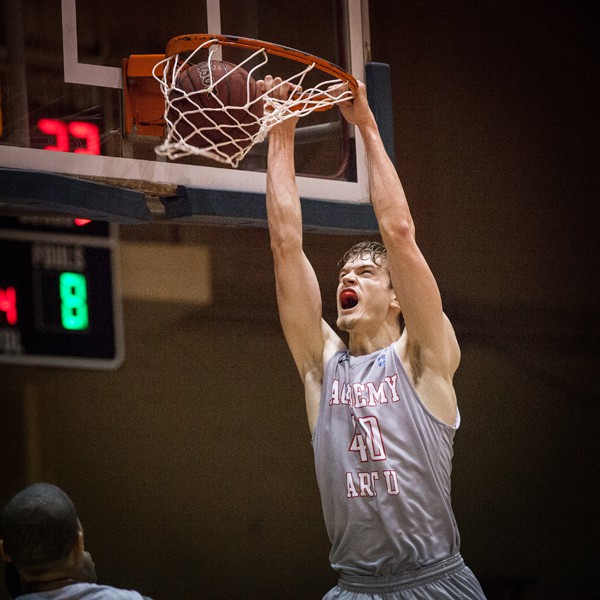 Urban Knights Accomplishments
The opportunity was foreshadowed by Aikman's dedication as a student-athlete. A three-time PacWest Academic All-Conference and two-time Division 2 Athletics Directors Association Academic Achievement Award recipient, Aikman remains program third in career field goal percentage (.534), fifth in blocks and sixth in rebounds. He also serves as the lone Urban Knight ever to go a perfect 10-for-10 from the field, a feat he achieved versus Humboldt State on Nov. 9, 2013.
"Many of the values the Academy encourages in its student-athletes carry over to the workplace: discipline, seeing the strengths of others, teamwork, leadership and hard work," Aikman observes. "Being an Urban Knight allowed me the opportunity to practice these skills while pursuing a career and a sport that I am passionate about."
Career Milestones
Following graduation, Aikman initially worked in the Bay Area at an independent game development studio called Flatter Than Earth. In Aikman's time there, the company focused its energies primarily on its debut title, Puppet Quest, a side-scrolling 3D adventure game for PC and console. As a technical artist, Aikman oversaw and took part in character and environment creation including modeling, sculpting, unwrapping and texture refinement, among numerous other responsibilities.
To be closer to the woman he would marry, Aikman took his skills to Southern California in 2015. That's when he discovered HALON Entertainment, and with it, the fascinating world of "previs"—short for previsualization.
Previs is the process of creating a representation of what a film, television show or game will eventually look like. Through the use of computer graphics, previs involves visual techniques for imagining complex scenes in a movie before filming has begun.
When Aikman relocated to Southern California, HALON was looking for an engine artist to spearhead the integration of real-time technology into its previs pipeline. Aikman was the perfect fit.
Aikman's role as a lead engine artist involves him in a number of technical tasks such as doing shaders, effects and tools…as well as rigging, animation and tools in the 3D content creation package Maya. With this role, he switched from game development to an animation career.
Depending on the project, he also handles asset creation, research and development, documentation, motion tracking and compositing work. "I would say to succeed in this field, you need to be adaptable, able to troubleshoot, and have a wide range of art and animation skills," he observes.
When HALON reunited with Matt Reeves, director of Dawn of the Planet of the Apes (part two of the trilogy) for War for the Planet of the Apes, Aikman contributed as a member of a 17-person previs team to work on a number of sequences in the film over a 10-month period. For this project, Aikman was primarily tasked with handling scene assembly, effects and lighting, as well as tools for managing cameras and effects in Unreal Engine. With its proprietary tools and pipelines, the team was able to render large-scale scenes with numerous effects and huge crowds of apes more easily than with a purely Maya-based pipeline, offering a superior way to facilitate Reeves' vision for the film.
Previsualization reel for War for the Planet of the Apes
During the "postvis" (postvisualization) process, the team polished several hundred shots from the film. Aikman helped by developing tools and effects in Unreal Engine as well as working with others to track cameras to place them in digital scenes, light and render actor replacements and set extensions, and comp all these elements together in Adobe After Effects.
Postvis combines digital elements and production photography to validate footage selection, provide placeholder shots for editorial, and refine effects design. Edits incorporating postvis sequences are often shown to test audiences for feedback, and to producers and visual effects vendors for planning and budgeting.
When War for the Planet of the Apes opened the weekend of July 14, 2017, it grossed more than $56 million at the box office, making it the sixth-largest opener at that point in the year. Critics and audiences praised its visual appeal.
"It was exciting to be a part of a huge project with so many talented artists, especially because the film features a rich narrative as well as fantastic visual effects," says Aikman.
'Follow the Fun'
As HALON continues its visionary work for productions across media and industries, Aikman remains the reliable and bright self he forged as an Urban Knight.
"My advice to a freshman [at Academy of Art] would be to explore every aspect of game development and then focus on trying to master the role that most interests you," he says. "Follow the fun!"