Alumni Shampayne Clay (softball), Tyler Strawn (baseball), Brett Adami (baseball) and Molly O'Brien (basketball) have found themselves with unique opportunities to work as production assistants, some for NBA TV and the others for the team itself, thanks to their education and campus life experiences in the university's Communications & Media Technologies School.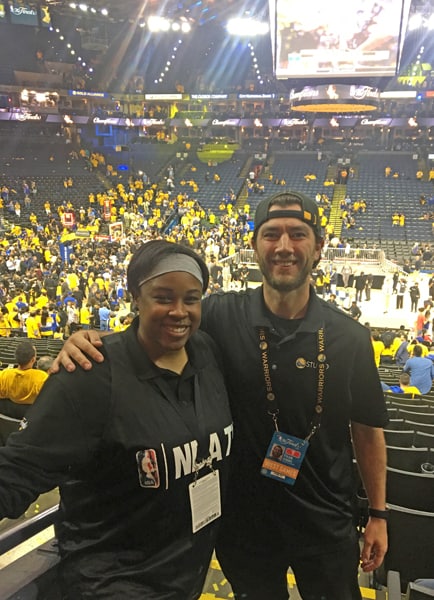 Shampayne Clay: Taking on Bigger Responsibilities
A 2012 graduate of the Academy, Clay is the veteran of the group, having worked for the school as studio and editing manager since the start of that year. She's also an original member of the Academy's softball team and remains among the team's top five in batting average, slugging percentage and home runs. Clay remembers her pioneering days at the only art school in the NCAA as particularly exciting…alongside her achievements on the diamond.
"Coming to Academy of Art, I knew slim to nothing about cameras or other gear," she says. "I think I learned quite a bit in the Communications & Media Technologies School about all kinds of cameras and other equipment. As a production assistant, you don't have to have very much knowledge about camera gear, but I think with me knowing more, I was able to take on bigger responsibilities.
She recalls that in the midst of the championship action, "my camera operator was able to leave me with a camera and get certain shots that he needed while he was on the other side of the arena shooting arrivals of the [Cleveland] Cavaliers."
Fast-forward to today, and Clay is in her second year working for NBA TV—not just in The Finals, but during the regular season as well. A typical Warriors home gameday sees her meet with NBA staff including her camera operator (who happens to be Warrior guard Klay Thompson's uncle); they go over what shots to get during the players' arrival and warm-ups, and prepare various cameras and lenses for the operator. At halftime, Clay ensures camera memory cards are delivered to editors outside the arena and that new cards are loaded and formatted by the start of the second half. The same process unfolds following the game.
As Clay has become more trusted in her capacities, she was assigned to work practices, media days and even the Warriors victory parade on June 15. Based on her collegiate experience, subsequent development working directly for the Academy, and her opportunity to assist a professional sports organization, Clay explains that having an open mind is essential to success.
Her advice to students? "Take in everything possible in your major," she says. "Don't come in looking to focus on a single thing, because there's so much that you can learn and do. I originally wanted to just be an on-camera sports broadcaster. But it was a good thing I was bad at it, because it opened my eyes to study production as a whole and not just as an on-camera talent."

Tyler Strawn: The Road to 'Extremely Amplified'
In the summer of 2016, Strawn worked as a Major League Baseball (MLB) gameday audio and minor league video logger for MLB Advanced Media when he heard about an opportunity with the Warriors.
"Without hesitation I applied online that night," he says, calling it "the best decision I ever made. I felt extremely under-qualified for the position, but I fit right in thanks to what I learned at Academy of Art."
Strawn, the Urban Knights' everyday third baseman for two seasons as an upperclassman, was brought on with the Warriors in the fall of his graduating year to assist the live production team and Creative Services Department. Throughout most of the regular season and in The Finals, he spent gamedays at Oracle Arena, setting up tripods, cables and cameras for the live production displayed on the jumbotron. Though some tasks he was assigned seem small, Strawn describes them as "extremely amplified" due to the atmosphere, with players and coaches swarmed by media in search of sound bites. But he's no stranger to that type of environment.
"Being a student-athlete at ART U helped me prepare for the world of live production," says Strawn. "On the baseball field, everyone had one common goal, and that was to do anything for the team and try to execute your role to the best of your ability every night. The production world, especially in sports, literally follows the routine of the team. But it can be an intense atmosphere, because the crew is dealing with corporate sponsors and is responsible for advertisements that cost money.
"I'm used to pressure from playing sports and working as a team to accomplish a collective goal. By working hard on the field and in the classroom, it makes you someone people will want to work with."
Beyond his gameday work, Strawn could be found at the Warriors' Oakland headquarters on a weekly basis. There he would log game and documentary footage for the Warriors studio, which distributes content across multiple platforms. For Strawn, who helped create GIFs that were featured on the team's Twitter account and edited commercials that appeared on television, graduating from the Academy was a critical step in preparing for the professional sports media industry.
Brett Adami: Don't Miss an Opportunity
Adami, a former baseball teammate of Strawn in baseball and fellow 2017 graduate, began with the NBA in April. His responsibilities have primarily involved handling camera operators. Adami's first step toward the opportunity was developing his skillset and network in the School of Communications & Media Technologies. Bay Area CBS sports anchor/reporter and Academy professor Kim Coyle put him in touch with a cinematographer, Daniel Murphy, whom he worked alongside through the end of the regular season and in the playoffs. Adami's athletic background and full-time position as a studio technician for the school made him a particularly attractive addition to the Warriors organization, he says.
"Academy of Art University helped me prepare for working in this fast-paced, intense environment by giving me hands-on experience with professional equipment. The things I learned helped me be comfortable working in a professional setting such as NBA games.
"Having been a student-athlete, I see how this role has similarities to playing sports. You have to always be on your toes, because you might miss an opportunity. The camera operators are counting on you to change a battery or lens fast, so they don't miss a great play. Things come up unexpectedly, and you just have to react and be as calm as you can be to get it done."
While assisting with "everything"—from changing batteries to swapping lenses to picking out shots for an operator in charge of slow-motion action—Adami has covered players arriving, in the locker room, and doing warm-ups. He was assigned to handle lighting in interviews with NBA Commissioner Adam Silver. Prior to the start of The Finals, Adami worked with television child star Miles Brown on media day interviews. And throughout the series, he was constantly on the move, getting shots of whatever was happening in Oracle Arena.
O'Brien, like Adami, operated under the NBA's production umbrella. The 2016 graduate notched her second year with the crew, which included close friend and fellow Communications & Media Technologies major Zayanya De Alwis. This year, working in a similar capacity to her production assistant role in the Warriors' 2015 championship run, O'Brien was charged with managing various tasks for the company and assisting with a variety of shoots.
"Every year the experience gets a little bit sweeter," she says. "Especially with the Warriors winning it at home this year, it was incredible. I'm so happy they got to experience this on their home court, with all of their family and friends around. And seeing so many Academy students working was really neat. I love the atmosphere that The Finals brings and, on the production side, it gets pretty crazy. But it's an incredible thing to be a part of."
As the Warriors remain poised for more championship runs and a move into the city of San Francisco in the near future, Academy Communications & Media Technologies students figure to remain close to all the action.
Resources
• Keep up with all the Academy of Art University athletics news at the Urban Knights' official website.