San Francisco's firefighters and Academy of Art University have long had a close relationship—one that's especially in evidence during the firefighters' Toys For Tots drive. As part of the campus-wide "Week of Giving," Academy students join in the holiday spirit to assist the firefighters. Since 2011, those volunteers have included representatives from the university's Athletics Department.
This year a sizable contingent of artist-athletes from the baseball, men's basketball, women's tennis, and women's and men's track and field teams jumped into the action, wrapping and delivering gifts, organizing and stocking shelves, polishing up classic fire engines, and preparing holiday cards for the firefighters.
"We really enjoyed our time with the firefighters," says baseball coach Dan McDermott. "What could be more fun than a bunch of big kids from our baseball program being around an unlimited supply of toys?"
"Those people who need help in our communities are just as much a part of our team as the guys I step on the field with," says baseball catcher James Singzon. "The San Francisco Fire Department is a staple for warming families during these Bay Area winters. We can broaden our force when we all work together sharing our holiday cheer."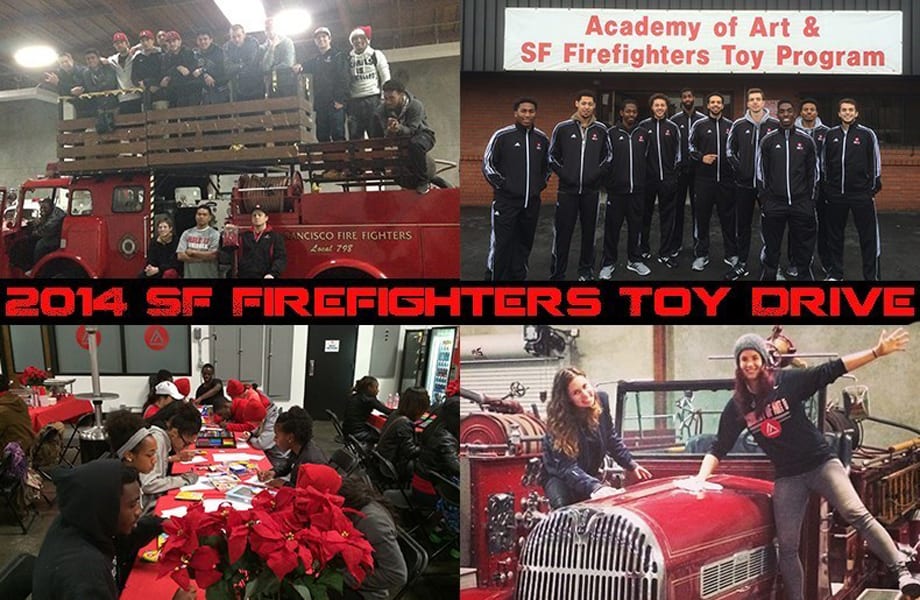 The Urban Knights men's basketball team, in the midst of the 2014–15 campaign, temporarily stepped out of campus life to help deliver supplies to the nearby police station and mingle with the firefighters.
"It was great to see the guys working together off the court," men's basketball assistant coach Phillip Samuel says. "Each guy has his own personality, and it really showed in a positive way helping with Toys for Tots. The time we put in will go a very long way in some of those kids' futures. We are very much looking forward to doing this again."
Members of the women's tennis team were also present and lent a hand cleaning historic and classic fire engines in advance of gift deliveries in late December.
"We had an amazing time giving back at the toy drive," says Urban Knights tennis player Michelle Dandik, "and having fun with fire trucks and cleaning them up was a big highlight of the day."
The track and field teams wrote holiday cards to be sent to community members. "Every now and then, we are presented with an opportunity to be part of a truly great event. The firefighters toy drive is one of those moments," observes head track coach Charles Ryan. "Helping underprivileged children alongside some true heroes of our city is an honor."
Athletics Associate Director Meghan Bushnell sums up the effort: "We are excited to give back at the annual San Francisco Firefighters Toy Drive, an ongoing tradition between the Urban Knights and San Francisco Firefighters Local 798 since 2011. From sorting toys for age groups, to washing the fire trucks, to creating heartfelt cards for the young children of our community, our artist-athletes are able to help create a memorable holiday season for the families of San Francisco."