"It's like being an archaeologist. I'm a film archaeologist."
Janice Engel is an instructor at the School of Motion Pictures & Television. She is also a documentary filmmaker screening her "labor of love and passion" at this year's San Francisco International Film Festival.
Raise Hell: The Life & Times of Molly Ivins is slated to run at the BAMPFA and Victoria Theatre on April 13, Saturday, and April 14, Sunday, respectively. Earlier this year, it screened at the 2019 Sundance Film Festival.
It is a feat that's been a long time coming for Engel, especially considering that she worked on the project for a little over six years.
The film showcasing the life of Molly Ivins is the first documentary ever to be created on the Texan newspaper columnist and outspoken political commentator. It couldn't have come at a better time too, according to Engel.
"She spoke truth to power, and gave voices to those that didn't have one, and used humor to bridge the divide and get her message out, which was very much about the First Amendment," she said on Ivins. "She's very relevant to what's going on right now. The threat to the First Amendment is going on right now."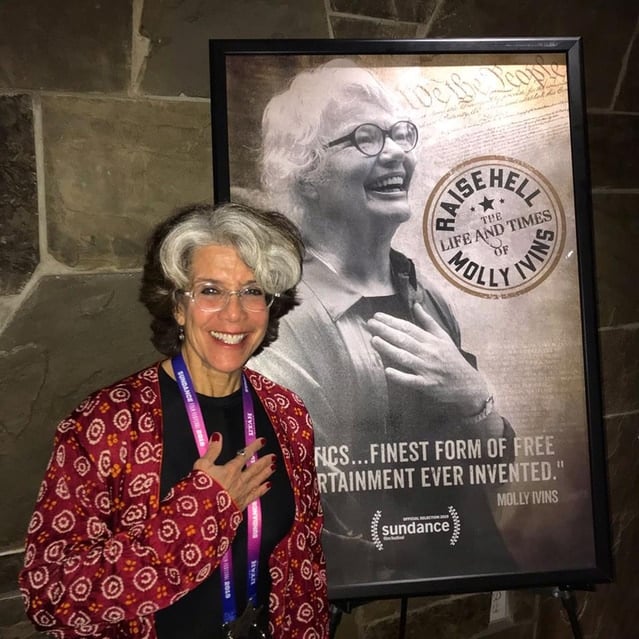 Documentary Filmmaker as Archaeologist
Her interest in the story of Molly Ivins began upon seeing a play called Red Hot Patriot: The Kick-Ass Wit of Molly Ivins. Former MPT Executive Director James Egan had asked her to see it, so he can gauge if she would want to create a film with him about Ivins.
"I was blown away by the story," she said. From there, she got to work, deep diving into various archival materials on her subject. Two months of doing interviews and raising $125,000 on Kickstarter secured the production of the documentary.
"When you dig into someone's life and realize who they are, who they are in terms of their public persona, but then who they are on the inside and what motivated her to become who she was, [there are] many things that you find out," said Engel.
"What I found out about Molly was not only how brilliant she was, but how prescient she was. Things that she wrote, said, talked about 10, 15, 30 years ago are happening right now."
This drives back to the socio-political relevance of this documentary today. "I think it's going to hit a lot of heart," predicts Engel. "It's gonna open to a lot of people. The time is so ripe for her."
Time is Ripe
Ivins' importance in the advocacy of the First Amendment is so well-established that even former presidents of the nation have nothing to say but good things about her work. Bill Clinton puts it succinctly:
"If she writes something good about you, it's the best thing in the world. She writes something bad, it's almost as good."
The archival sources were crucial in the production of this film. Engel had to rely on the "box in the [Dolph] Briscoe [Center for American History], where her papers are housed. The filmmaker explained that everything in the documentary were dug up from the archives.
"From C-SPAN. From appearances on various CBS shows. NBC shows. ACLU speeches. Lectures. Things she did all over the country. Footage that we found that I spent years digging in her archives and finding, including letters from her childhood all the way up until she died. It's an incredibly deep archival dig."
Finding Similarities
Ultimately, all this digging showed her that she may actually have had a lot more similarities with Ivins than she realized. She refers to two of Ivin's most famous quotes as particularly crucial in shaping her perspective on inequality.
The first quote is, "I never blamed the people." The other one is, "It's not about who's doing the screwing, it's about who's getting screwed."
"I'm an outsider. I buck authority. Particularly male authority," said Engel on relating to Ivins. "Patriarchal big daddy telling me what to do. I can't stand injustice, and Molly's whole thing was a crusade for the underdog. For the people who were being left at the bottom of the heap, and she gave voice to them."
---
Article originally published by Kyle Roe in Art U News.
Images courtesy of Raise Hell: The Life & Times of Molly Ivins Kickstarter Page.