Over the course of the Spring 2023 semester, several students from the Advertising School participated in a pitch contest to multinational technology company, Apple. The contest was a key component of the course titled Future Agency, a leading-edge program focusing on emerging creative marketing communication technologies with real world projects and products.
The students were split into four groups and tasked with conceptualizing and creating a mobile app around the strategic theme "Get Together." The goal? Students would be tasked to create an app specifically for the University using Swift, a powerful and intuitive programming language for all Apple platforms, making it clear that their pitches should reflect that Apple was the partner and Academy of Art University was the client.
With their strategic theme starting point set, the groups were given free-range to produce a mobile app that highlighted five key areas. First, the app had to have a section for questions and answers, providing Gen Z students a way to communicate in a manner they are accustomed to instead of email. The app also needed to provide a "consolidated sense of campus" to make for a better onboarding experience for new students. Easy access to student resources, greater connection to industry, specifically for graduating students, and a sense of community were also requirements and topics of great discussion amongst newly enrolled and seasoned students.
Students make their pitch to Apple
The students received valuable feedback and assistance from Advertising School faculty, Doug Van Praet, Anna Villano and Ross Patrick throughout the semester and finally, were able to visit Apple Headquarters in Silicon Valley to pitch their app idea to top execs from the conglomerate.
With the pitches done, students returned to San Francisco to await feedback from the Apple representatives. In the early afternoon of May 25th, the wait was finally over. That afternoon, students, faculty, staff, Apple executives as well as Academy of Art's Chief of Staff, Chris Visslailli, gathered in Zoom to learn the winners of the pitch contest.
Prior to the announcement of the winners, Apple execs Silvia Herrero-Duvaras, Senior Account Executive and Christopher Vieira, Ed.D., Education Leadership Executive gave kudos to the students and their instructors stating that Academy of Art should be commended for its "innovation and rapid implementation" of the Future Agency course and that the content in each groups pitch was so impressive that they "couldn't believe it was coming from students." They noted that reviewers of each pitch were "tough on the students."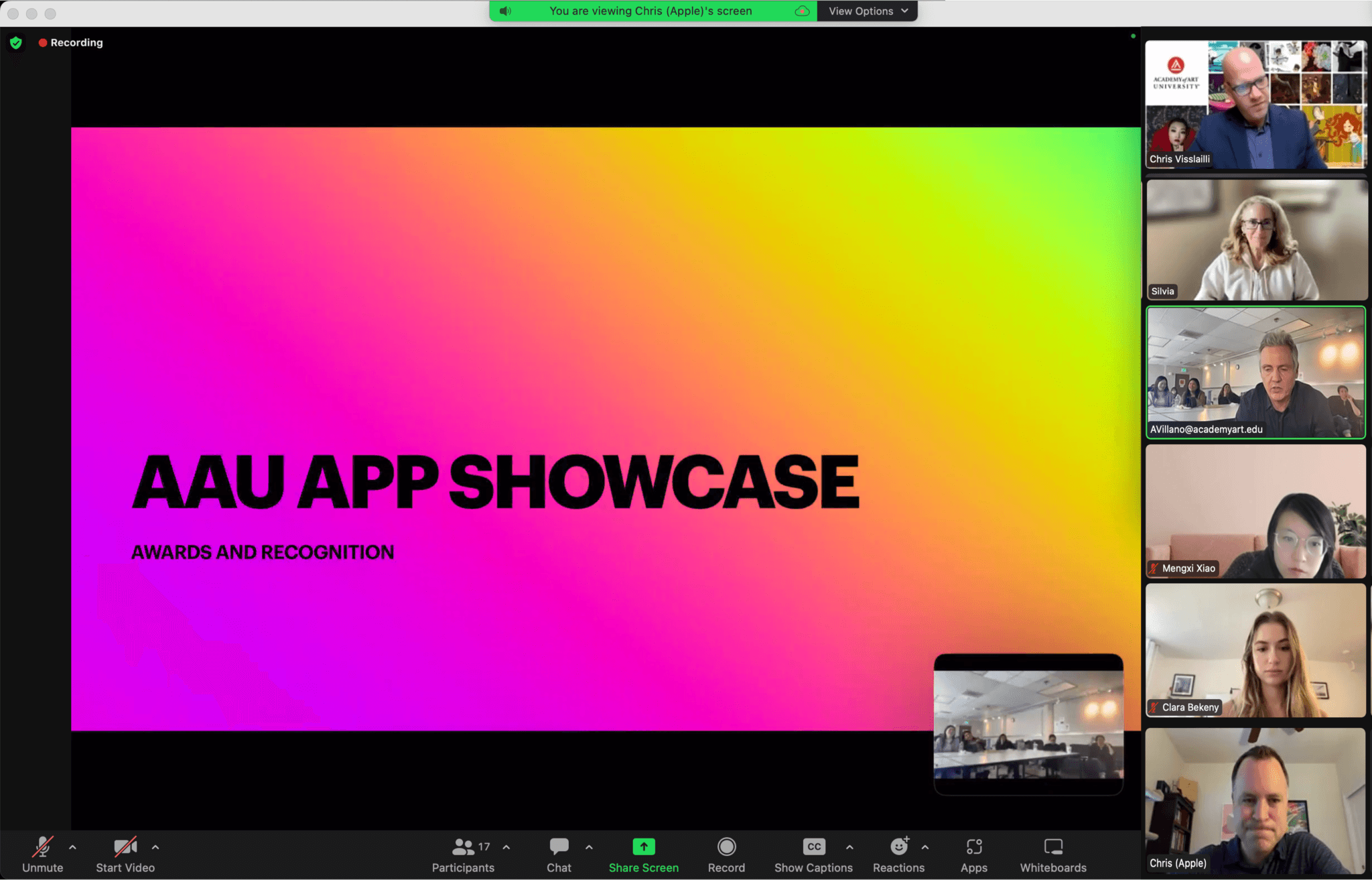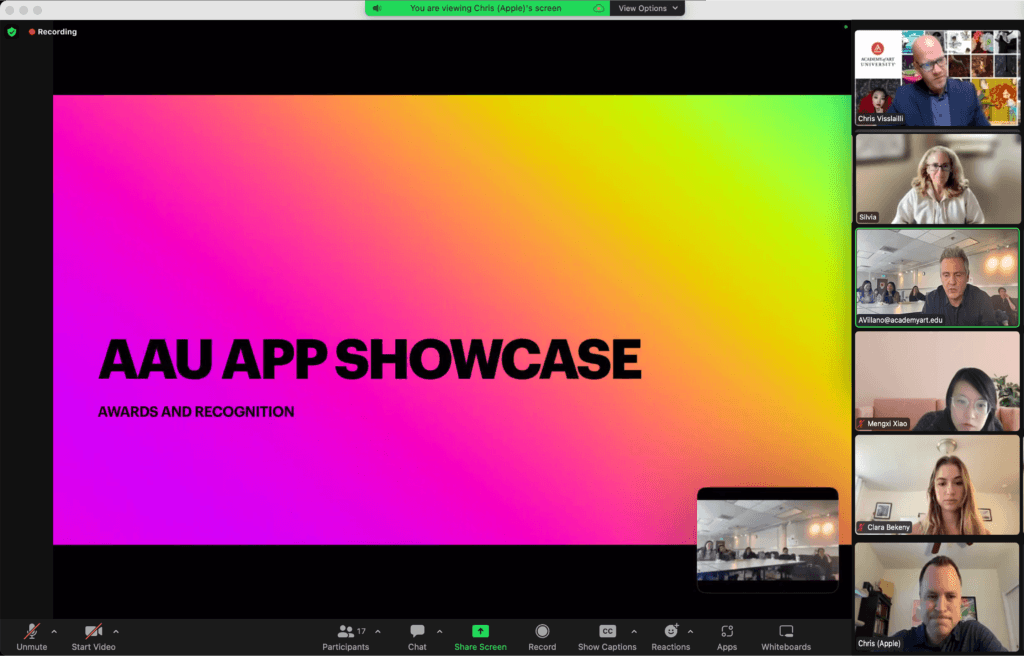 After many more congratulatory and motivational words from the Apple execs, it was time to announce the winners.
And the award goes to …
Washington Chua, Kimberley Zhang and Pranav Sudhakar were the members behind Group One's creative pitch concept "Life Beyond Campus". They received the honor of Best Pitch Delivery. The Apple reps liked that this group incorporated quotes and poems into their pitch creating originality. Group Two's "Never Ending Journey" won Best Pitch Content.
Members of Group Two, Dan He, Janvi Rathod, and Naomi Rojas put together a presentation that made a "compelling case with clarity and depth" that wowed all those who reviewed it. Group Three's "Better Together" won for Best User Interface. Its members Clara Bekeny, Carolina Magnolia Meraz Lozano, Mengxi Xiao, Shiqiu Sun and Yuezhou Yu, developed an application design that included an image carousel and ArtU icons on the campus map which made their "less is more" approach to the app design "a developers dream." Group Four's "Friends for Life" won Best User Experience. Members Yue Sun, Ziying Ye and Ji Yu, created a presentation that identified key components like "user behavior and engaging content" which highlighted their attention to detail giving the app "a Pinterest like feel, which makes it a user's dream."
Lastly, the Apple execs revealed that Group Two was the winner of Best in Show. They were able to reach an "outstanding achievement in [the development of their] overall app." Christopher and Silvia both agreed that Group Two had put together a "comprehensive and exceptional package" for their pitch.
This was an incredible, once in a lifetime opportunity for Academy students, that is slated to continue for years to come, with Apple as a university partner. Many of the students expressed their apprehension to tackling such a task, but later realized that the process "helped develop presentation [and] sales skills." They also noted that they enjoyed "learning from different perspectives [with a] mixture of teaching and critiques" is what led them to achieve their presentation goals.
The development of the application specifically for Academy of Art University students continues with the use of Swift.  Future School of Advertising students may also have opportunities like this as the Future Agency course will continue for many years to come.