This past holiday season, audio streaming service Pandora wanted to inspire listeners that "Life is better with sound on," even through the chaos of holiday travel. Jacob Pepper, aka "Pep", an associate creative director at Pandora, helped develop the idea that audio, whether music or podcasts, can make any situation—say, canceled flights and lost luggage—better.
Pandora's "Sound On" campaign takes typical travel mishaps and transforms them into music-oriented slogans.
Signs bearing "Feeling that extra baggage fee Cardi B" posted in San Francisco International Airport or "It's about the journey playlist not the destination" at a train platform in New York are a few of the iterations where Pandora's "Sound On" campaign spun travel touch points and destinations into music-driven puns. Pepper says the idea was to reach and engage users in a way that strikes a chord with users and plays to Pandora's features and audio content.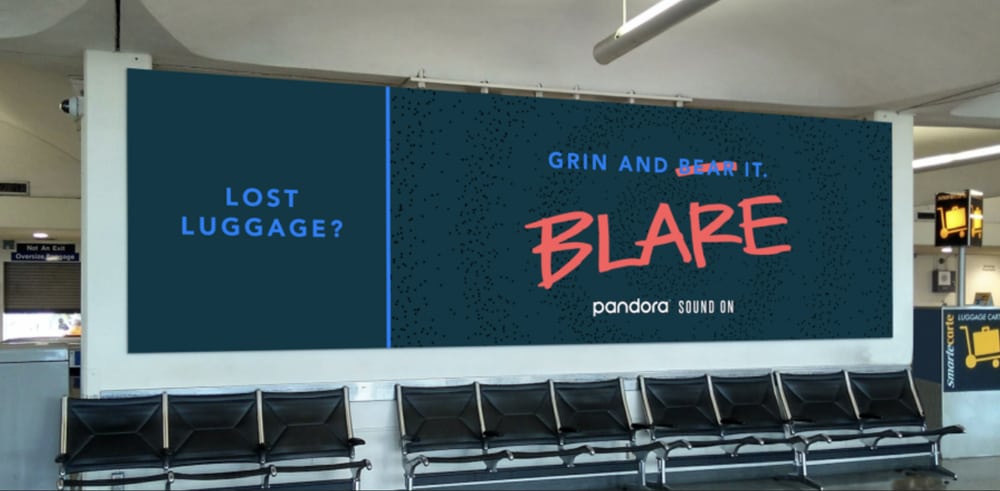 "We really wanted to talk to consumers in a specific way, but we also didn't want to do a typical holiday-type campaign," says Pepper, a School of Advertising MFA graduate. "We wanted to do something people could relate to and add something that was beneficial from Pandora."
Love of Hip Hop Makes Pandora a Perfect Fit
An ardent hip-hop head and overall lover of music, Pepper says working for Pandora has been a dream job. Cutting his teeth at ad agencies such as FCB West and McGarryBowen after graduating in 2009, Pandora called on Pepper in 2016. His main objective: to figure out "what are things that people want to watch on the internet." The end result is some of Pandora's most unique, if not quirky, content to date.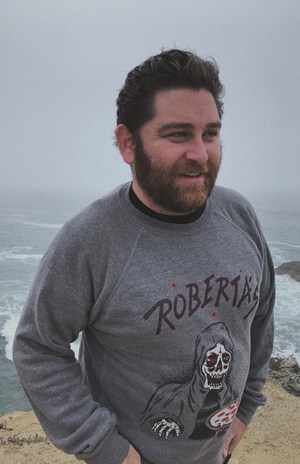 Some of Pepper's ideas brought Atlanta rapper Lil Yachty to a hotel, where he flaunts $2 million dollars worth of jewelry before munching on some chicken wings. Another is Trippie Redd, a rapper-singer from Canton, Ohio, wincing between the jabs of a tattoo gun, talking about his single, "Dark Knight Dummo." Macklemore experiences an astrology reading inspired by his album titled Gemini, and Berkeley's own G-Eazy plays the devil and angel on his own shoulders, a nod to his project, The Beautiful & Damned.
Vision, Ideas and Reasons
As colorful as these projects are, Pepper emphasizes that achieving his vision takes problem solving, organizing and accommodating as well as creativity. Not every idea is going to work, he says, and oftentimes he gets no more than 30 minutes with an artist. "As much fun as you have, it's not an easy job," he confides.
Pepper had always been imaginative but knew fine art wasn't for him. Originally a studio arts graduate, his creativity seemed to fit into the world of commercial art, and at the Academy, he "learned to think of ideas and the reasons why you think they work."
Under the guidance of former instructors Mike Brennan and Greg Coffin, Pepper figured out how to add substance along with style to his efforts, graduating with an Advertising degree and the school's 2009 Art Director of the Year award in hand.
"Pep never stops," says Coffin. "As a student, he always pushed beyond expectations, looked for areas of inspiration, had an amazingly positive attitude, and always worked to better his craft. This hunger and desire to continually grow is important in the business."
The Creative Side of Advertising
Jacob Pepper recalls that when he learned about the creative side of advertising, "it opened my eyes to how things happen; this is how people make things. I thought it would be cool to try and be more influential in the space."
With way more ideas up his sleeve, Pepper and his team are expected to build out more slogans, catchphrases and turns of phrase for Pandora's "Sound On" initiative as the year progresses.
Pandora is a key player in the audio streaming industry, and Jacob Pepper continues to live the dream while enhancing the company's narrative and advertising message. What he treasures most about Pandora, he says, is having ownership of his creativity and the trust to see his ideas through from start to finish.
"I believe in this brand, and I'm really passionate about it," Pepper says. "It's really easy for me to be excited about what we do and it gives me a lot more confidence to take chances in the work. I just never thought I would have my hand in it the way I do."
Photos courtesy Jacob Pepper
Article by Nina Tabios, reporter for Academy Art U News