Going into the Canadian Track & Field Championships and Rio Selection Trials, Mobolade Ajomale knew he would have to top his previous personal best of 10.25 seconds in the 100-meter dash to make the finals and achieve the Olympic time standard of 10.16. He pulled it off, running a personal best of 10.15 in his semifinal heat to take second place. He went on to place fourth in the finals with a time of 10.23. His fourth-place finish and 10.15 semifinals time earned him a spot on Team Canada's 4×100-meter relay team.
"To go out there and run a lifetime best and Olympic standard was so satisfying after such a long season," says Ajomale. "And now being on the team is the icing on top of everything I accomplished this year. It was such a grueling year and for me to still be able to continue to peak at the end of it was just unbelievable."
And the best—helping Team Canada to an Olympic medal in Rio—was yet to come.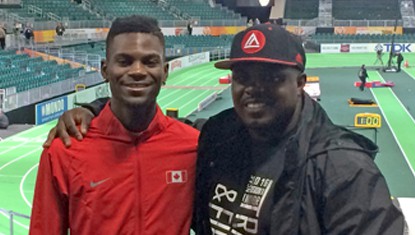 In Rio, Ajomale ran anchor during Team Canada's preliminary race. The team finished third in their heat and placed fourth overall to qualify for the final race the following night. Andre De Grasse took Ajomale's place as anchor during the finals, and Canada finished fourth. After the U.S. team was disqualified for an illegal baton exchange, Ajomale, De Grasse, Akeem Haynes, Aaron Brown and Brendon Rodney took their place on the podium to be awarded the bronze medals.
Director of Academy Athletics track & field/cross country Torrey Olson says having Ajomale represent ART U Athletics at the Summer Olympics was an incredible honor. "We are very proud of Mobolade and all of the work he has put into earn this opportunity. I am very excited for him to be able to have this experience."
The Making of an Olympian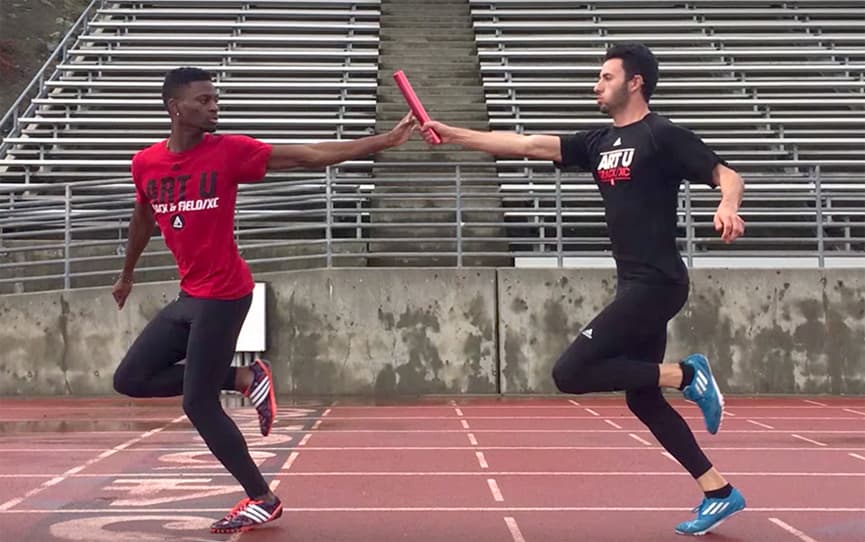 Ajomale had originally planned to attend University of Alabama but wouldn't have been eligible to compete in Division I. He was then recruited by the Academy on scholarship and decided it was the right step for him.
"When I started doing track four years ago I said to myself I was going to end up going to the Olympics," he says. "I always thought that no matter what school I ended up going to I would still be able to achieve my goals. There was a lot of fighting through things to make sure I was able to run. [The Academy] fully supported me."
He credits the opportunity the Academy gave him with helping him get to this level of competition. "I let them know from the start that I was going to try to go to the Olympics," he recalls. "Last year, although I couldn't compete with the school, they still prepped me to go to the World University Games. This year we set up a plan at the beginning of the semester. Once [the coaches] saw I was on the list to go to Worlds Indoors, plans changed."
All ART U athletes are supported by a robust athletic community. Resources keep them current in their classes. Training schedules are sent out in advance of semester start so student athletes can plan their schedules, and shuttles are provided to take the athletes to practice at the track or training in the weight room. Ajomale is more than appreciative of what the Academy has done for him.
"I think coming here is what made it possible so soon," he says. "My coaches knew and understood what I needed. Academy of Art University has helped me in ways I never thought possible."
Breaking Records at Home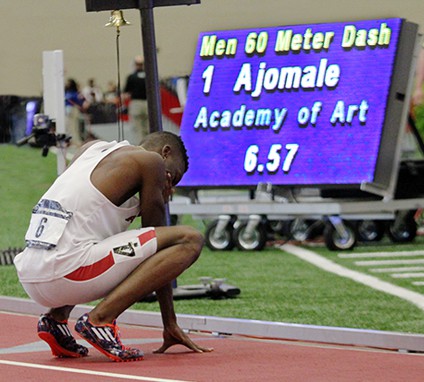 Although Ajomale didn't compete during his first year at the Academy, he had a record-setting redshirt freshman season during his second year. His accomplishments include:
Five-time NCAA All-American
NCAA Division II Indoor Track & Field Championship 60-meter title
Six program records
All-region in nine events
PacWest Championship Men's Track Athlete of the Meet
Two-time PacWest Male Track Athlete of the Week
Represented Canada at IAAF World Indoor Championships
"It's an amazing feeling to have accomplished the goals I set out for myself at the beginning of the season," says Ajomale. "Going into my fall training, my coach made me write down 10 goals, and I worked at each one the best way I knew how. Of course I haven't accomplished them all, but this is also just the beginning for me," he says.
Life After Track
Before coming to San Francisco, Ajomale thought about studying kinesiology. Once at the Academy, he quickly found a program he was more passionate about in the School of Advertising. "When I first got to the Academy, I was a little unsure because art school wasn't what I had planned to do. As the semester went on, I realized advertising was something I was really interested in," he says. After discovering a love for broadcast during radio and podcasting classes, Ajomale added a major in the School of Communications & Media Technologies.
"One thing my coaches have always told me is that there's life after track. Injuries do happen, and you always need something to fall back on. I'm still trying to figure out what I want to do and how to bring advertising and multimedia communications together. I have mentors in Canada who have similar backgrounds. When I retire from track, I still want to be involved in track and field through broadcast or marketing."
One thing he knows he enjoys is the Academy's urban setting. "In San Francisco everything is right here. There's never a dull moment and there's always stuff going on. We have different buildings around the city, and I enjoy that a lot more than if I were on a traditional school campus because I feel it's more real—I'm more part of the real world."