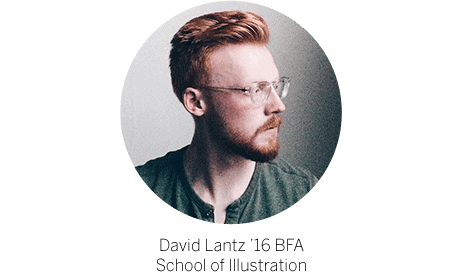 For David Lantz of Winterset, Iowa, making the most of his academic journey at the Academy meant taking full advantage of every opportunity that came his way and taking an active role in the campus community. Lantz learned about the Academy as a junior in high school when he was searching for the top art schools in the country.
He participated in Academy of Art University's Pre-College Art Experience program during the summer of 2010, and that "sealed the deal," he says. "The Academy met all of my needs as far as the curriculum and offered plenty of opportunity for networking." The School of Illustration nurtured his innate talent, helped him refine his skills, and encouraged him to pursue his passion.
"The Academy met all of my needs as far as the curriculum and offered plenty of opportunity for networking."
David experimented with mixed media and worked with ink and marker to produce numerous pieces to improve his technique and develop his style, resulting in a professional-level portfolio. His work caught the attention of the Nob Hill Gazette, a luxury lifestyle publication in San Francisco, which commissioned clever and insightful illustration work from him. That led to more freelance work, and his clients now include Facebook and Thousand Dreams Productions.
As a student he was asked to storyboard Life Briefly, a movie project produced by his friend John Gaps III. Set for release in 2017, the film tells the story of a blind musical prodigy who grows up performing with legendary country music acts, and stars Ashley Judd, Bill Paxton and Jurassic World's Ty Simpkins. "I generated about 400 boards for the production, and then John asked me to work on boards for a separate project, for an investors meeting. It has been a really great experience," says Lantz.

Award-Winning Work
Lantz' watercolor illustration The Road, inspired by the Cormac McCarthy novel, won the Academy's Barbara Bradley Appreciation Award in 2014. He next entered the work in the prestigious Society of Illustrators Student Competition in 2015, where it was a finalist among 10,000 illustrations submitted by more than 2,000 students. His mixed-media piece Ninth and Folsom was second runner up for Best in Show honors in the Academy's Spring Student Showcase.
For Lantz, Academy of Art University was more than just a school. It was a safe haven for creativity and a welcoming community full of like-minded artists eager to pursue careers in illustration and other creative industries. When he wasn't attending classes or honing his craft as an illustrator in one of the university's fully equipped drawing studios, Lantz worked in student housing at the Academy, and was a senior resident assistant when he graduated.
Keys to Success
Throughout his educational journey, Lantz followed three guidelines he set for himself that helped him push ahead in the challenging Illustration program and began making a name for himself:
Failure Is Your Friend
"If you're going to fail, fail so hard they name the crater after you."
Let It All Play Out
"Go with the flow. Trust the process, and don't force things. Whether it's the process of communicating with a client, generating ideas for a piece, or working alone or in a group, good work and patience are one and the same."
Recognize What You Make
"Style is a series of mistakes that an artist finally owns up to and flaunts. Allow style to grow with you, as it is a reflection of who you are and where you are in life."