Sculpture artist and Academy graduate Angella Holguin can turn steel, wood, brass and copper into water. The Mexico City-born sculptor's large abstract pieces take their forms from the sea. Nature's perpetual change and evolution inspire her. And they encourage Holguin to see herself in a similar way.
"I feel very close to the impermanence in nature. [It teaches] me that I am also never the same," she says.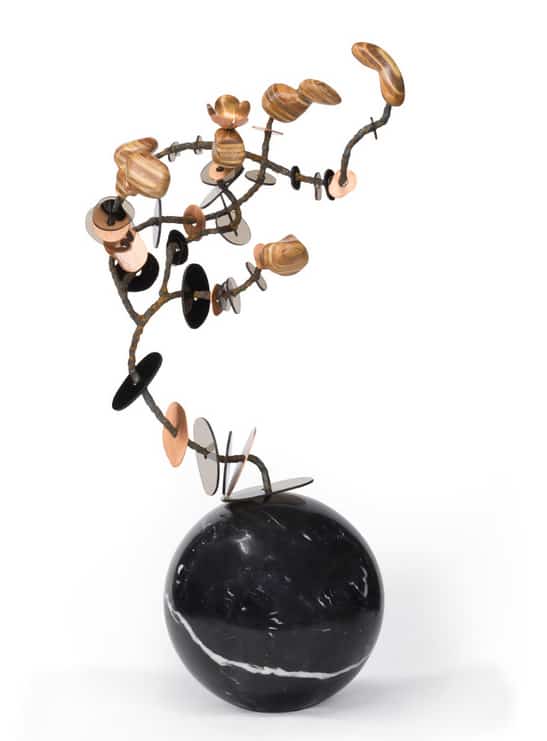 Holguin's growth as an artist started before she graduated with an MFA from the Academy's School of Fine Art in 2017. Art was always part of her life. Her mother and grandmother were painters. Holguin knew she wanted to work with her hands.
"I like to see objects from different angles," she says. "I prefer…to work with my whole body in action. I like being exhausted with hard work. I feel renewed after working with my sculptures."
Professional Life
Holguin completed her Academy education online in Querétaro, Mexico, where her work was already part of art exhibitions in the city. She had sculptures in group and solo shows, catching the eyes of curators from Museo de la Ciudad, Galería Libertad, Museo de Arte Contemporáneo and the Querétaro State government.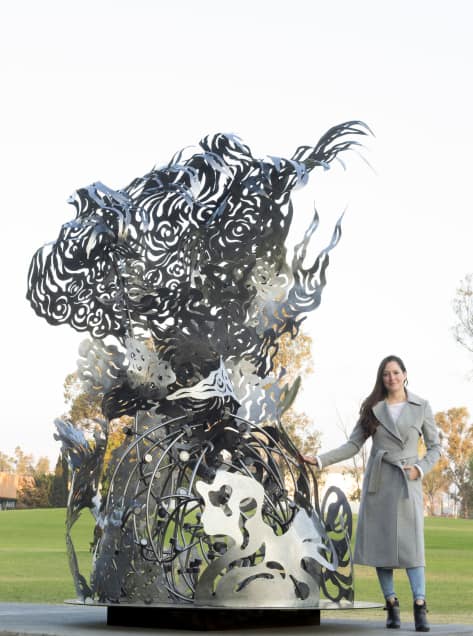 Holguin explains that there are not many woman sculptors in Mexico. "Querétaro is one of the cities with better quality of life, so it is not only people from different Mexican states that come to live here but people from other countries as well. I think this situation forces the state to foment cultural projects. The community is diverse, competitive, and there is quality in the art."
Earlier this year, Holguin had her first overseas show in Paris' Ida Médicis Galerie. The exhibition was called, Viaje del Alma, a series of flowing steel sculptures and delicate acrylic pieces. Though she was already showing work in galleries and museums, Holguin said her time in the School of Fine Art gave her a scholarly perspective.
Growth at the Academy
Her style changed as she learned to use new materials like steel and brass from Academy instructors Nils Krueger and Kathy Kearns. Instructor Lindsey Eason taught her glazes. Holguin says that glazes are "a lifetime process." They give her current works the gloss and shimmer of the stars and the ocean.

"Each material has its own personal language, character and a way to use its qualities to enrich my work," Holguin says.
Even her hard work is a process by itself. "I learned that being a sculptor requires making decisions, [and] discipline and perseverance. You have to work one day, another day and days to follow. You have to have the will to finish what was started."
Krueger says, "It was clear to me from the get-go that Angella not only [has] a great talent and clear vision as an artist. She also has a great work ethic and determination that has allowed her to be prolific in her creative output."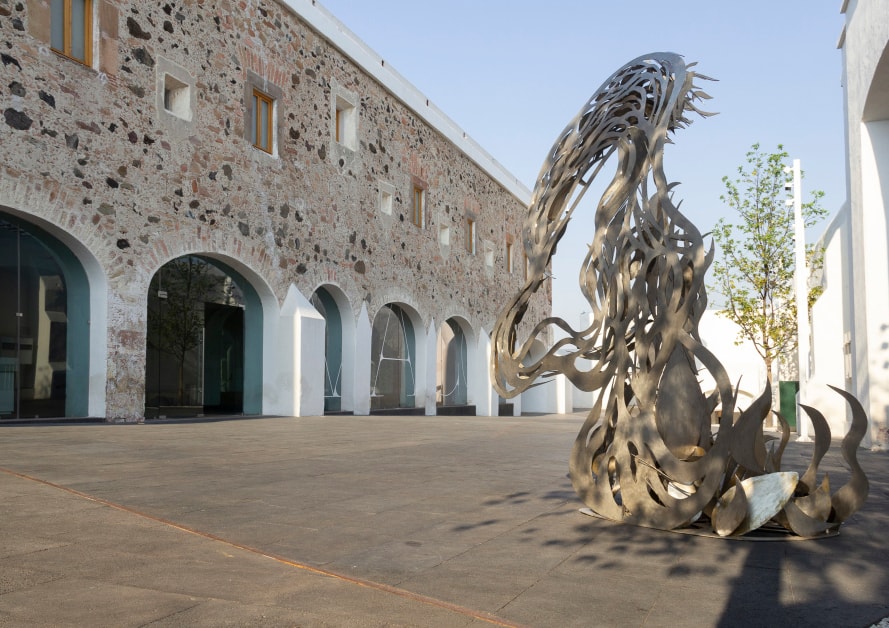 Creating Is Educating
Holguin sees the natural world as inspiration for ways to grow and evolve. Creating is also educating, she notes. By pulling her creative vision from nature, Holguin hopes her art can teach and influence others to treasure the Earth as she does.
"We as artists tell stories through our work. So let us not be fearful to tell difficult stories," she advises. "Also, spend more time in nature. There is no greater teacher."
Resources
• Learn more about Angella Holguin at her website.
Images courtesy of Angella Holguin.
Article by Nina Tabios originally published in Academy Art U News