Agnieszka Pilat is not your typical visual artist. For one, she considers machines to be her patrons. Two, she has a robot dog for an assistant.
Agnieszka, artist in residence for engineering and robotics design company Boston Dynamics, earned her degree from the School of Illustration at Academy of Art University in 2014. Because of her training in the Academy, she was able to network and started doing commission work.
Among her earliest commissions were for Paul Stein, the developer for AirBnB's headquarters. What was different about this project was that Stein wanted a portrait, but not of him–nor of any other person, actually. Instead, he wanted a portrait of a machine. Agnieszka fulfilled the brief, and delivered an oil painting of a vintage fire alarm.
From this work, word spread around about this up and coming San Francisco artist. For Agnieszka, it was only a matter of capitalizing on this perk of living in SF.
And met many she did, including Silicon Valley's top venture capitalists. Steve Jurvetson is currently a board member of SpaceX. "He's the one who opened a lot of doors for me," she said.
Man & Machine
When she's not working on commissions, she keeps working on her paintings: portraits of machines and technology. "I work for the machines," she said. "They are my patrons."
Her themes are strikingly bold and thematic, specific enough to catch the eye of a niche audience. Which is why it made sense for her work to appear in The Matrix: Resurrections, the most recent installment of this iconic sci-fi franchise, which coincidentally, was also shot and set in San Francisco, where she first started her career.
In one scene of the movie, Neo's alter-ego, Thomas Anderson, was having a steak in his penthouse. Filling in the space in the background were artworks, one of which belonged to Agnieszka.
Last year, she had her exhibition Renaissance 2.0 at Modernism West gallery, where she once again declared her love for technology.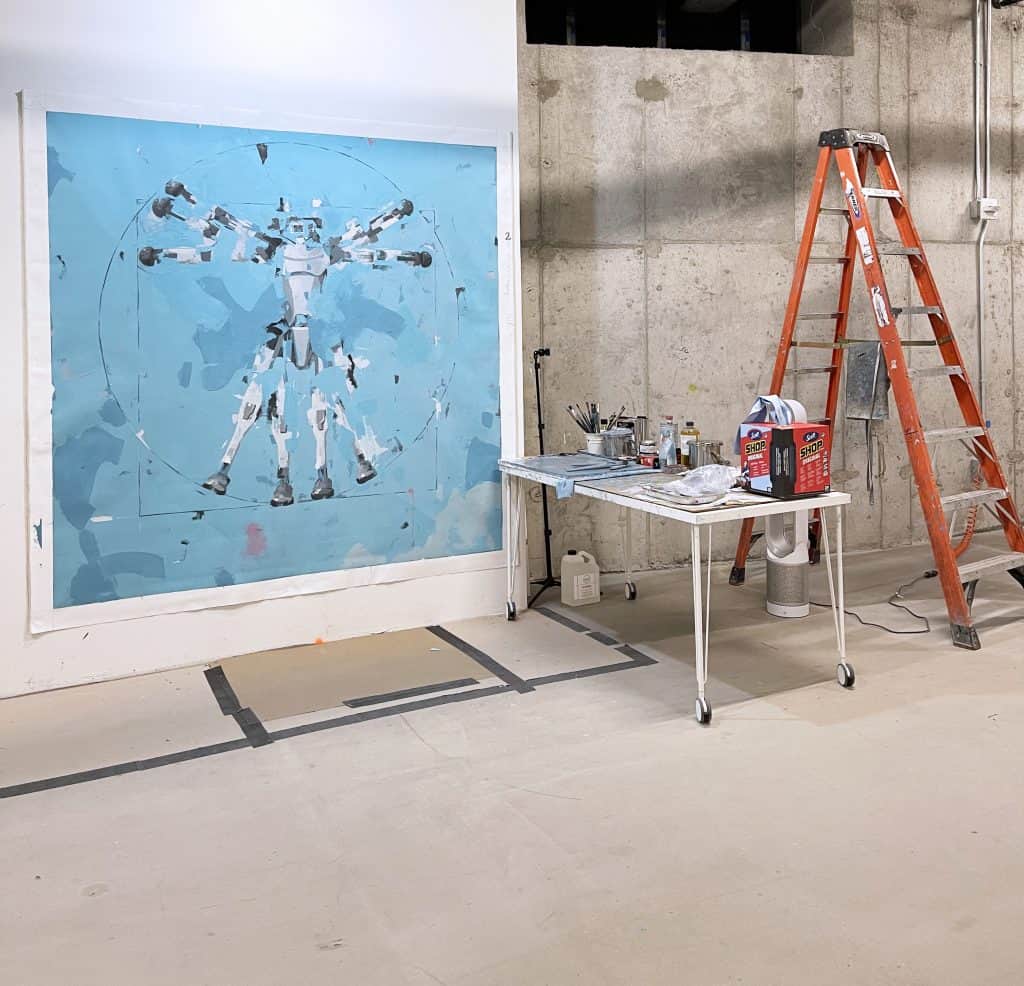 "Innovation is a wonderful result of that youthful playfulness and humanity benefits from it tremendously," she expounds. "The works on display at [Renaissance 2.0] pay tribute to Silicon Valley's innovative spirit by being innovative in the realm of art by embedding augmented reality and taking what are still images into a conceptual realm of machines in action."
Spot Takes the Spotlight
For this exhibit, she reimagined works of classical artists into portraitures of machines and technology–and aided by her robot dog, Spot.
Spot is a celebrity in its own right, second only in being the most popular in the world to Sophia, the first humanoid to be awarded a citizenship by a nation, in this case Saudi Arabia.
Spot's contribution to Agnieszka's works include mostly drawing straight lines from oil sticks. She is able to control Spot using directives from an iPad.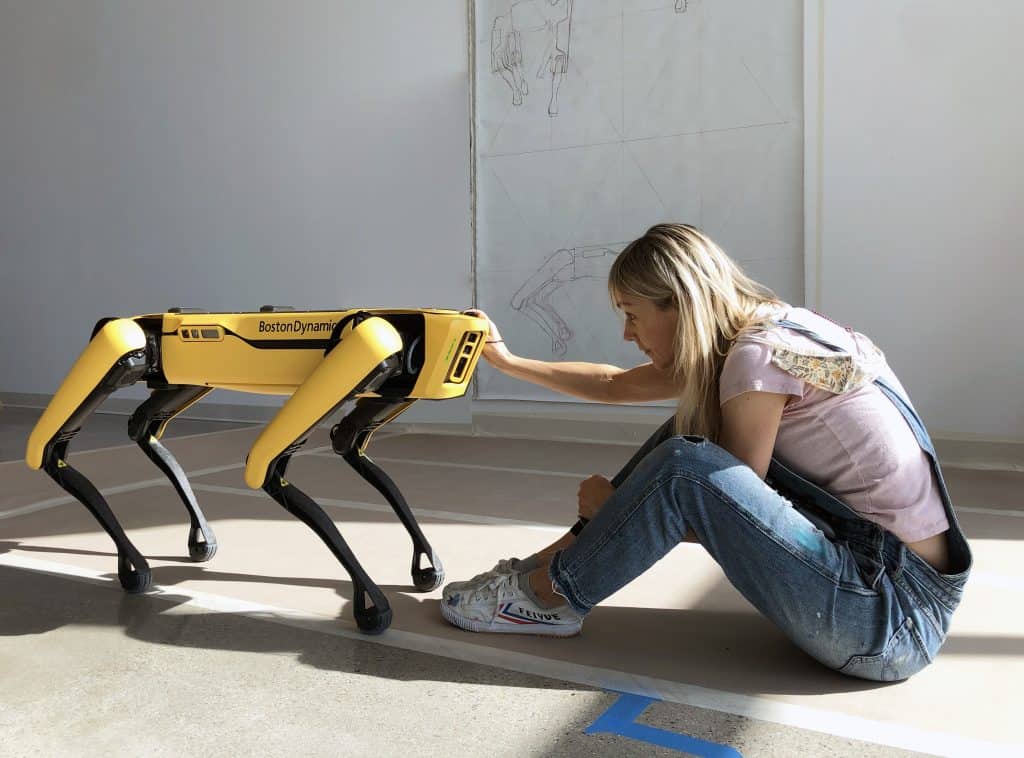 It seems like the machine has its own agency but it doesn't really," she explained. "Spot is an industrial machine, clearly not a toy, but it moves in a way that honors nature."
For Agnieszka, the relationship between man and machine is not necessarily something that should be feared but rather nurtured. Humans, after all, are these machines' creators, and so are responsible for its rearing.

"It's important to engage with the machines and treat them like very thoughtful parents would," she explained to Artnet. "This is about elevating technology and making it cultured."
---
Hero image courtesy of Artnet.