Jeon grew up in Daegu, South Korea, and moved to Florida with his family when he was 2 years old. When he was 9, his family moved back to South Korea, where Jeon would spend time in the Korean military before earning a bachelor's degree in Architecture, followed by a master's in Urban, Community and Regional Planning. Memories of his early childhood in the United States, plus a strong interest in landscape design, brought him to San Francisco to study at the Academy.
Nobody has done this collaboration. I have the knowledge to do both together, and these are valuable skills for landscape architecture students to learn in the future.—Jason Jeon
Jeon found a home for his intellectual curiosity in the Academy's School of Landscape Architecture, where he excelled as a graduate student. But he occasionally encountered challenges in conveying his design visions. "Poster boards and videos have a limit," he says. "I had to explain a lot to teachers or clients. Sometimes it wasn't understood 100 percent. A two-dimensional presentation board and simple video is limiting in terms of helping the client understand."
He began to look into different presentation methods, and his research eventually took him to San Francisco's annual Game Developers Conference. "I saw a lot happening, and the tech that I was searching for was almost there. The developers are using animation skills to control characters or environment, and I realized this is what I want to learn," he says. After passing his midpoint review, Jeon shifted his focus to game development and animation classes like Game Engine (Unreal Engine), Virtual Reality and 3D Modeling.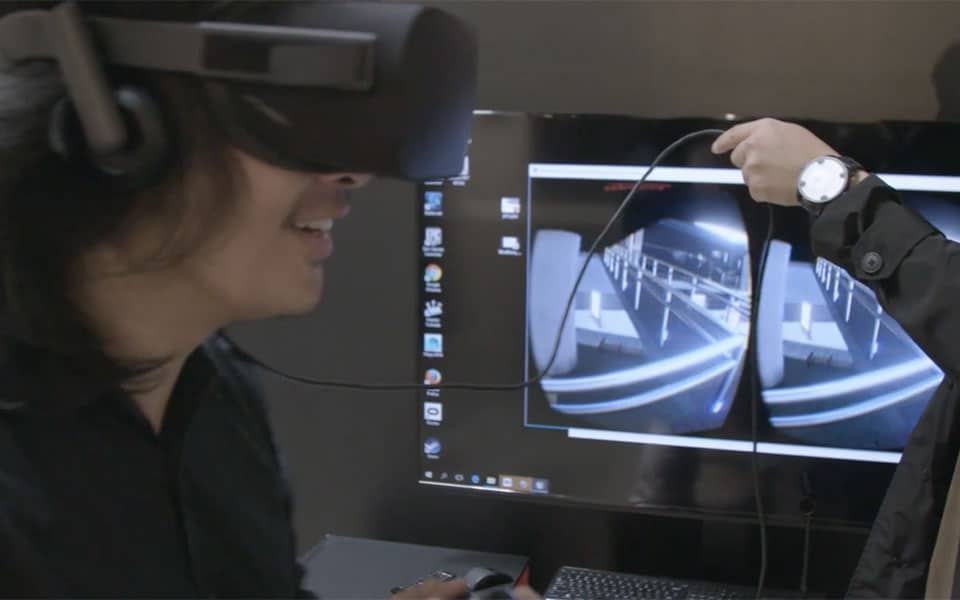 Connecting Two Worlds
For his master's thesis, "Speaking of Reality: Creating an immersive experience for landscape architectural design presentation using the latest technologies in the field of game design," Jeon created a revolutionary new way to communicate with clients: an immersive VR experience representing his design for an urban park in San Francisco. With this approach, instead of simply showing clients 2D images, Jeon invites them to don an Oculus Rift headset and experience the space as it might look in real life.
Jeon explains that the immersive effect not only gives the client a more realistic view of the space, but allows for quick and easy changes of colors and textures, placement of elements like benches and lampposts, and lets viewers see how plantings will grow over time.
"There is an amazingly real sense of space that you get when you 'move through' it with VR," says Heather Clendenin, director of the School of Landscape Architecture. "You really do feel the presence of overhead structures, and the sense of light and shadows is phenomenal."
Jeon believes this user-centered presentation tool will become a cornerstone to improve communication throughout the design process, ultimately resulting in greater satisfaction for both clients and designers. For Jeon, the project not only makes a nice addition to his landscape architecture portfolio, but it also led to a job offer. After graduating and showing his project at the university's 2016 Spring Show, he began sending out his portfolio and resume to landscape architecture firms. Presenting his thesis during an interview with San Rafael-based VITA Planning & Landscape Architecture, he was offered a job on the spot.
Jeon credits his success to the opportunity he had at the Academy to engage in interdisciplinary study. "This was the reason I chose the Academy: games and architecture," he says. "It's very rare to find a school that does both."
The Project
Jeon's thesis merges the latest technologies used in the game industry with presentation software used in landscape architecture to deliver a simulation of a proposed site in virtual reality.