When Chuck Pyle arrived at the Academy in 1972, he had no intention of staying longer than a semester. He was an 18-year-old with big plans. All he needed was a few more techniques for his artist's arsenal and he'd be off to New York to become a great political cartoonist and bring down President Nixon.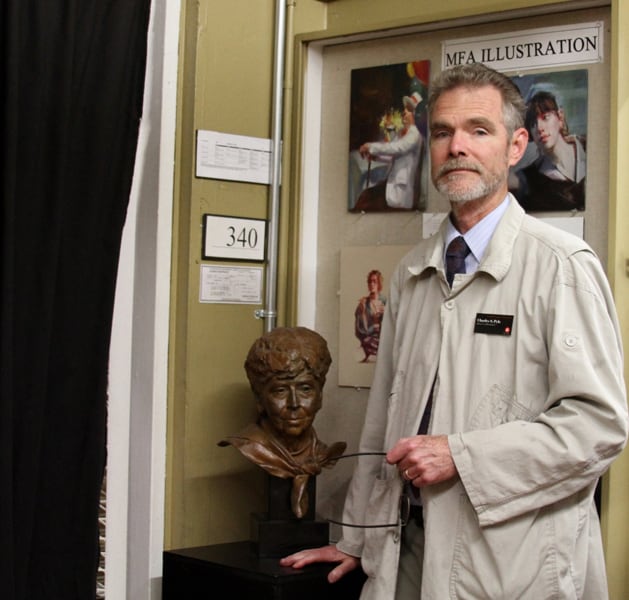 But his New York plans got derailed—permanently—thanks to an instructor named Barbara Bradley. She recognized Pyle's talent amid a population of some 520 students, and offered him a bit of unsolicited advice: "Try illustration. You might like it."
Without Bradley, Pyle acknowledges, it's unlikely he would become director of the School of Illustration (it was at Bradley's urging that he returned to his alma mater to teach in the late 1970s), nor the recipient of the Society of Illustrators' Distinguished Educator in the Arts award, which he received May 8, 2015, in New York City.
The award was established nearly 20 years ago to "highlight and honor the extraordinary teachers who have touched our lives." Pyle has lived up to that and more.
In his typical droll style, Pyle rattles off a few clichés about the honor. "I'm humbled, shocked and flattered," he says…but then he grows serious, calling the award "a validation of the continuous searching for how to better access and train each illustration student."
Ask Pyle's current and former students to describe him, and they go on at length about his devotion to teaching and how he has inspired them on a deep level, referring to him as "hilarious," "self-deprecating," "nurturing" and "fiercely dedicated."
Pyle, director of Illustration since 2003, uses the Rubik's Cube as an analogy for the differences in each student's way of learning. He emphasizes that he constantly reassesses and reinvents his teaching techniques to make those rows line up to fit with the myriad learning styles he encounters.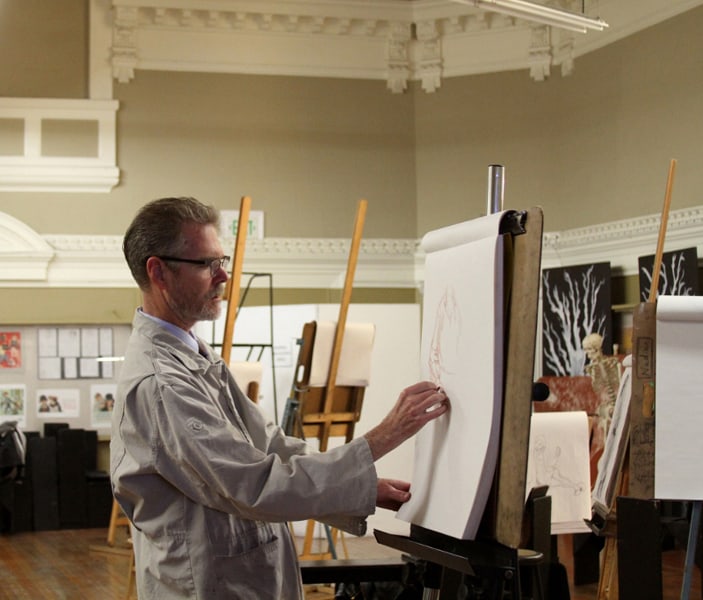 On a recent morning in his tranquil teaching studio in Bradley Hall, Pyle gathers students aspiring to be illustration artists around a Renaissance pirate, the day's model for his Clothed Figure 3 class. As he stands before an easel doing a demo sketch, then moves closer to the model and repositions two strobe lights, his students silently study his motions. "Pay attention to the shadow shifts, ways to edit the shapes of the drawing," he says. "Look for new ways of saying things, people," he advises in a playful, yet parental, tone.
And then he lets the students get to work, sketching to the soundtrack of jazz pianist Bud Powell in the background.
"I don't want cookie cutter graduates. I want strong individuals who are adapting and have a clear idea of who they are and where they're going," he says.
Pyle is warm and accessible to students, engaging with them in the classroom and online through social media. And yet he also has the dignified air of an old-world professor. He dresses impeccably (even under the artist's smock he dons when teaching), speaks eloquently, and nonchalantly makes cultural references that hint at his intelligence (mindboggling) and age (61).
Pyle remembers his own carefree student days with striking clarity. He would commute to San Francisco from his parents' home in Benicia, Calif., in a 1955 Volkswagen bug, park at the top of Broadway (street parking was free and plentiful back then), and take a cable car down to the school at 625 Sutter Street.
Inevitably, talk about his student days—as well as his early days as an instructor—leads back to Bradley, whom he calls a "goddess." He says she was the one who set the tone for everything the School of Illustration aspires to today. When Bradley received the Society of Illustrators Distinguished Educator award in 2007, the year before her death, it was Pyle who wrote a tribute to her. So it's fitting that every time Pyle enters the namesake Bradley Hall, he stops to touch the nose on the bronze bust of Bradley that guards the doorway.
Like many artists, Pyle admits he took up drawing as a child to shield himself from the world. He lost his younger brother to leukemia and, midway through high school, was uprooted from his Southern California home during his parents' job relocations. During the hard times, he busied himself with caricatures and comic strips infused with social commentary.
Today, he has a robust professional illustration career, key to maintaining what he calls "street cred." He's represented by Lindgren & Smith in New York, and depending on the client's need, his work ranges from dreamy, Norman Rockwell-esque scenes to slightly naughty noir images for crime novels. His clients include Microsoft, Safeway, Avis, Sun Microsystems, Reader's Digest, The New York Times, The Boston Globe, Atlantic Monthly, Redbook, Good Housekeeping, McCall's, Penguin, Bantam, Houghton Mifflin, Seattle Opera, and the Chicago Museum of Science and Technology.
But you're more likely to hear Pyle promoting his students' success than his own.
Valerio Fabbretti (BFA Illustration, 2014), a concept art intern at Disney Interactive in Los Angeles, says of his former instructor, "Chuck Pyle has always been and always will be to me more than the genius director of the School of Illustration, more than an incredibly passionate and patient teacher, more than an amazingly talented draftsman and lover of the folds, gestures and lines. He has been to me what Professor Dumbledore is to Harry," Fabbretti says.
"I think part of Chuck Pyle's genius as a teacher is that he never stopped being a student," says Dylan Vermeul, a current Illustration student. "There is something incredibly inspiring about a man who never stops trying to be better even though he appears to be the best."
"I'm not surprised he's won such a prestigious award," says alum Aubrey Williams (BFA Illustration 2014). "He works tirelessly to inspire us, challenge us, and make sure we have every resource imaginable to be the best we can be. Like, does he even sleep?"
Williams, who is currently doing illustration for video games, adds, "I'm getting emotional just thinking about it, because if it weren't for his efforts, I wouldn't nearly be where I am in my career. He's been that influential. "
A longtime fan of Pyle's, Dr. Elisa Stephens, Academy of Art University president, says, "Chuck Pyle is an extraordinarily perceptive and patient teacher with the ability to recognize a student's needs and tailor his teaching approach to meet those needs. We are so fortunate to have him at Academy of Art University and are grateful that the Society of Illustrators also recognizes his invaluable contribution to education and the art of illustration."
Over the years Pyle's students have gone on to successful careers at companies like DC Comics and Pixar, as well as countless publishing firms and game design companies.
"They're doing better art than I do," says Pyle. "That means I've totally done my job." What's more, he says, "They'll pay it forward for the next generation."