6 Visions, a group show of digital concept art and animation, was held at the Little Raven Gallery in San Francisco over the weekend of March 16–17. The show featured six artists, including five graduates and one current student from the Academy's Schools of Visual Development and Game Development.
Genesis of the Show

Jing Ouyang is the Visual Development BFA graduate who directed the exhibition. Jing says it was the first time she'd put together a group show. A self-described "shy person," she says she gets motivated from the idea of showcasing work she's completed since graduation. And she wanted to share that opportunity with fellow artists.
Moxuan Zhang, the exhibition curator, is a current Game Development student. Zhang signed on to Ouyang's concept and got to work inviting artists and designing the exhibit poster. Originally from Inner Mongolia, Zhang says he's been in the U.S. four years. He's found that not only are there a lot of great artists in the States, but "a lot of them help each other learn."
Arya Houliu – Game Development MA, 2018
From Shenzhen, China

Houliu was working as a concept artist at Tencent. That's when she realized she wanted bigger challenges and more opportunities to create. Her team leaders at work were Academy alumni, so she decided to follow the path they had taken.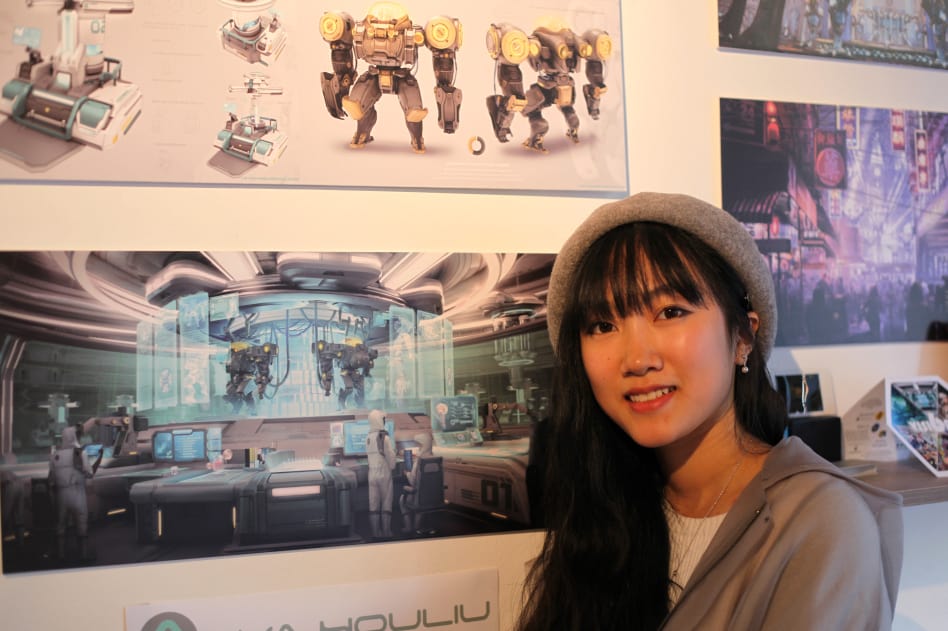 There's a difference between her academic and professional careers. Houliu says, "At work, you need to solve the design problem…to make everything follow the project's requirement. At school, you can do whatever you want." On personal projects, she says she's responsible for an entire world. At work, she observes—with a sigh of relief—"I don't have to think about everything."
Houliu now works as a concept artist on console and VR games at Ready at Dawn Studios.
Bella Liu – Game Development BFA, 2018
From Chengdu, China

Although Liu started the Academy in Visual Development, she ended up graduating from Game Development. Liu says she's been painting since she was three or four years old. Her first friends were fellow kindergarteners with whom she painted.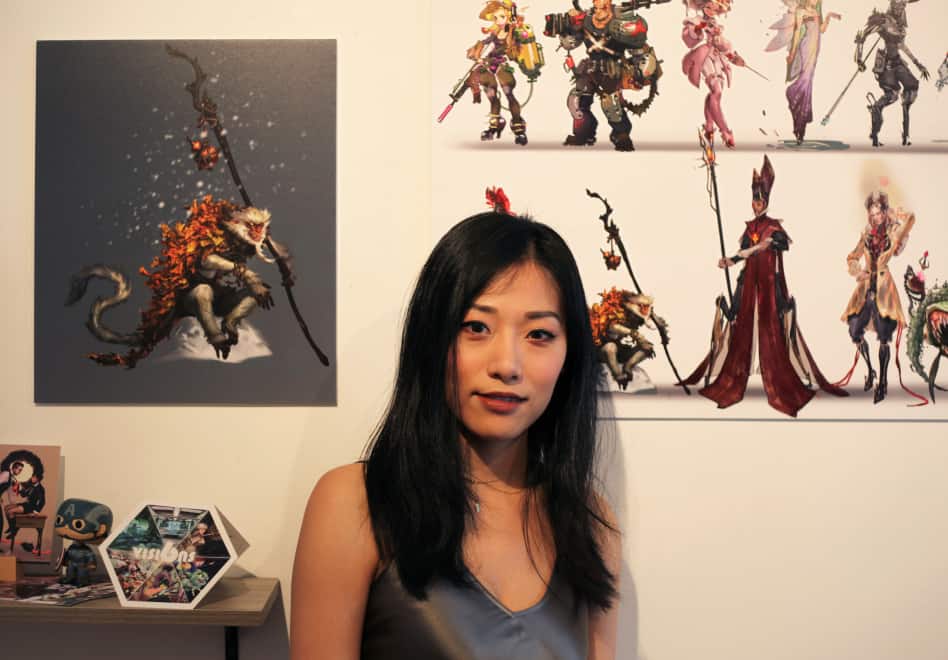 Later, as she studied poems in literature class, she'd doodle. She posted her portfolio of student work on her personal website. She realized it was "not about getting a good grade," and she received a job offer on the strength of her work alone.
Liu is a concept artist and illustrator working in digital concept art. She has worked for Blizzard Entertainment, Tencent Games and HTC Vive.
Jing Ouyang – Visual Development BFA, 2018
From Guangzhou, China
Before enrolling at the Academy, Ouyang had already published eight books of her own artwork. And that was when she was still a high school student in China.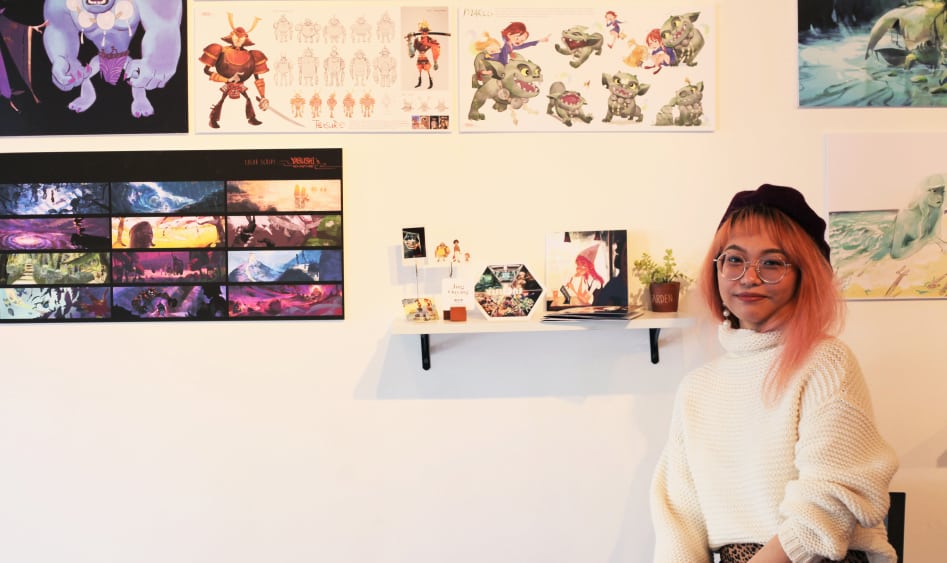 She didn't enroll in college right away, but went to work professionally. But when she "hit a creative wall," she decided to enroll at the Academy to study digital concept art.
As a student, she focused on realism but has since pivoted to something more stylized. In the exhibition, she "wanted to showcase how much I've changed," she says.
"I had a story I wanted to tell. But school was over and there was no more homework—no more rules. I wanted to see how far I could go just by myself."
That came with its own challenges: "No one cares what you're doing," she explains. So instead of doing a single piece for a class, she focused on an overall narrative, which she says she felt was missing from her student work.
Ouyang is a freelance character designer working for Titmouse in Los Angeles and Bandai Namco Entertainment.
Yanqing Shangguan – Visual Development MFA, 2018
From Beijing, China
Shangguan says she hoped this exhibition would allow her to tell a story through a series of pieces of her artwork. She couldn't do that by just displaying a single piece. Yanqking calls her contribution to the show "The Story of Woke," and describes it as a personal project. She explored a tough time in her life while she was struggling with her admittedly "closed" and "introverted" personality.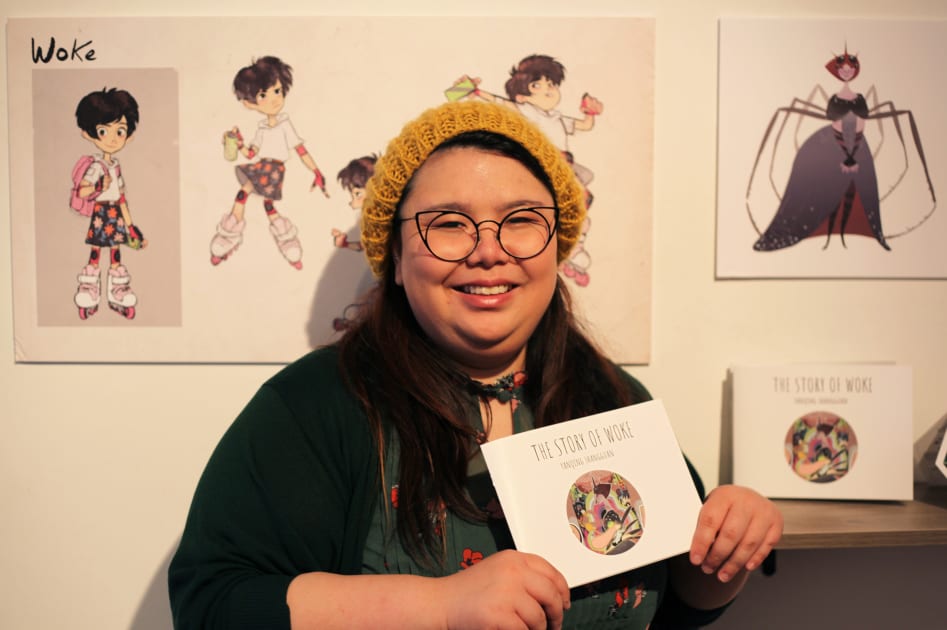 Shangguan says it's in times of personal crisis when "we see things—visions—from which we can create a story." She notes that even though she knew most of the other artists in the show, the process of putting it together brought them all closer.
Shangguan works at a startup in Cupertino, where she's a character designer for children's educational iOS apps.
Moxuan Zhang – Game Development BFA Student
From Inner Mongolia, China

Last year at CTN (The Creative Talent Network), the annual animation expo held in Los Angeles, Zhang met Ouyang, who had a table in the exhibit hall. Astonished to find out that she was, like him, a student at the Academy, he recalls saying, "Academy of Art students—they're everywhere."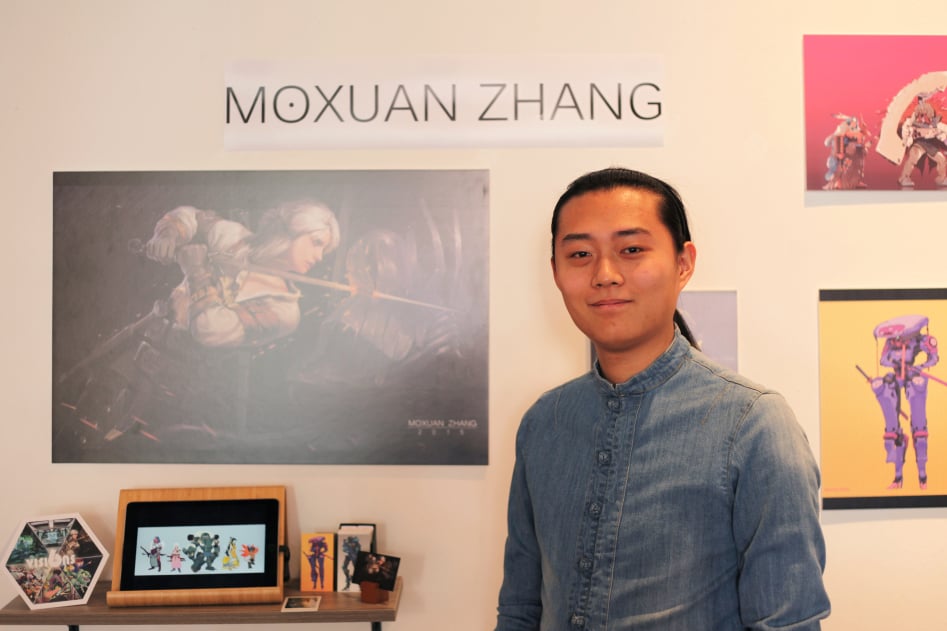 Zhang recently landed an internship at NetEase, where he's a lead concept artist.
---
Article by Erasmo Guerra of Academy Art U News
Photos by Erasmo Guerra