The School of Fashion at Academy of Art University has chosen 14 M.F.A. students to debut their thesis collections at Mercedes-Benz Fashion Week in New York. The students' fall 2015 collections will be streamed live Saturday, February 14 at 7 p.m. EST/4 p.m. PST.
Since 2005, the fashion school has premiered the collections of students and recent graduates during New York Fashion Week. Says Academy President Elisa Stephens, "We are committed to helping our students launch their careers, and we are thrilled to give them the platform to present their work to fashion industry professionals. It is an incredible opportunity for our student designers to debut their collections during Mercedes-Benz Fashion Week."
"This group of designers is focused on transformation," says School of Fashion Executive Director Simon Ungless. "They are using fabric manipulation and printing techniques to change the inherent qualities of textiles to create new textures and surface qualities. There is a focus back to the body and wearability in silhouette, which the designers have utilized advanced tailoring techniques to achieve."
Presenting the Designers
For the Fall 2015 Mercedes-Benz Fashion Week showing, 14 designers will present 10 collections—nine womenswear collections and one menswear collection.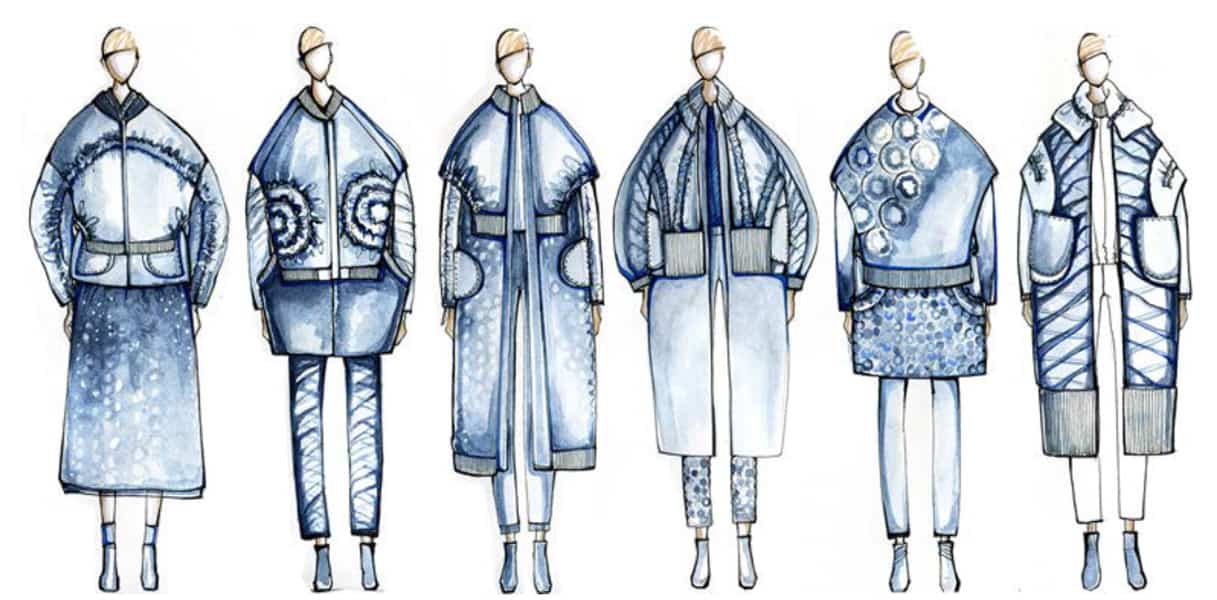 Xiaowei Liu is from China. Liu worked as a fashion design and drawing assistant at the ShenZhen Yangzhi Cheng Fashion Business Company before coming to the Academy. In her collection for the fashion show, Liu uses a combination of denim, cotton and leather inspired by boro, a type of Japanese indigo patchwork. The collection centers on the basic silhouette of a bomber jacket, and is comprised entirely of indigo fabrics custom dyed by Liu.

Kevin C. Smith is from California. His menswear designs, in collaboration with Andrea Nyberg, are based around ideas of light and volume. His inspiration comes from Christo's Running Fence (1976), as well as vintage light bulbs and candle smoke. The clothes are layered pieces comprised of sheer, flowing overcoats.
Andrea Nyberg is from Ohio. She has worked with Fossil, Oshkosh B'Gosh, and DSF Clothing Company. Collaborating with Kevin C. Smith, Nyberg uses shades of blue wool suiting paired with tonal creams as well as electric blue and white cotton shirting. Inspired by the idea of coming out of a fog and beginning to regain sight of surrounding objects, she aims to create a cloud-like atmosphere by using whites and blues that have a subtle, layered transparency.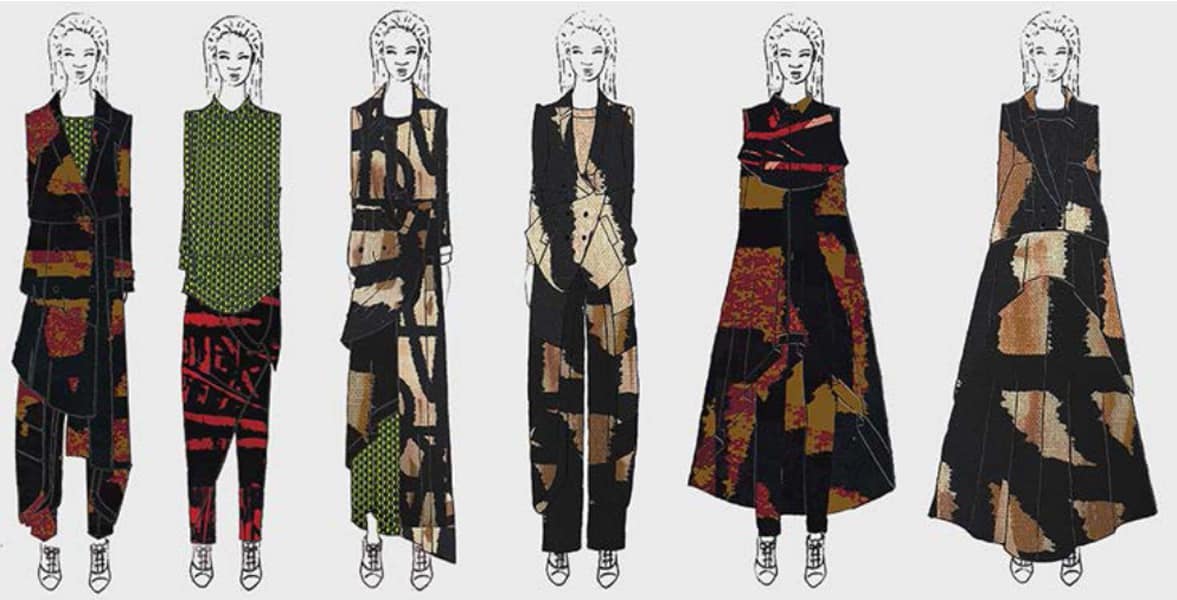 Emmanuelle Ciara Jones is from Tennessee. She holds a B.F.A. in Painting, and has interned at 440 Brannan Studio in San Francisco, where she drafted patterns, cut garments, and sewed samples. Jones' collection is inspired by hip-hop street culture and music, and features textiles designed by Ghazaleh Khalifeh. Jean-Michel Basquiat—whose artwork focuses on suggestive dichotomies such as wealth versus poverty, integration versus segregation, and inner versus outer experience—has been especially inspirational to this collection.
Ghazaleh Khalifeh is from California. She designed the textiles for the collaborative collection with Emmanuelle Ciara Jones. Khalifeh played off Jones' inspiration of African textiles and voodoo, complementing silhouettes with textiles that incorporate elements of the culture, spirit and graffiti of New York's Lower East Side in the early 1980s. All fabrics are 100% natural fibers.

Erin A.F. Milosevich is from Indiana. Prior to undertaking graduate studies at the Academy, she earned a B.F.A. in Fashion Design. Milosevich's fall 2015 collection centers on movement and restraint, portrayed through the juxtaposition of flowing fabrics with constructed silhouettes. To further exaggerate volume and movement, each look includes a handmade crinoline.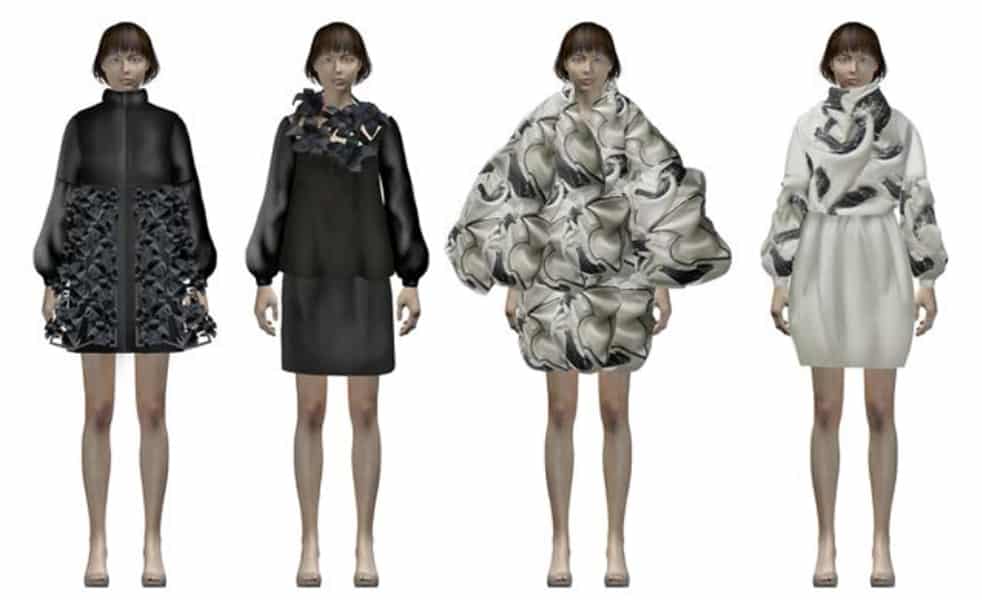 Farnaz Golnam is from Iran. Before coming to the Academy, Golnam earned a bachelor's degree in Civil Engineering in her home country. For her fall 2015 collection, Golnam drew inspiration from nature and incorporated 3D details from flowers into the garments. The collection has a sculptural quality, which is enhanced by voluminous panels and seam detailing. The collection is executed in solid gray and black wool, and features needle-felting details that play with viewers' perceptions of depth and dimension.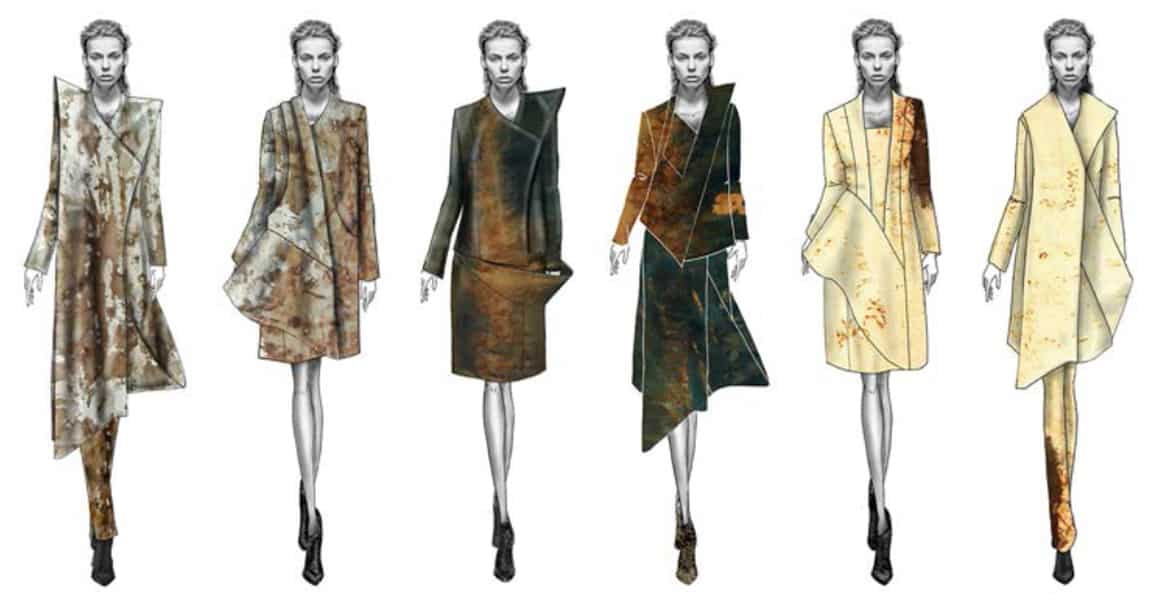 Ozanhan Kayaoglu is from Turkey. After completing a bachelor's degree in Textile Design, Kayaoglu pursued graduate studies in Textile Design, eventually coming to the Academy with a full scholarship from Uludag Textile Exporters' Association. He has received numerous industry awards, and created a weaving technique patented in Europe and Turkey. Kayaoglu credits French philosopher Michel Foucault's use of panopticon prison architecture to illustrate power and social order as the inspiration behind this collection. Kayaoglu was drawn to images that showcased rusted metal inside the prison, which led him to develop a technique of dyeing fabric with rusted metal.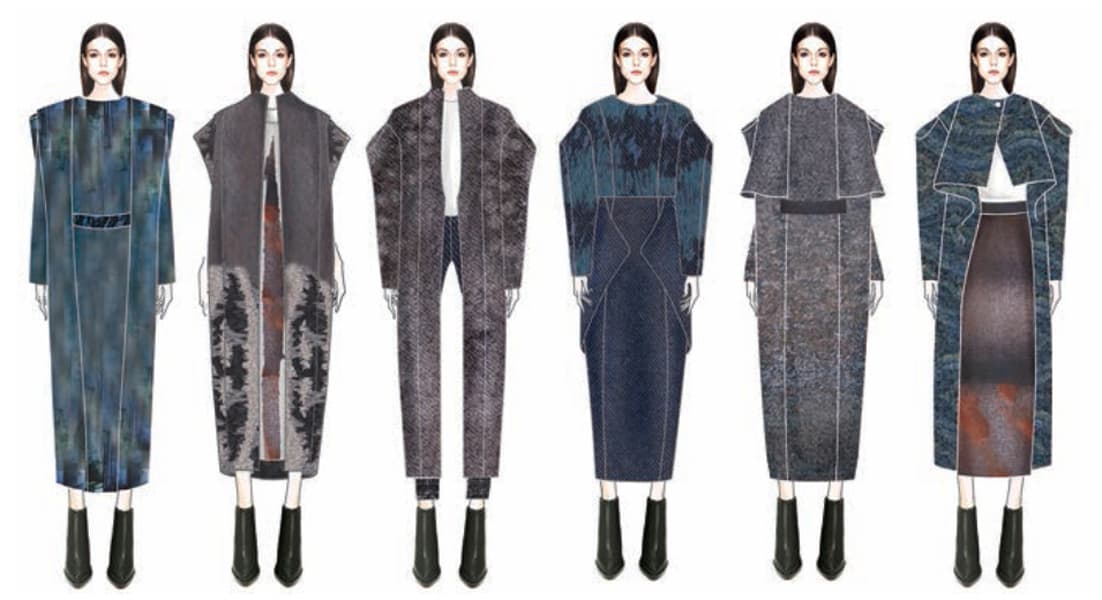 Han Tang is from China. She has a B.F.A. in Interactive Media Design from Jilin College of the Arts. Tang collaborated with textile designer Tam Nguyen to create a fall 2015 collection made of wool and silk. Inspired by Italian photographer Yvonne De Rosa and her series of dark photographs, Tang focuses on smooth lines and strong, elegant silhouettes for the shoulders and sleeves of her designs.
Tam Nguyen is from Vietnam. She has a B.F.A. in Fashion Design from Columbia College (Chicago). Nguyen is a recipient of the Columbia College December 2011 Vivian Price Scholarship and participated in the May 2012 Fashion Columbia juried show. The textiles for her fall 2015 collection, made in collaboration with Han Tang, are inspired by the decaying and chipping surfaces of abandoned houses, capturing the texture of peeling and naturally weathered exteriors.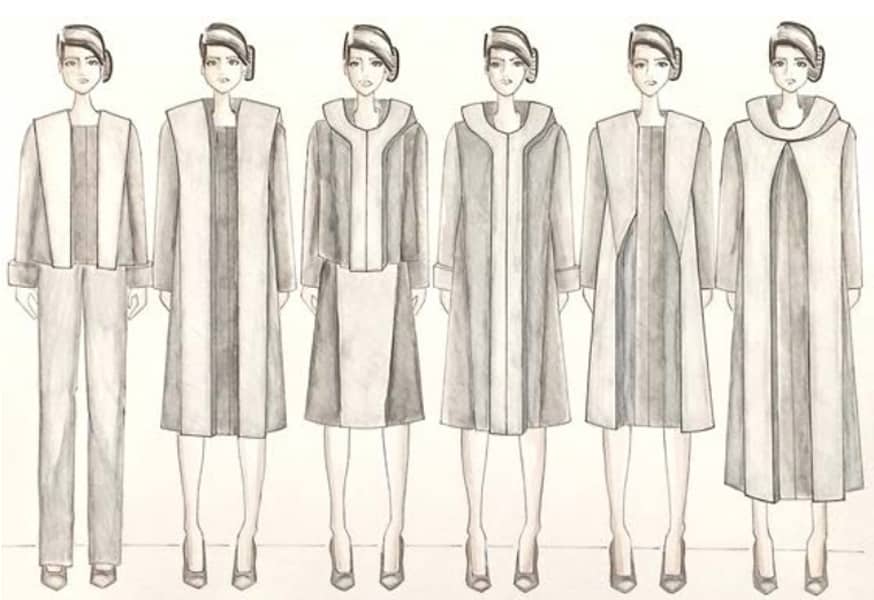 Christian Willman is from Texas. Her fall 2015 collection is inspired by the work of Northern Irish installation artist Matt Calderwood, whose sculptures challenge the physical potential of materials, explore structural power, and portray the use of friction and gravity to achieve equilibrium. Working with these themes, Willman's collection is both structured and minimalistic, and is executed in wool, eco-wool and cotton.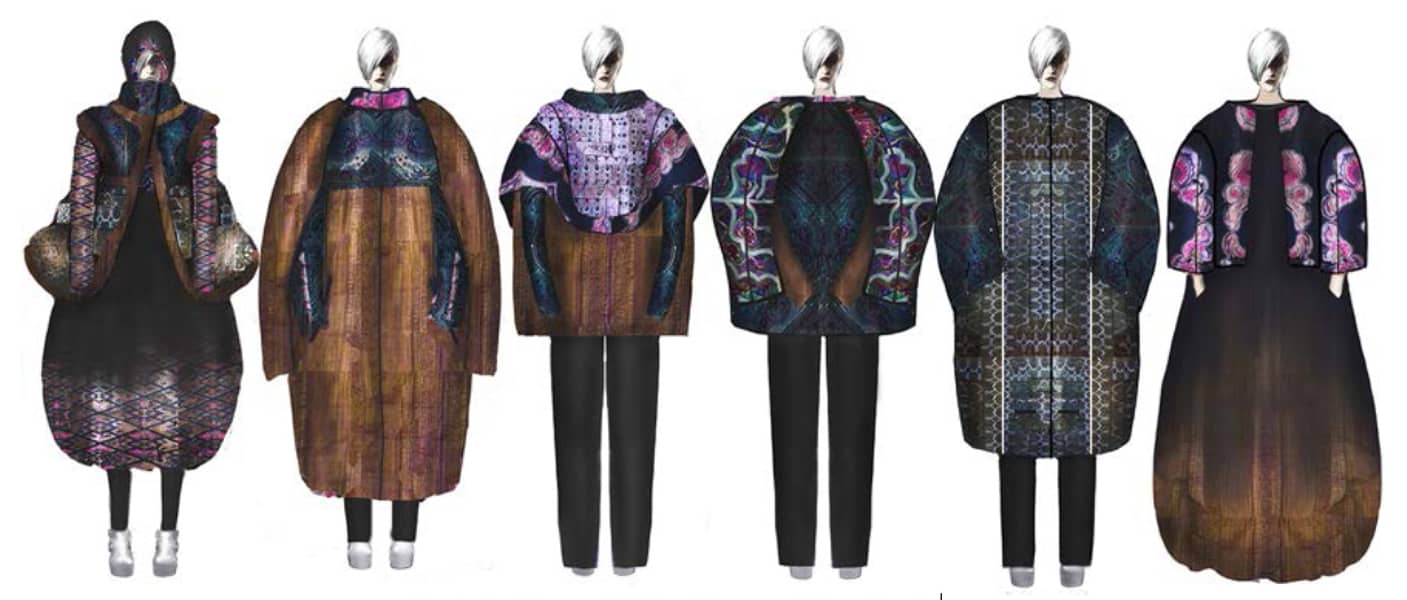 Xue Yang is from China. Before coming to the Academy, Yang attended film school and later became assistant costume designer for the film Buddha Mountain, which won Best Picture at the Tokyo International Film Festival in 2010. Inspired by vintage Chinese fabric, Yang's collection focuses on a unique sleeve design. The cocoon shape of the garments represents restrictive practices, such as foot binding as practiced in prior centuries on Chinese women. Yang collaborated with Oom Terdpravat on their joint fall 2015 collection.
Oom Terdpravat is from Thailand. She received a B.A. in Visual Arts in Canada and was named a "Super Intern" during her 2014 internship at BCBG Max Azria. She collaborated with Xue Yang in designing the textiles for their joint fall 2015 collection, in a watercolor palette of deep purples, blues and greens. Her print inspiration is the floral, geometric embroidery of a Northwest Chinese hill tribe.
Paulina Susana Romero Valdez is from Mexico. Before coming to the Academy, Valdez earned double B.F.A. degrees in Graphic Design and Publicity. For her collection, titled "It's Only Heritage," Valdez draws inspiration from her Mexican roots as well as her fascination with baroque art and culture. The collection is executed in baroque-style wool brocade, wool tweed, silk, cotton and hand-dyed leather, and is accented with vibrant, traditional Mexican embroidery.