As a child who grew up in the basketball-loving Philippines, Kevin Reyes only used to dream of having his own pair of Nikes, the very same brand endorsed by no other than the sports' GOAT, Michael Jordan. Today, he not only owns more than just a few couple of pairs, he also designs them.
And it's all thanks to a school project.
Shifting From One Foot to the Other
Reyes was already in his junior year in the School of Industrial Design (IND) doing general product design when he was inspired by his roommate's footwear project. In his senior year, and as encouraged by one of his Academy of Art instructors, he officially took the leap to create his very first footwear design project, the Neo.
This two-way daily shoe was designed with the Filipino basketball fan in mind: durable and functional, yet stylish and affordable. It was also what opened his gateway to the industry, by way of an internship with New Balance.
In 2014, he finally earned his BFA degree. By 2015, he had left San Francisco and moved to Beaverton, Oregon—to work for none other than Nike.
From Dream to Career
As a Footwear Designer I for the Core Performance Team, Reyes drafts "accessibly-priced and high volume" footwear for both men and women for basketball, running, and training.
"When designing footwear, I was designing as me, being me, and being sort of in my zone." – Kevin Reyes
To date, he has proudly accomplished five models: Nike Air Versatile III, Air Precision II and Fly By Low II for basketball, Flex Contact 2 for training, and City Runner 2 for Women's Running. All of his designs are currently available in the market in Khol's, Zappo, and Amazon, as well as in Nike's online store.
"Basketball and footwear give me a connection to sports, which I love. Within that, you start to think in a zone of performance, which has always been really exciting to me," Reyes shares. "But at the end of the day, a piece of footwear should always give you a certain emotional response. So all of that was synced together."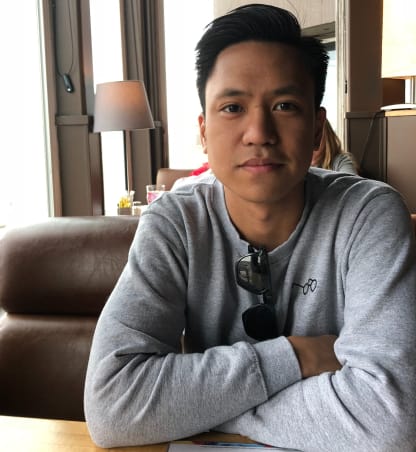 The Perfect Play
His passion for shoes—and eventually designing them on his own—did not go unnoticed. "He could've gone into many different things; his skills were very high," noted IND Executive Director Tom Matano. "He put his efforts into shoes because he had a love for shoes that really paid off. And show companies, more than any other product design companies, they love the passion of the students."
For Matano, however, it wasn't just Reyes' technical skills and talent that helped him stand out.
Beyond these, Reyes also had the right personality and drive to match, a certain maturity to "follow ideas through to a final level and attention to detail." Above all, he had the humility and determination.
All these combined helped Reyes take that winning shot working in an industry for a sport he loves. Not bad for something that came out of a school project.
---
Article originally published by Nina Tabios of ART U News
Images courtesy of Kevin Reyes