Contributing to production of visual effects for the Academy Award-nominated film Theeb in our StudioX initiative yielded a wealth of experience for the young animation career of alumna Jumanah Shaheen, BFA '15. The experience opened her eyes to a potential future in filmmaking she hopes to realize one day in Dubai…applying the real-world lessons she learned in the Academy's School of Animation & Visual Effects.
There may have been controversies surrounding the road to the 2016 Academy Awards (remember "#OscarsSoWhite"?). But for the StudioX cohort that contributed visual effects (VFX) for Theeb, a nominee for Best Foreign-Language Film, there were only reasons to celebrate. Jumanah Shaheen, a 2015 MFA graduate of the School of Animation & Visual Effects, was the student-producer on the project at the Academy.
The film's story is of a young Bedouin boy who comes of age during World War I as he embarks on a perilous desert journey to guide a British officer to a secret destination. Together with Catherine Tate, the school's collaborative project lead instructor, Shaheen managed a team of thirty-three students that created composited VFX shots for the film—painstaking work that included color correction, car removal, track removal and picking out any evidence of production equipment.
"I was surprised by the nomination, but also not shocked by it, because the Theeb team did a great job pushing the film throughout awards season," Shaheen says.
"I was confident Academy of Art University's students, to whom we entrusted Theeb, could do the job. There was no doubt in my mind that they would deliver." – Theeb producer Rupert Lloyd
A Collaboration Across Distance
Shaheen—a StudioX vet who collaborated on projects including the films Advantageous, Fruitvale Station, and Saving Lincoln while at the Academy—was able to steer the production of Theeb's VFX assets at StudioX by working closely with Rupert Lloyd, the film's producer. Lloyd, whose credits include the Oscar-winning The Hurt Locker, turned to StudioX after learning about the work other students did on Beasts of the Southern Wild, another critical darling. "I was impressed by the quality of [those students' VFX] work, and the huge role it had played in bringing this low-budget indie to life."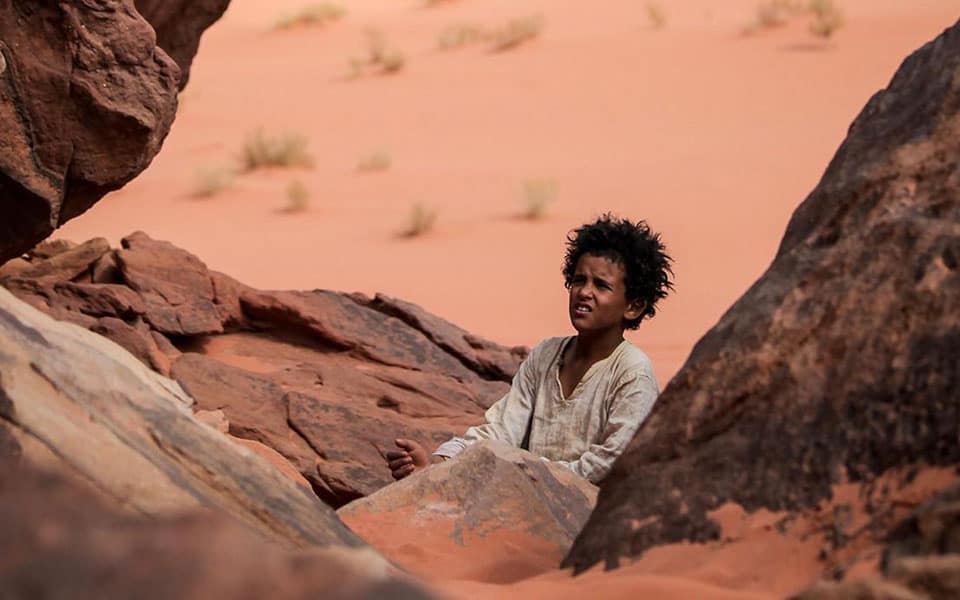 Although Lloyd and his production team were based in London, they were determined to develop a meaningful relationship with the talented Academy students working on their film. He credits Shaheen for always helping to keep the lines of communication open. "Being on the other side of the world was never a problem," he says. To create a seamless workflow, everyone used Shotgun software, an animation, game and VFX production tool for tracking, reviewing, and managing assets.
"It definitely helped that Rupert delivered really amazing plates [i.e., shots], and that he was very detailed in his list of needs, as well as understanding the time difference between us," says Shaheen. "He knew exactly what he needed, and that brought out the best in the team. We never wanted to be anything but professional."
Locked & Loaded With an Eye on the Prize
For Shaheen, the experience of working on prestigious films such as Theeb as a student at Academy of Art University was invaluable. To collaborate on, "not a school project but an actual, real-life project," was incredible, she says. "I applied to the Academy on a lark, after a friend told me about the school, and I found out about the quality of its faculty.
"Once I got to class, I couldn't believe I could learn how to make things like 3D models and work on all these advanced projects, with the best technology at my fingertips. It's an awesome school that teaches you art and how to apply art to business and to the real world. Without the Academy, I wouldn't know how to perform in an animation studio."
Thanks to the Academy, the future is now for Shaheen. A young woman of two worlds (she was born in Saudi Arabia and lived intermittently in Michigan before relocating to San Francisco to attend the Academy at age 16), Shaheen is currently a bidding coordinator at the Santa Monica, Calif., outpost of Method Studios, an award-winning international VFX group. Shaheen, however, is already thinking ahead, to the day she hopes to set up her own production studio in Dubai.
"I grew up battling two stereotypes about Saudi Arabians, as we're not all filthy rich or terrorists," she says. "Some of us are artists looking to make beautiful art." Her ultimate goal is to bring understanding of animated and live-action filmmaking to a region of the world that lacks it. "I used to want to become a journalist, but I think animation is a better way of conveying a larger message."