With his lilting English accent, dramatic brows and deep-set eyes, and poetic, almost scripted, delivery of extraordinary—often uncomfortably personal—stories, one can't help but wonder: Is professional artist, sculptor, and Academy of Art University instructor Barry Baldwin for real?
He's served in the Israeli Army—but most of his injuries are from his art. He's had full security clearance at Buckingham Palace and was asked by Prince Charles to contribute to a show at the Victoria and Albert Museum. He owns a massive stone yard in England and once had a team of 15 assistants. He's carved countless faces in limestone, created towering centaurs from bronze—and makes life-size nude sculptures that would make the average person blush.
To his latest incarnation teaching stone carving and life-size sculpture in the School of Fine Art, Baldwin brings an unparalleled generosity and movie-worthy past.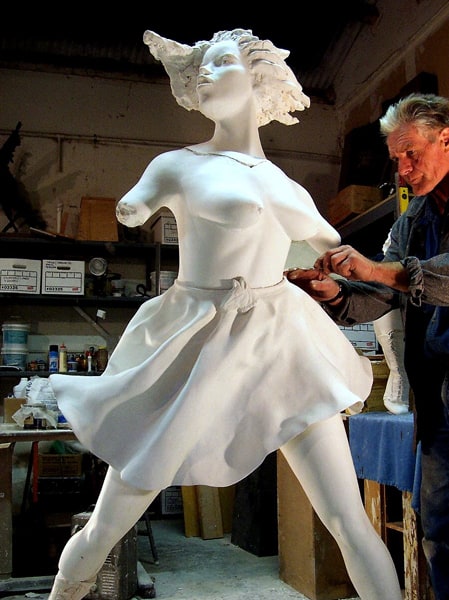 Long before he became a well-known stone carver, restorer of architectural treasures, and connoisseur of the female form, he was a self-described "poor kid" in a mining town in the middle of England. Baldwin's home life essentially fell apart when he was 14. There was a sibling's death, a parent's subsequent insanity, stints with foster families, brief periods of homelessness and creative measures like selling his blood for the cash to make rent.
Though he doesn't come out and say it, it's pretty clear that art was his salvation. At 16, he received a scholarship to Stafford College of Art ("and then my problems began," he says), where he enrolled in classes in drawing and painting. When a professor told him he was colorblind, he decided to pursue a new medium: sculpture.
But he soon became disillusioned with art school, particularly the emphasis on conceptual rather than figurative art. So he left college and went to Greece to absorb classical sculpture. When he ran out of money, he joined the Israeli Army, which was "a way of getting a bed for the night," he says. About a year and a half later, he returned home and enrolled at Bath College of Art. It was there he learned stone carving—at least enough to leave school again when his professor found him a job as a stone carver.
"There are two ways of learning," Baldwin says. "Art school is a launching pad. After art school, I went through this decade of literally learning about stone."
One early project took two years and required him to work in an arctic suit in winter to complete a 40-foot frieze out of what he called the "hardest stone in England."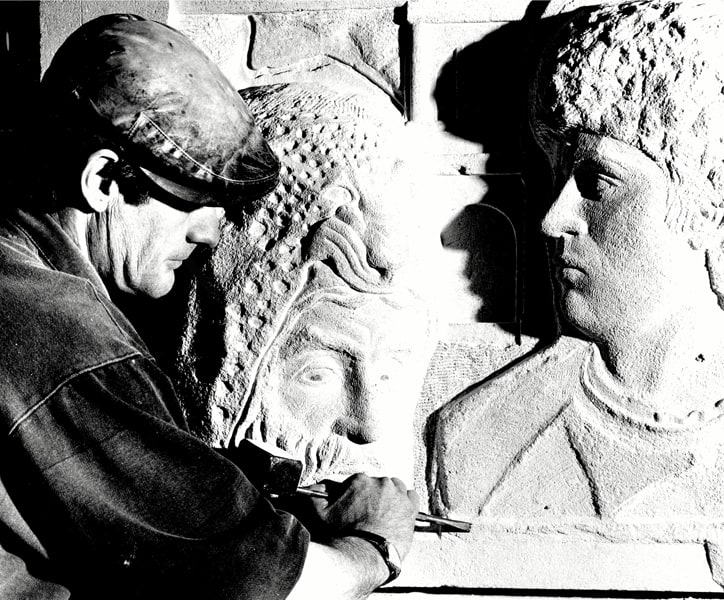 Baldwin has spent his entire adult life turning stone into art. Ironically, some of the most beautiful surfaces are off-limits: Of the 300–400 kinds of stone in the world, only 15 can be carved, he says. And for those he relies on a mere four chisels—and a lot of time. "Stone carvers in a working community are always the first to start and last to finish, always under great pressure," he says.
Despite the intense physical endurance the job requires, as well as a specific posture he likens to that of a boxer, Baldwin calls stone carving a "relaxing occupation."
But with Baldwin, it's hard to gage what relaxing is. At one point, he worked so fervently his arms looked like Popeye's and his primary mission wasn't to create, but rather to recreate and replace the heads and fingers on sculptures hit by bombs in Belfast, Beirut and Berlin. "Working in the war zones gave me great belief and determination in myself. What we do is really important to mankind. We're healers of the human spirit, we heal those places. We heal the damage," he says.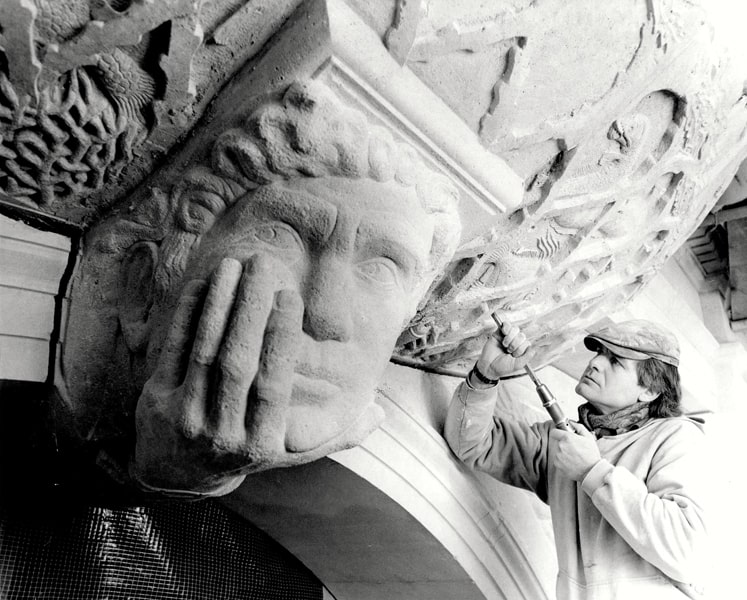 The majority of Baldwin's public works aren't signed—including the impressive 20-foot doorway on the Grand Buildings in Trafalgar Square, London—but his artworks are on tourist maps and viewed by millions of people each year.
Baldwin, father of three grown children and grandfather of six, arrived in the States in 2001. After a year in Los Angeles, he moved to the Bay Area and began teaching. A few years ago, he joined Academy of Art University as a part-time instructor, teaching stone carving and figure sculpture at The Cannery.
During class, Baldwin works alongside his students with his own current projects. "It's really important to teach by example. I'm not just talking about it; I'm a hands-on person, really," he says.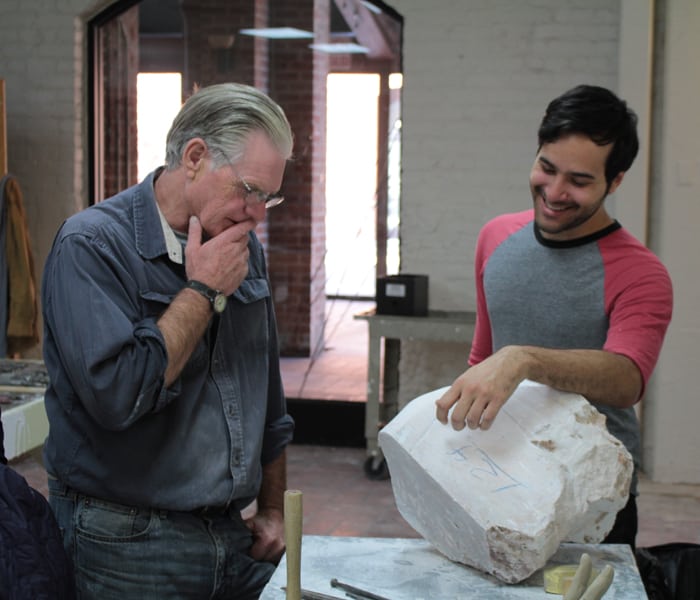 On his Facebook page, Baldwin intersperses his own photo galleries with those of his students, and it's clear his mentoring extends beyond classes. Faisal Alahmad, a Fine Art BFA student, has spent many hours working at Baldwin's home studio. "Barry is generous with his time, tools, and workspace," says Alahmad. "When I go to his studio to work on my life-size sculpture, I feel empowered because of his expertise and knowledge—which help me overcome the issues I face with the figure, or whatever project I have. Barry is a problem solver, and I appreciate the kind of input that's derived from a lifetime of experience."
Lawrence Noble, chair of Fine Art—Sculpture, notes Baldwin's generosity, recalling a time when the school was awaiting a shipment of carving tools and Baldwin brought in his own collection for students to use. "Listening to him or watching is a tour de force in action," Noble says. "He has an amazing ability to connect with the students on a real, natural level.
"He's an amazing figurative carver. You can't go to London without seeing his work. You can't go to Belfast without seeing the work he did to restore some of the buildings and sculpture there that were bombed by the IRA," adds Noble.
Despite the raves, Baldwin can be self-effacing. When asked if he has any of his life-sized figures on display at home, he laughs and says, "The last thing I want to see after a certain time is my stuff. I like to get a couple of hours break from it."
Others, however, are proud to display Baldwin's sculptures, usually reproductions of his commissioned public works. By taking a mold of an original, he's able to sell smaller editions to private collectors.
"I've managed to survive as a fine artist. It's tough, of course, but there are some avenues that people are unaware of." But he's not going to sugarcoat what it takes to make a career out of stone carving.
"It's a lot easier to become an astronaut," Baldwin jokes. "You'll get paid better, and it's a lot safer."