mon30novAll Dayfri04decAnimation and Visual Effects: Industry Week(All Day)
Event Details
Monday, November 30th, 7 pm
"I'm No Longer Here"
Listen to the Studio X crew that worked on this film along with their guest, Producer, Gerry Kim. StudioX team was nominated for an Ariel award in Vfx for this film.

Ariel Awards:
https://www.facebook.com/academiacinemx/videos/253234165983514
Wednesday, December 2nd, 7 pm
"Redemption"
Meet the Studio X crew and Director of Redemption!
https://www.facebook.com/RedemptionAnimation/videos/1736681213145764
Check out Academy ArtU News article: https://artunews.com/2020/07/15/finding-light-in-the-darkness/?fbclid=IwAR3_diM5lZjR26ISVl4T0MLh8F0mpAWPZiLaXtWCQaUvZK-0MPk9fAKHHQk

Thursday, December 3rd, 7 pm
"The 24th"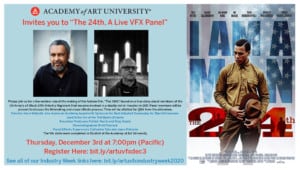 Hear from Executive Director, Executive Producers, Faculty, Students, and Alumni about their journey.
The Vfx students from StudioX were able to collaborate with award-winning Writer and Director, Kevin Willmott on his feature film, The 24th. It is the story of the all black Twenty-Fourth United States Infantry Regiment and the Houston Riot of 1917. During the summer of 2019, VFX Faculty and students were on set in North Carolina. The VFX shots were completed in StudioX at the Academy of Art University.
Film director Kevin Willmott and Executive producers of The 24th, Patrick Peach and Tony Grazia, along with the Lead Actor, Trai Byers, will join the StudioX crew to discuss their experiences, and tips for success. Join for the live webinar on Thursday, December 3rd at 7pm Pacific, and bring your questions for a special Q&A event.

Open to the public.
The link to the event will be available on the day of the event.
Register here: https://art.zoom.us/webinar/register/WN_cF-j9RjPRra0ZtT4siv3bQ
Friday, December 4th, 7 pm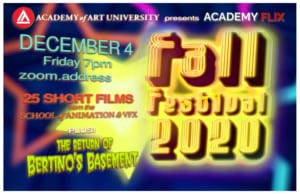 Spend an evening with Tom Bertino, William Ziegler, and other Faculty of the Animation and Visual Effects team and celebrate short-films from the past up until the present.
For the Academy students.
Students must register for this event.
Register Here: https://art.zoom.us/webinar/register/WN_NVvSFi12RE-OJVOW2CcV3w
Time

November 30 (Monday) - December 4 (Friday) PST