Back in 2016, a young student from Academy of Art University's industrial design school won the Digital Piano Design Awards launched by Roland. Four years later, his winning vision was finally fulfilled—and debuted at the 2020 Grammys.
The Cybertruck of Pianos
The GPX-F1 Facet Grand Piano is as abstract and futuristic as the inspiring instrument is very much a classic. The challenge originally issued by Roland, when it first launched the contest in 2015, was for industrial designers to reimagine the piano into a new version that will remove the physical constraints found in the traditional acoustic form.
Jong Chan Kim's Facet design features a sleek and futuristic look, head-turning in its abstractness. "In my initial design concepts," he explained, "I focused on how to translate an iconic grand piano's design to a piano of the future. I was thinking through many different perspectives of the piano. Then I decided that putting a speaker at the bottom of the piano would allow me to maintain the design essence of the piano while also enabling me to give it a futuristic look."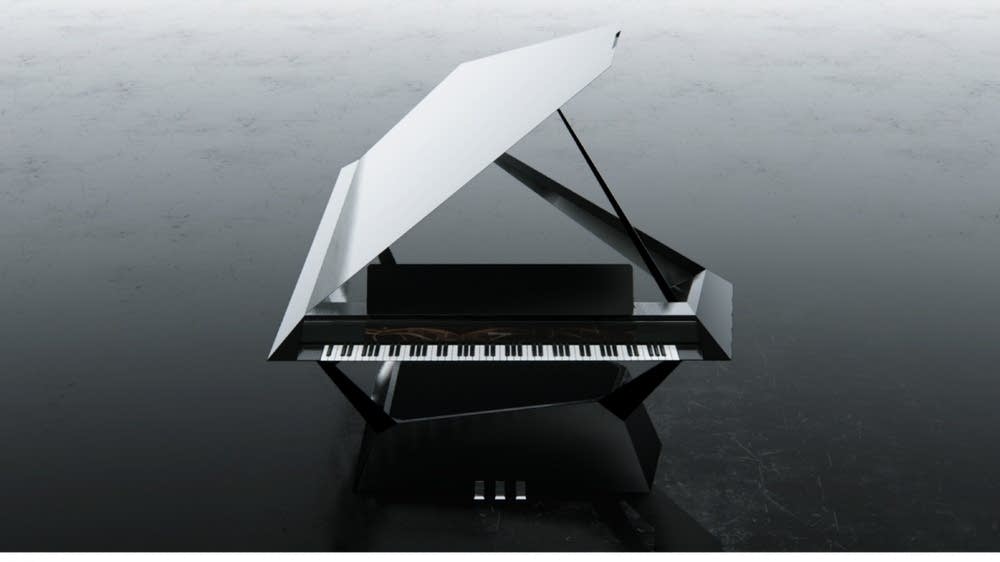 Because this is only the first time that Kim's design has been created into an actual product, people are dubbing it as the "Cybertruck" of pianos, in reference to Tesla's recently unveiled futuristic truck design.
Needless to say, with or without this reference, the Facet piano maintains a commanding presence all on its own. A presence that was front and center for all to see at the recent 2020 Grammys.
A Grammy-Worthy Debut
Against a backdrop of various hues of blue onstage at the 62nd Annual Grammy Awards, singer-songwriter H.E.R. performed a stirring rendition of her song, Sometimes. Sharing the stage with her were a line-up of horns, string, and back-up singers. But it was Jong Chan Kim's Facet grand piano, quiet in its simplicity and poise, that proved most eye-catching.
Viewers were able to catch a closer look at it as the camera caught it from various angles, revealing that the entire middle section of the piano, which would traditionally house the massive set of keys and strings, was but empty space. Instead, a series of speakers and resonators were placed in the solid base chamber, effectively reversing the piano body as it is commonly known, while also replicating the sound of an acoustic grand.
For an instrument like the piano, design is only as good as its functionality, and Facet clearly delivers without a doubt, based on this performance.
From Student News Board to the Grammys
Grand opportunities like this don't always come often, and when they do, sometimes it's in the most subtle way. For Jong Chan Kim, it was thanks to the news board at the School of Industrial Design that he found out about the contest.
The post caught his attention and so decided to apply. Although he was still just earning his industrial design degree at that time, it didn't stop him from throwing his hat in the ring. He dove into research, asking fundamental questions about the traditional design of an acoustic piano, and then worked on refining his design as inspired by geometric shapes and patterns.
It was all hard work, but in the end, it was well worth it as Roland declared his concept design the Grand Prize winner the following year.
There are currently no plans to mass-produce Roland's Facet Grand Piano, although it's not hard to imagine that more than just a few people will be lining up to take one home.
---
Hero image courtesy of Kevin Winter/Getty Images
Facet Grand Piano image courtesy of Roland