Nowadays, a robot to help you shop, take your orders, or help retail staff do inventory is not as farfetched, especially with big developments in the artificial industry (AI) industry. In fact, these robot designs were showcased at Academy of Art University's Spring Show this year.
What's impressive about these designs, however, is that they were created by the Academy's very own industrial design school students. Thanks to Shizunori Kobara's corporate-sponsored class, the students were given a chance to expand their imaginations and find creative ways to practically apply artificial intelligence, such as in smart robots.
These types of corporate sponsorship within the Academy's curriculum exemplifies one of the core values that is practical hands-on learning. It also provides a unique experience for the students to get a glimpse of real-world industry practices even before they begin their professional careers.
Academy of Art's Corporate Partnership Gives AI Ideas A Boost
Academy of Art's corporate sponsor for the artificial intelligence class is AI developer company Red Falcon. Their mission is "to make it possible to perform artificial intelligence computing" on everyday products, such as smartphones, home security systems, or even appliances, but cost-efficiently and without sacrificing quality.
Taken on a more ambitious scale, of course, leads to actual intelligent robots. With their technology designed to be accessible even for the simplest of needs, it becomes the perfect tool for students still just learning how to make the most out the AI potential.
The Red Falcon software can analyze demographics, and even identify strategies and tactics that could be employed in marketing to target particular consumer profiles.
For the Spring Show projects, the students' design mandate was clear and direct to the point: create an AI robot that could provide not just a wholesome customer experience but also a lucrative increase in business revenue.
Art School is for Thinking Outside the Box
"We started as a retail robot," explained Red Falcon Vice President of Business Development Ella Taran-Kantz, "but some of the students stretched a little bit to include other markets which we found very interesting."
Mustachio is a supermarket robot. Its specialty, as designed by graduate student Edrick Effendy, is to assist grocery shoppers find the items that they want. Beyond this, however, Mustachio can also help grocery staff stay on top of things in the supply-demand chain by taking note of inventory stocks.
Meanwhile, MA student Junwoo Lee designed a restaurant robot agile enough to deliver menus, and even clear tables. It is also responsive enough to respond to a patron calling for attention. It all sounds rather basic until the rationale behind the design is revealed.
"I'm deaf so whenever I want to order it's hard to get the waiter," said Lee through an interpreter. "[And] once they get there, they just always seem very busy." For others, the simple task of calling attention to waiters may not be such a big deal, but for Lee and others like him, having a robot to help respond to the nee ds of the patrons in the restaurant, through intelligent recognition, can spell the difference in enjoying their dining experience.
"The robot would also be able to recognize people who need assistance or who might be hungry, like when I try to call or wave somebody down, with a positive and humor-filled demeanor—it'd be a nice robot."
And then also, there's a robot that can provide further insights into consumer behavior, not only in shopping for items, but also the return of the same purchases. This robot would be MA student's Liz Cruz's AISHA, short for Artificial Intelligence Shopping Assistant.
By being programmed to deliver a highly personalized shopping experience for consumers, AISHA is able to assist shoppers in finding the item they need, or, if not available, suggest possible replacements for it.
Learning Communication & Collaboration
For the students, it was a great opportunity for them to collaborate with their peers and see how far they can take their ideas. The Spring Show projects also gave them a sneak peek at what a real-world work environment is most likely going to be like in the industry.
"A lot of the projects I have done up to this point have been solo projects where I've been on my own. Now I have a lot of people in the class I can communicate with," said Lee.
"I can see what they're doing, what is their design. Along with getting feedback from Shiz, I can change my design and accommodate their input. I've just been really enjoying the communication process throughout and how much fun it's been, how interactive it's been. It all flows together into a really nice project."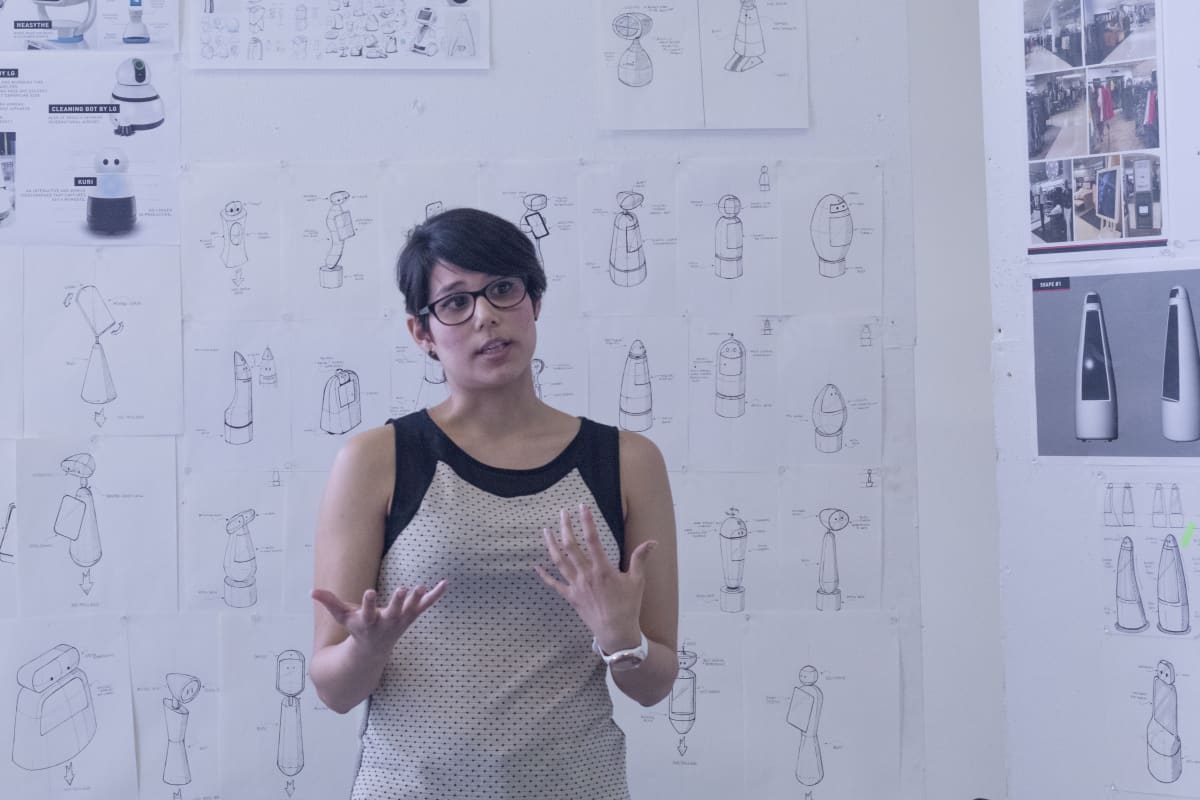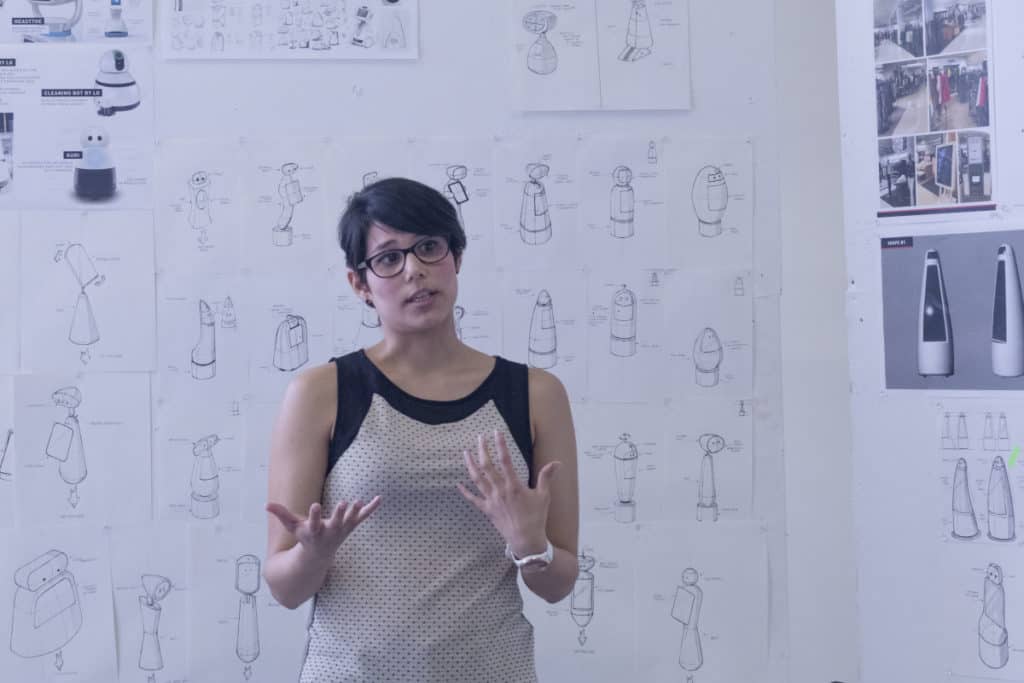 Preparing for the Future, The Future is Now
For instructor Shizunori Kobara, having the knowledge and skills to utilize and develop artificial intelligence software is important now. After all, it won't be long till robots share the space with humans.
"Robots are a big part of our future, it's important that we think about designing these robots because they will be in our homes," said Kobara. "Before, we used to design robots to be pretty. Now they need to be functional."
Needless to say, designing a fully-functional robot is no walk in the park. "After you get all these mechanisms and logic and everything, what is the expression so that people resonate really well with your design," said Kobara. "And that's really tough to figure out."
---
Story and images originally published by Nina Tabios in ART U News