The best and most effective commercials leave a lasting impression on their viewers. These spots produce strong emotions that cause audiences to not only remember what they saw and felt, but then associate those emotions with the products advertised. And that's exactly what the hilarious yet inspirational 2017 Honda Super Bowl commercial "Yearbooks" does in its depiction of the journey taken by nine A-list celebrities including Oscar winners, an NBA champion, a Grammy winner, TV personalities and box office superstars: Viola Davis, Stan Lee, Jimmy Kimmel, Steve Carell, Amy Adams, Robert Redford, Tina Fey, Missy Elliot and Magic Johnson.
The ad shows younger versions of the featured celebrities and their advice to viewers. A young Stan Lee never knew he would create a universe of superheroes. Jimmy Kimmel didn't realize how his funny oversized bowtie apparently indicated his future career in entertainment. In much the same way, Sperling, the creator and architect of this very commercial, had no idea he would produce a series of ads that would become so iconic and enduring.
Sperling is best known for creating the Adweek Campaign of the Decade with his "Get a Mac" campaign, as well as Honda's "Matthew's Day Off" Super Bowl spot, which was chosen by Entertainment Weekly as one of the Top 10 Super Bowl commercials of all time. He has also been awarded some of the most prestigious honors in the advertising industry, including the Cannes Gold Lion, the Cannes Gold Cyber Lion, several One Show Golden Pencils and Clio Gold awards, and the Yahoo Purple Chair Award. With all of these impressive accolades and credentials, how did Sperling get to where he is now? His story started when he decided to take the first step into a career in the arts in San Francisco.
Taking the First Step
"I remember riding that cable car with my backpack on and being so fearful of what was to happen to me," says Sperling of his first day at the Academy. He arrived at the university in 1994 to pursue his MFA in Advertising after having graduated from UCLA with a BFA in Sociology. As a former sociology student, he knew very little about advertising, but his aspiration to become an artist and his passion for creating had led him to San Francisco to embark on a new life.
Though Sperling always had a creative inkling, how to manifest it was challenging during his early days as a student—particularly because, as he puts it, advertising isn't only about coming up with cool ideas but reconciling the creative process and business strategy. At the Academy, Sperling developed his creativity and learned how to shape an idea into an ad. "Academy of Art University was influential in fostering my career and helping me to understand the language of commercial advertising. It gave me the right skill set," Sperling says. "I was challenged to push myself and do things I didn't necessarily know I was capable of." Moreover, the amazing thing for Sperling was that he and the Academy have always remained connected. No matter where his career has taken him, he's always been tethered to the university.
Establishing Himself
After graduation, Sperling started embarking on various advertising careers, first as a copywriter at a small agency, then worked his way up to becoming creative director at the renowned agency TBWA/ Media Arts Lab, where he spearheaded one of his most unique and challenging projects ever—leading a team developing an ad campaign for Apple. Through this process, had the opportunity to work with Steve Jobs personally. "When I was standing in front of Steve Jobs and showing the 'Get a Mac' ad—that was one of those rare trial-by-fire moments. All I thought about was how to apply all I learned from previous jobs and my instructors at Academy of Art" to where he was at the moment, Sperling recalls.
In 2006, the Get a Mac ad was released, which kick-started Apple's domination of next-generation phones, computers and wearables. In 2010, Adweek declared the campaign the best of the first decade of the 21st century.
Sperling's legacy was definitely under way.
Cultural Impact & Legacy
"Hopefully, my work impacts the pop culture world and even makes people love advertising," says Sperling. "My career has always been about transcending what advertising means to people."
Sperling sees his legacy as ever evolving. At the beginning of his career, he was less concerned about legacy and more interested in creating impactful and notable work. Today, as the creative force behind several iconic campaigns, he finds himself looking beyond immediate success towards transforming clients and giving back to his community. "I understand my fortune. Part of my job now is to make sure I see the same things happen to people who work for me," he notes.
Sperling recently helmed the creation of the "Imaginary Friend Society," a pro bono campaign for the Pediatric Brain Tumor Foundation, the world's largest nonprofit dedicated to families facing a child's brain tumor diagnosis. "It's a series of 20 short films that speak to kids about different cancer issues [in ways] that haven't been done before. It's something that will live for posterity long after I'm gone, and will benefit kids. This is absolutely a whole different level of legacy," he says.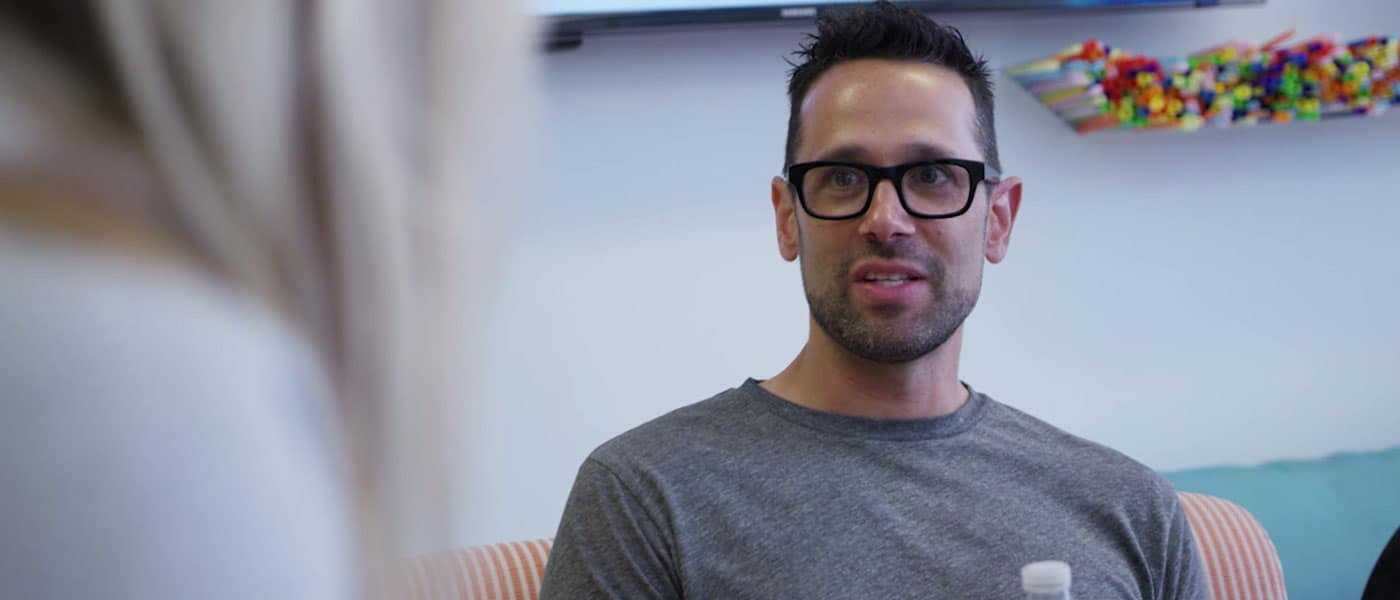 Advice from Jason Sperling
As to words of wisdom he'd like to impart to the next generation of creatives, Sperling sums up his advice in one word: Conviction. He urges students to be driven and have a complete openness to accepting whatever comes. Conviction is everything, he feels, from recognizing a great idea to overcoming objections to a breakthrough piece of creative work. It is the lifeblood of the advertising industry.
"That's going to be what separates you from everyone else. But better is a never-ending quest," Sperling adds. "Never rest on your laurels when you've done something great—continue to try doing something greater. It's always about looking for that next challenge. In advertising, that comes daily."
As Viola Davis said in the Yearbooks ad, "The point is, all dreams are within reach. All you have to do is keep moving towards them."