They used to be Urban Knights student-athletes for the Art U team of Academy of Art University. They also used to be School of Communications & Media Technologies students, albeit at different times.
Today, Joseph Marchini (Men's Baseball/Class of 2017), Champagne Clay (Women's Softball/ Class of 2011), and Matt Cesca (Men's Basketball/ Class of 2016) find themselves working together as production engineers in Salesforce.
Getting the Academy Advantage
The stories behind how they jump-started their professional careers following their lives as student-athletes also shared similarities. In Marchini's case, one of his former professors hired him for Pixel Corps. He would then refer to the time spent in this advanced media production services company as "a production bootcamp."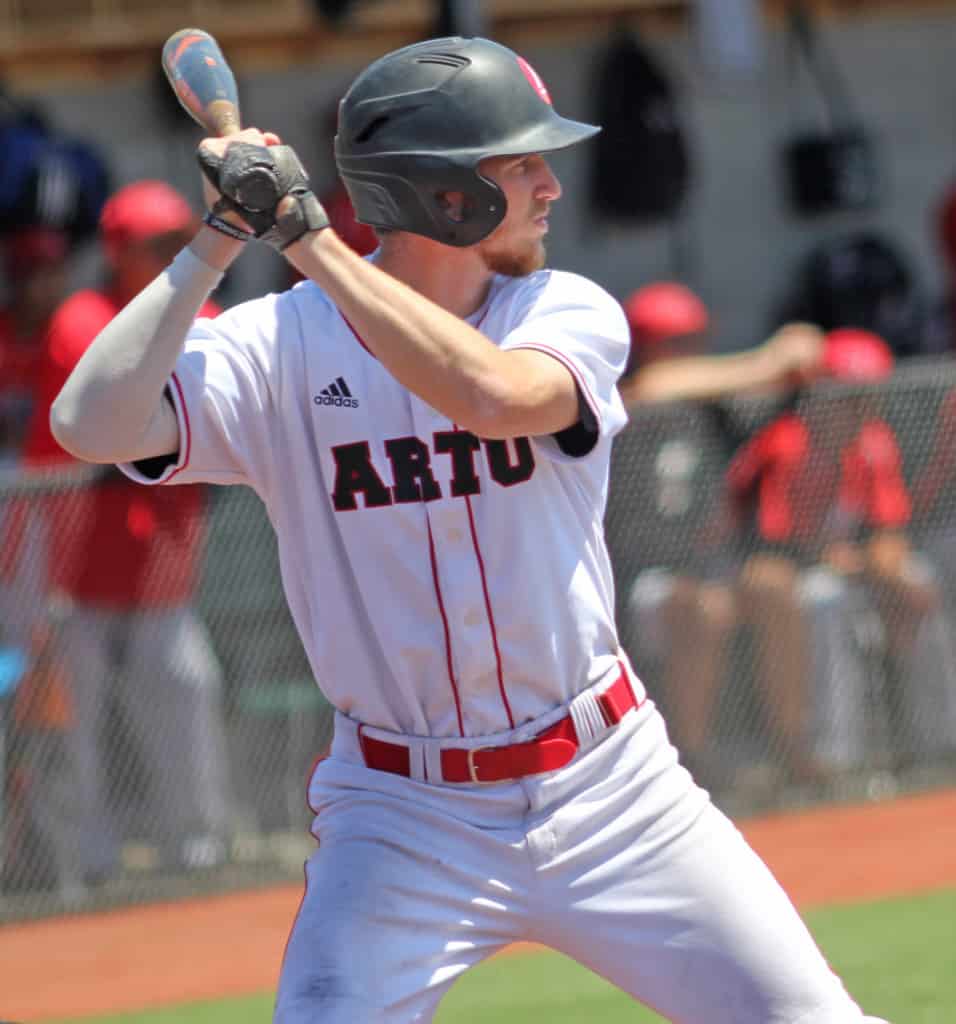 Cesca came into Pixel Corps along with Marchini. At the beginning, though, particularly after his basketball career in the University, he "struggled to figure out exactly what I wanted to do." Fortunately, his teacher Dianne Fukami gave him a strong pep talk.
"Give your best effort to everything," she told him. "That way, as you go through figuring out what you want to do, there will be options."
This would become one of Cesca's favorite pieces of advice. "Something to this day that I still refer to."
Meanwhile, Clay's recruitment came from within the School itself. "After graduating from the COM department in the Fall of 2011, I was grateful that Co-Directors Jan Yanehiro and Steve Kotton offered me a full-time job as a studio tech," she recounted.
"Over 11 years in the department (eight and a half on staff and three as a student) has taught me every single thing that I know now about production."
All Networking Roads Lead to Salesforce
At least for all three of them. Marchini's entry to Salesforce was once again facilitated by an Academy connection. Another faculty member, who was also connected to the marketing team of Salesforce, had recommended him as an intern in 2018.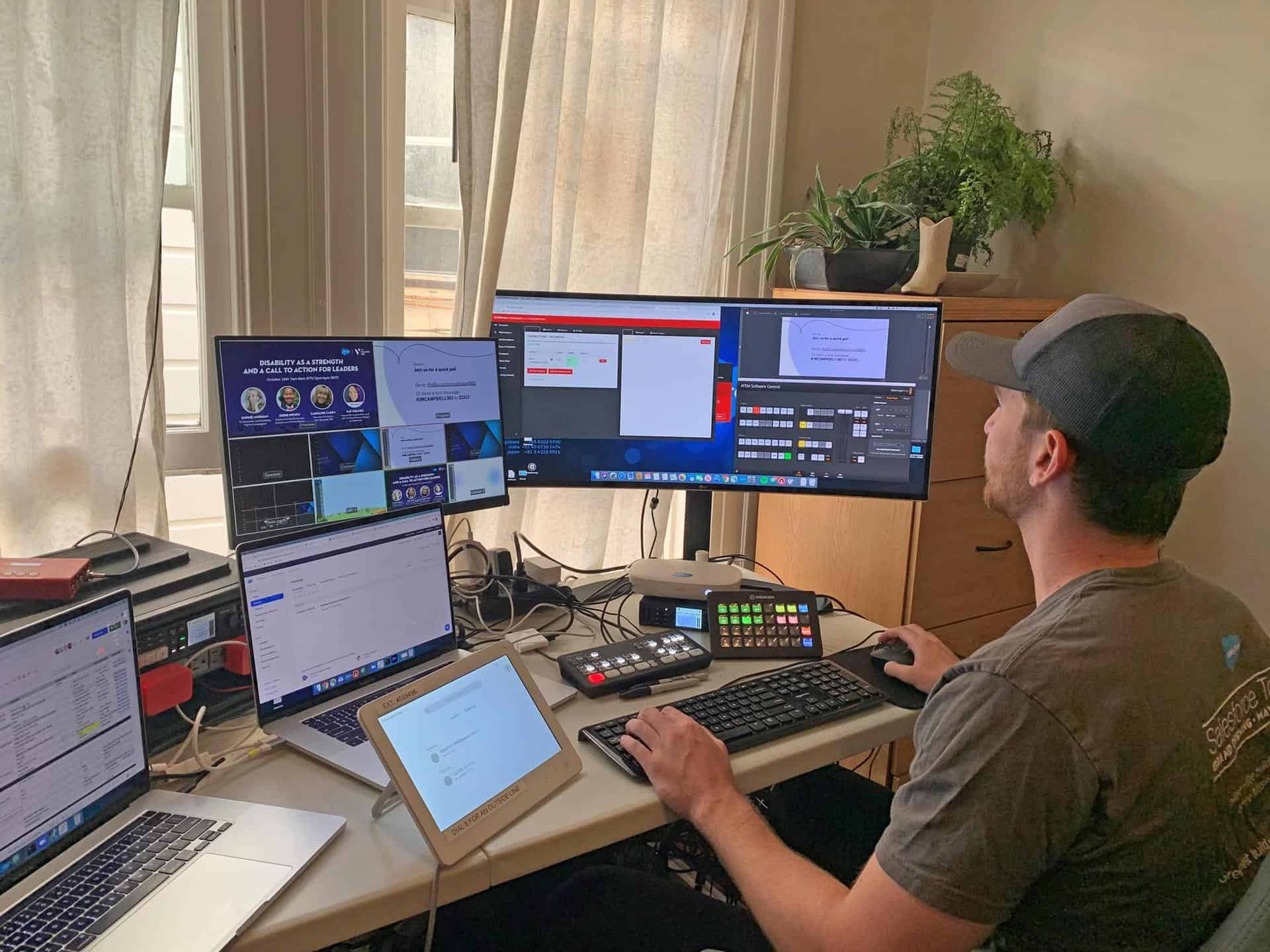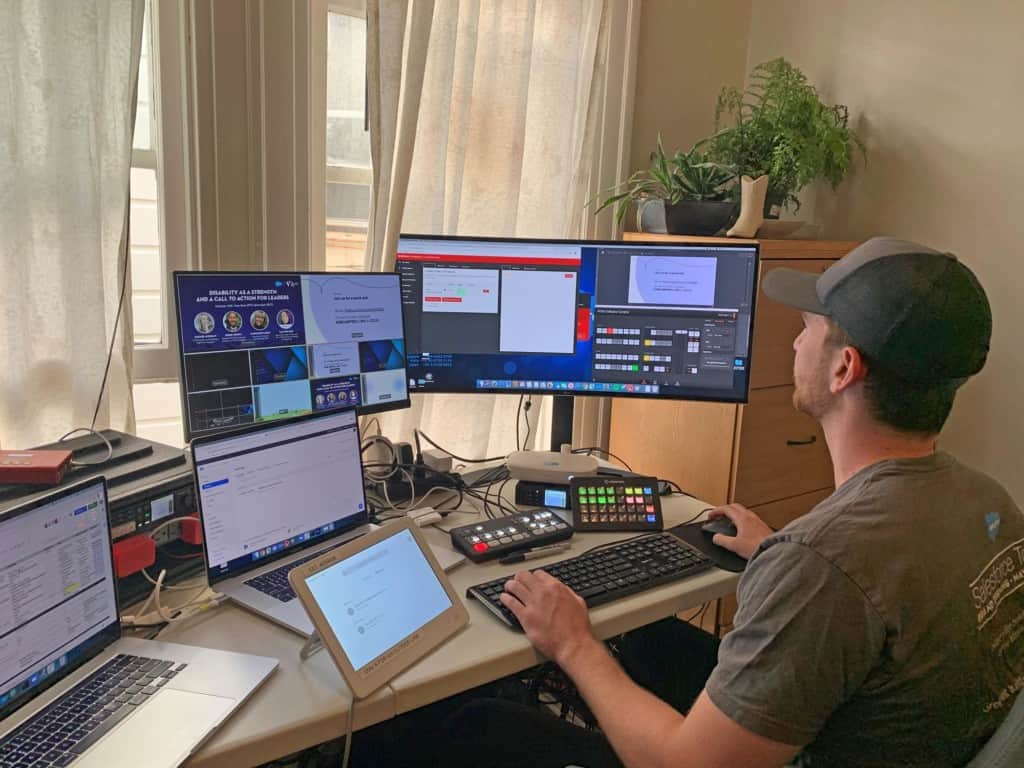 His role had him helping rebuild the lighting grid of Salesforce Studios, as well as doing camerawork for their live shows. Eventually, he officially joined the team as a production engineer as the company expanded.
And then the pandemic happened.
Live, in-person events ceased to be and, as with everyone else in the rest of the world, a pivot to online had to be made. It was then that he sought the help of Cesca and Clay to help with the production of remote live events.
"We had to quickly design and implement a new home production kit to give remote meetings more of a broadcast feel, said Marchini. "Once we got our home kits up and running, our service became more popular across various Salesforce organizations. Over the last few months, we met this new demand and had the support from upper management to grow the team. Luckily enough, I was able to hire two highly-skilled people I met at Art U in Matt and Shampayne."
Today, all three of them work in Salesforce's internal production team, Streamforce, where they also design and build kits for live production.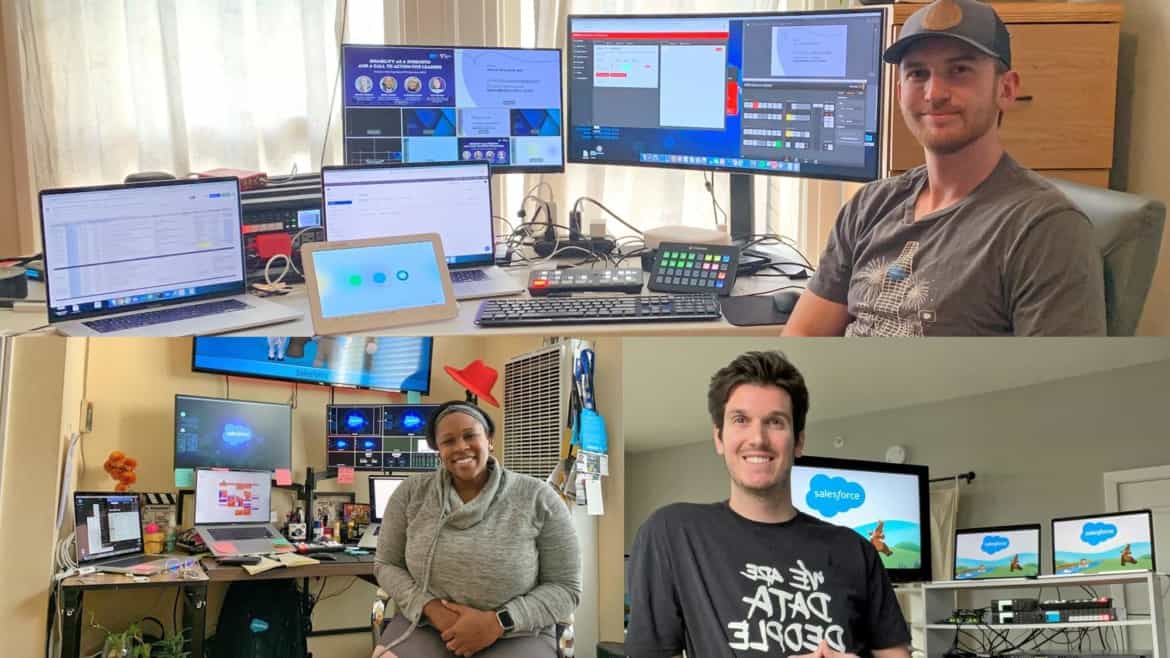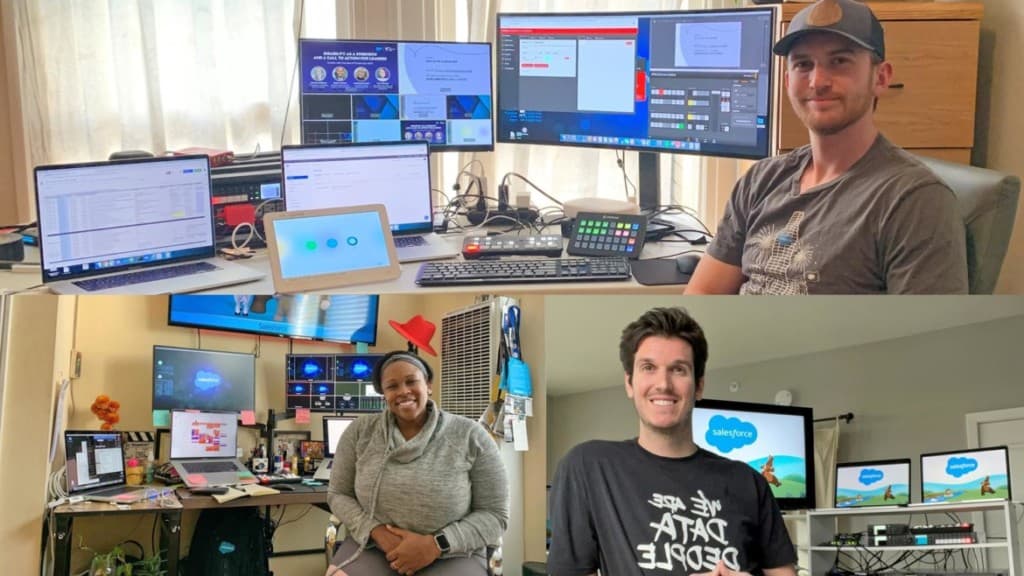 Learning About Teamwork in Sports, Putting It Into Career Practice
As student-athletes, it was a different university experience from everyone else. Not only did they have to attend practices and represent the Academy in competitions, they were also expected to maintain a good enough GPA in their academics.
This kind of routine can only be possible with the right mindset and commitment. Over the years, their time spent with Art U turned out to be an intense training ground for what was to come in the real world after graduation.
Clay, who was the first among the three to be a student-athlete, was honored as the Academy's Female Athlete of the Year in 2009. Under her leadership, the Women's Softball team earned notable performances and rankings in all major statistical categories. She also earned the All-PacWest First Team in 2010, as well as one of the fist two Urban Knights All-Region Second Team.
"I didn't ask to be the leader, but I think the younger players may have looked up to me because I was older. Since then, I have tried to carry that into jobs. It's a little harder now starting a new job, but I see bits of my leadership beginning to grow as I continue learning at Salesforce.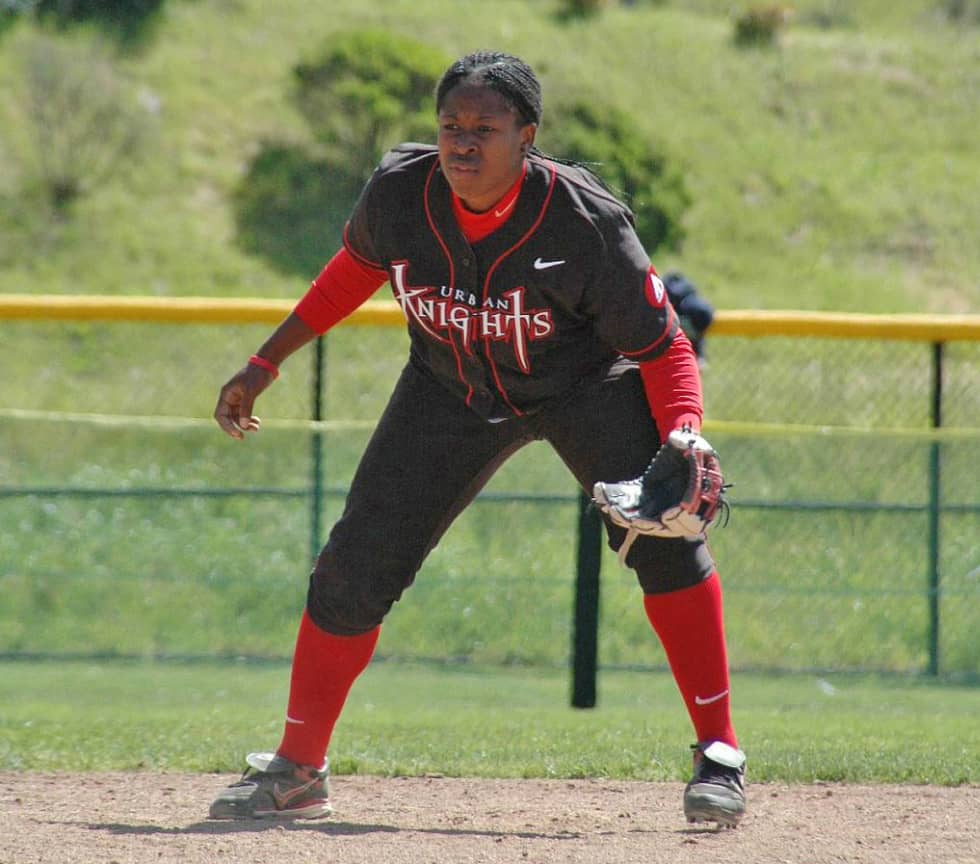 Meanwhile, Cesca looks back on his time in the Mens' Basketball team as one filled with life learnings. "It made me tough. It taught me to always push and keep a level head through adversity. I learned to read people while recognizing what their strengths and weaknesses are," he noted.
"Success is determined so much by putting people in a position to succeed. That rings true in sports and in the office."
As for Marchini, who was an All-PacWest Third Team awardee in 2015, "Nothing could have prepared me better for the real world than being a student-athlete."
"The discipline and diligence that is demanded from any athlete gave me a huge advantage at the beginning of my career. Balancing responsibilities, focusing on the collective achievements of my team, and continuously learning are equally as critical at Salesforce as they were to my success as a student-athlete."

Joey Marchini, School of Communications & Media Technologies (2017)
Looking Forward, Moving Upward
"Our team at Salesforce is young and growing," said Cesca. "I am really excited to watch us progress over the years and see what we can get our hands on."
As for Clay, "I am just looking forward to continuing to learn. I am looking forward to producing some great shows and working with such amazing people."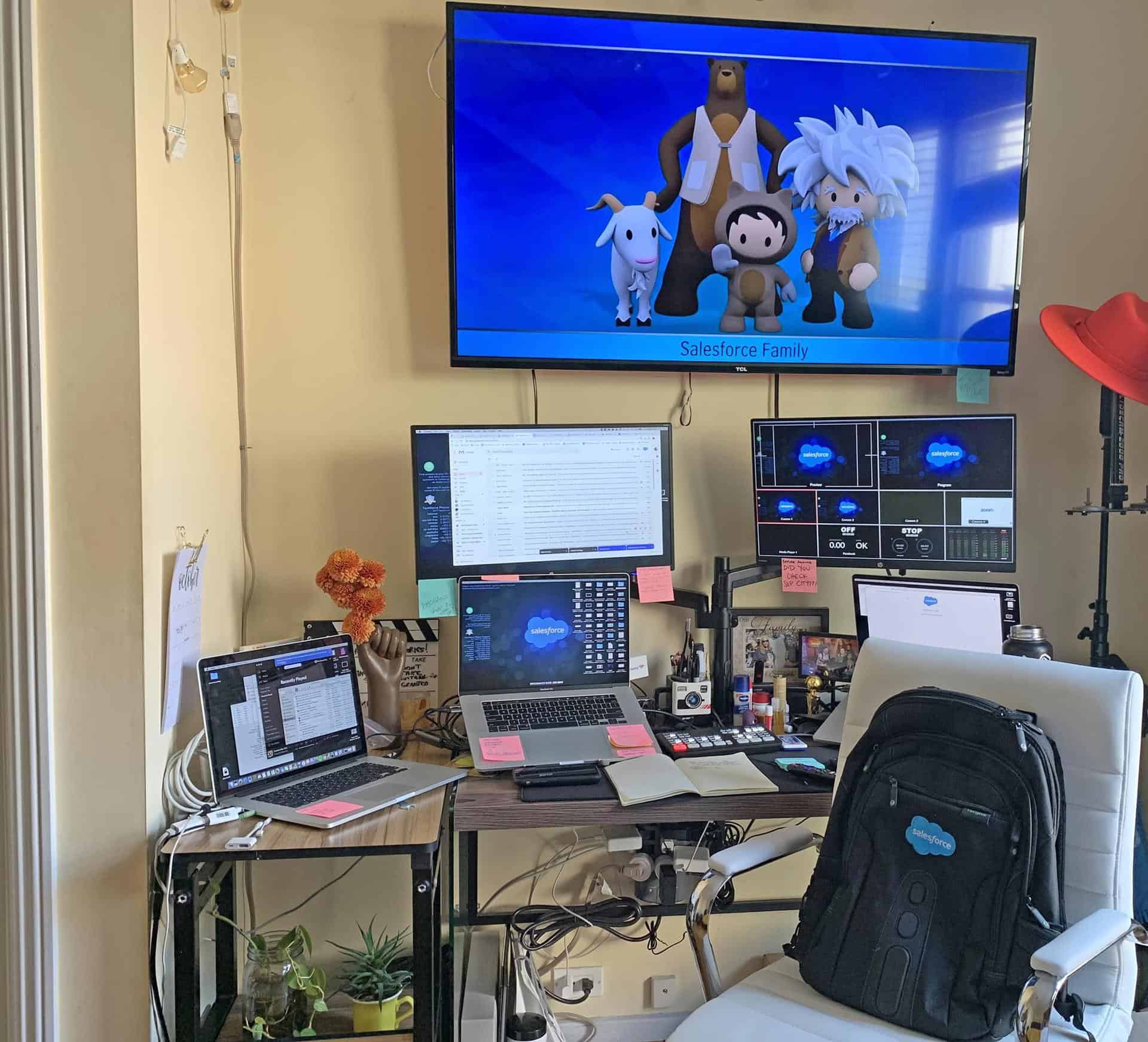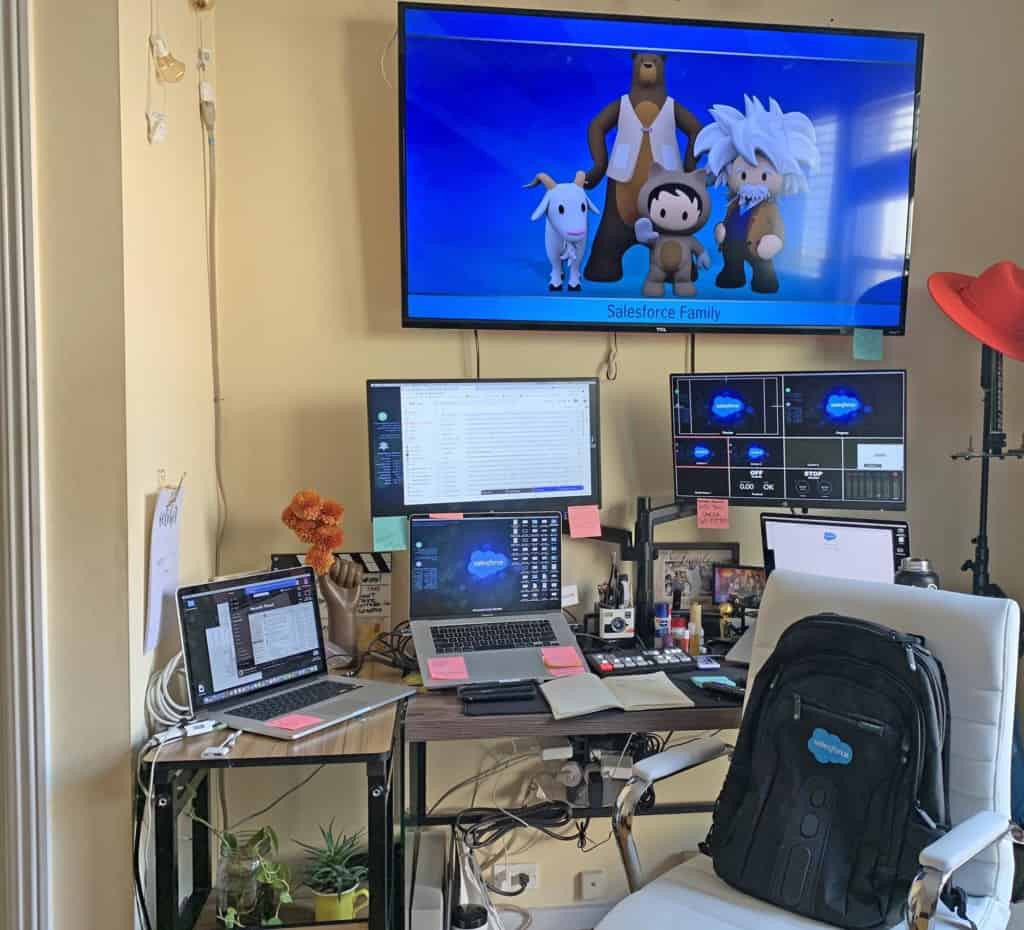 Marchini, meanwhile, wants to grow further. "I plan on continuing to build this production team and expand our footprint. My hope is to take this small, headquarter-based service and streamline it as an amenity available to Salesforce's global workforce."
While they work on these goals and dreams, they also shared some helpful advice to younger Urban Knights and other students.
"You don't need to have everything figured out just yet," reassured Marchini. "I came into Art U as a blank slate; baseball was the only thing I was ever sure of, so I didn't really know where to focus my career. My solution was to be always open to new opportunities.
I'd say take every opportunity that comes your way. You never know who you'll meet or what will come of it. Be teachable, be curious, and work hard. Hard work is invaluable and won't go unnoticed.

Joey Marchini, School of Communications & Media Technologies (2017)
Cesca's advice also goes along the same vein: "Put your best foot forward in everything you do. That type of effort will prove invaluable… Your teachers are all professionals in the industry and always working on projects for the school or the community. That is the best way to get hands-on experience and an early taste of the industry."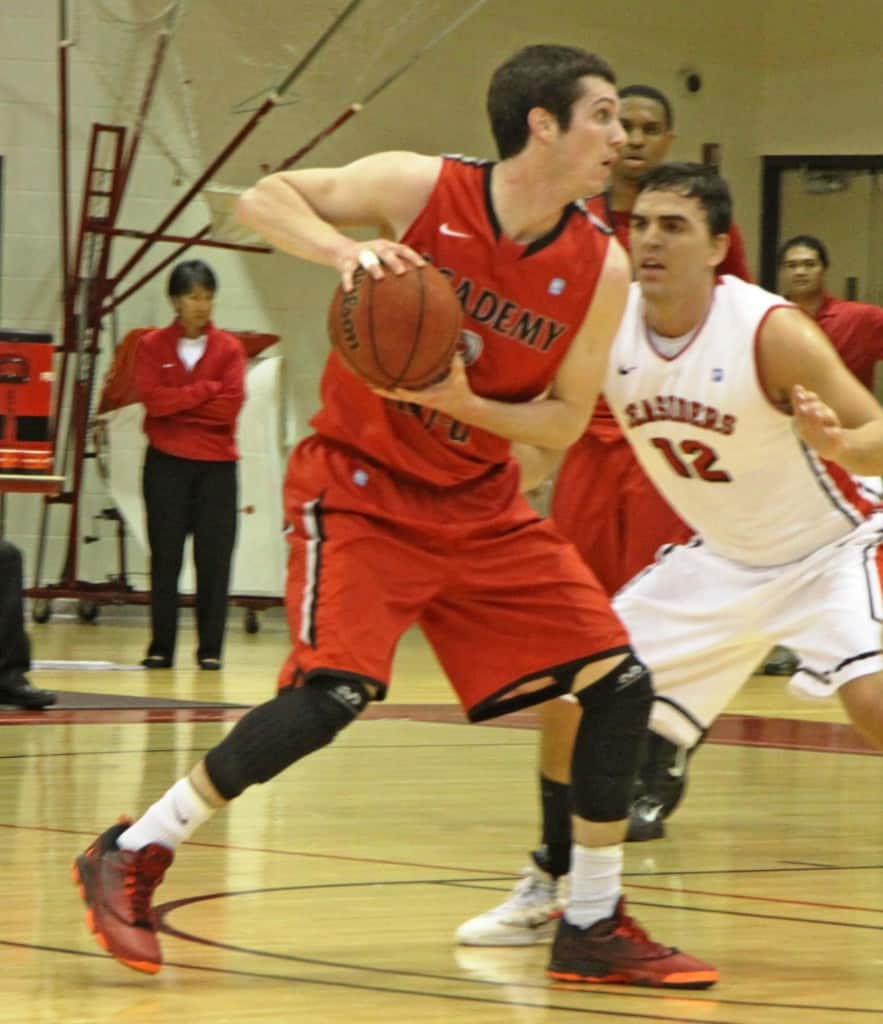 He also encourages exploring the other programs offered by the Academy, noting that there are "so many different types that can bleed into each other."
Take advantage of that with your electives. I was a multimedia communications major. In my last year, I took a couple music production classes. I cannot explain how much knowing audio has helped my career progress.

Matt Cesca, School of Communications & Media Technologies (2011)
Finally, for Clay, it all boils down to having the courage to try different things out. "Whether it's different things in your respective department or in other majors, be open to your goals and/or dreams changing throughout this process."
---
Originally published in ArtU News.
Hero image courtesy of David Paul Morris, Bloomberg.