The Academy's School of Fashion hosted its annual Graduation Fashion Show and Awards Ceremony Thursday, April 26, 2018. The event began with select graduating students from the MFA and BFA programs presenting their collections—including womenswear, menswear and childrenswear—to industry professionals. Several of the collections were created as collaborations among students in the Fashion, Knitwear and Textile Design programs.
"When fashion design students from different cultures and backgrounds collaborate, their diverse spirits, ideas and passions are reflected," said university President Elisa Stephens in her welcoming remarks. "Collaboration is a crucial aspect of the professional world, and we encourage students to work together because it mimics the collaborative work they will do in their professional careers."
Looking ahead to the show, Alexander Fury, chief fashion correspondent for T (The New York Times Style Magazine), said, "I think the interesting thing thus far is the collaboration between the different areas. I've seen parts of print collaborations, parts of knit collaborations, but I'm waiting to see them all together on the runway. … It's going to be very interesting for me to see how all of that comes together." (Fury was one of three prominent fashion industry figures who were awarded honorary degrees by Stephens this year. See HONORARY DEGREES, below.)
Summing up the event, School of Fashion Executive Director Simon Ungless said, "It's been a great experience to see this year's guests interact with the students—to view their work, offer feedback, and take a genuine interest in the programs, as well as the industry projects our students are participating in."
STUDENT COLLECTIONS

Textile & Fashion Design Collaborative Collection:
This collaboration employed digitally printed fabrics designed by BFA Textile Design student Mario Chinchilla, whose digital prints were transformed into a womenswear collection by MFA Fashion Design students Diane Dickey, Danni Huang, Shamonica Jones, Qiaochu Li, Xiaomo Liu, Muhammad Ahsan Nazir, Chenqi Xie and Meijun Lu.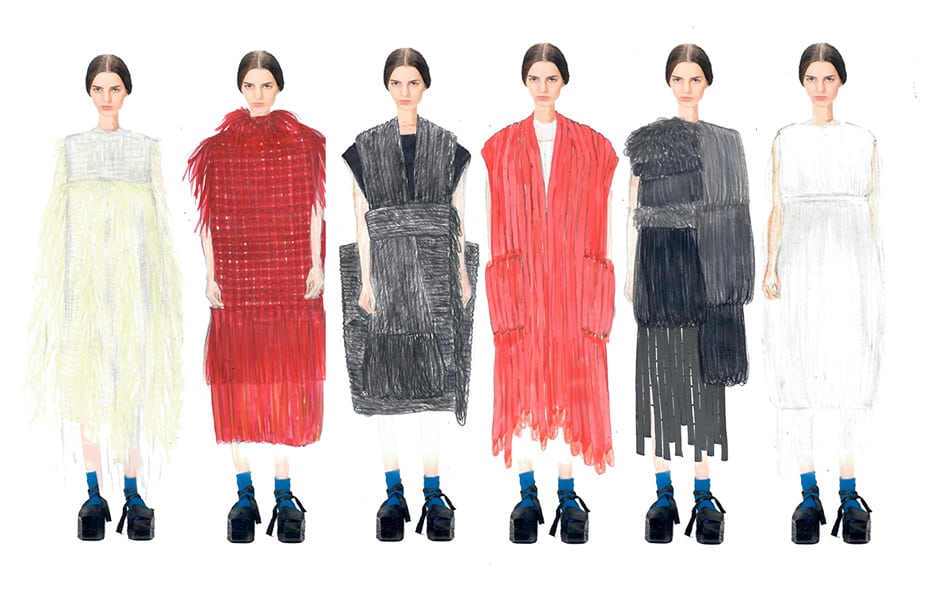 Julie Eunju Kim, BFA Knitwear Design, is from South Korea. Her collection is inspired by abstract artist Paul Klee and his play with shapes and colors. The entire collection was created using fine Italian yarns, to which Kim applied her own experiments—including weaving methods and traditional knitting—to create distinctive silhouettes.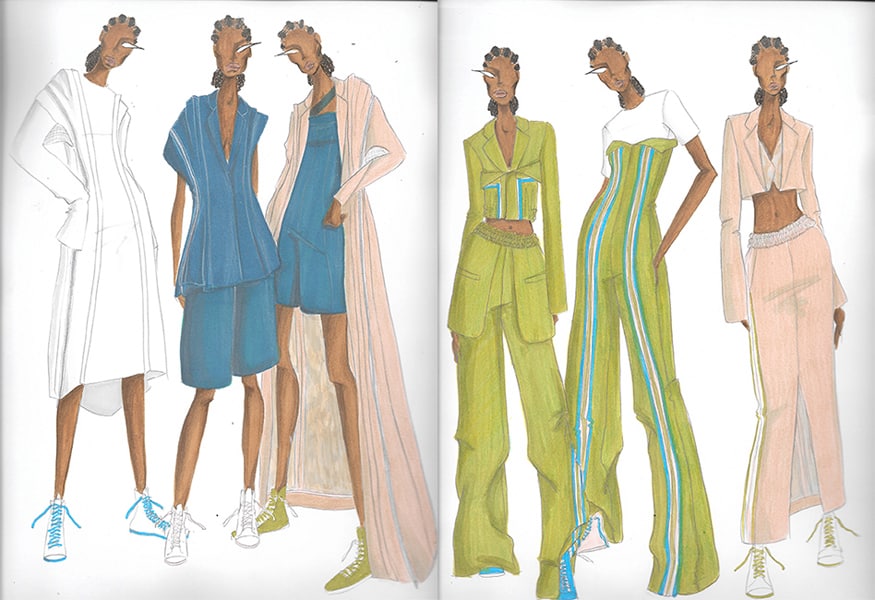 Brianna Toomer, BFA Fashion Design, is from Alaska. Inspired by women during WWII, her graduate collection "Nobody's Housewife" examines the balance between masculinity and femininity through soft, sporty tailoring. It juxtaposes silhouettes of women and men from the era and introduces an athletic twist with zippers replacing seam lines and exposed side seams with multilayered bias binding.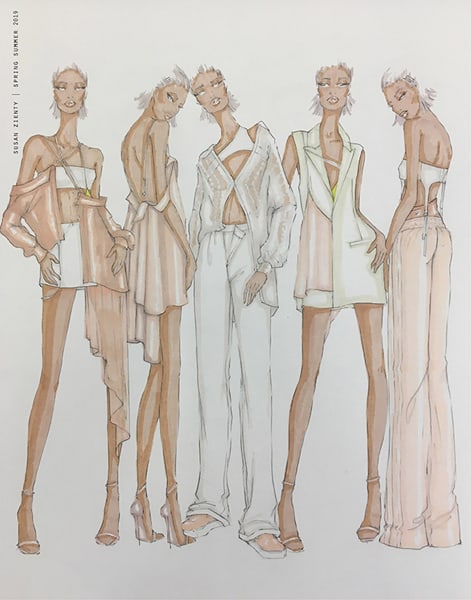 Susan Zienty, BFA Fashion Design, is from Arizona. She describes the inspiration of her collection as "anti-dress," a clash between the etiquette of the past and the standards of the future, as well as dressing for oneself without regard for others. Her collection challenges form while simultaneously working in harmony with the female body. Zienty used locally sourced fabrics from small businesses including washed silk, silk charmeuse and viscose.
Fashion & Textile Design collaboration: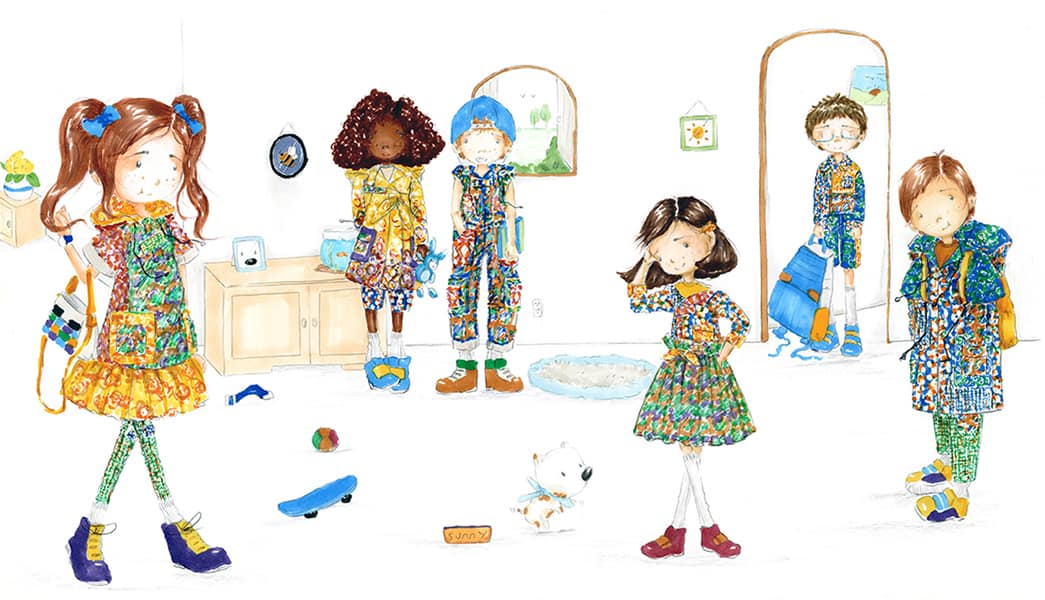 Sam Shan, BFA Fashion Design, grew up in in Burma. At the age of 14, he fled on his own as a political refugee and  began a new life in Kuala Lumpur, Malaysia. He came to the U.S. at age 20 and today is a U.S. citizen. Each year the Academy awards a full Presidential Scholarship to a graduating fashion student from City College of San Francisco, and in 2014, Academy President Elisa Stephens selected Shan for the scholarship. Shan's childrenswear collection was inspired by playful colors and whimsical shapes in the work of artist Paul Klee. Shan incorporates sustainable practices through use of 100% natural fibers and eco-friendly dyes. Marisa Chentakul, BFA Textile Design, was born and raised in Bankok. Her aim was to challenge the textile side of childrenswear for this collection. She designed refined and unique repeats, and engineered prints with children's ink stamping, playful images and collages of daring colors and textures.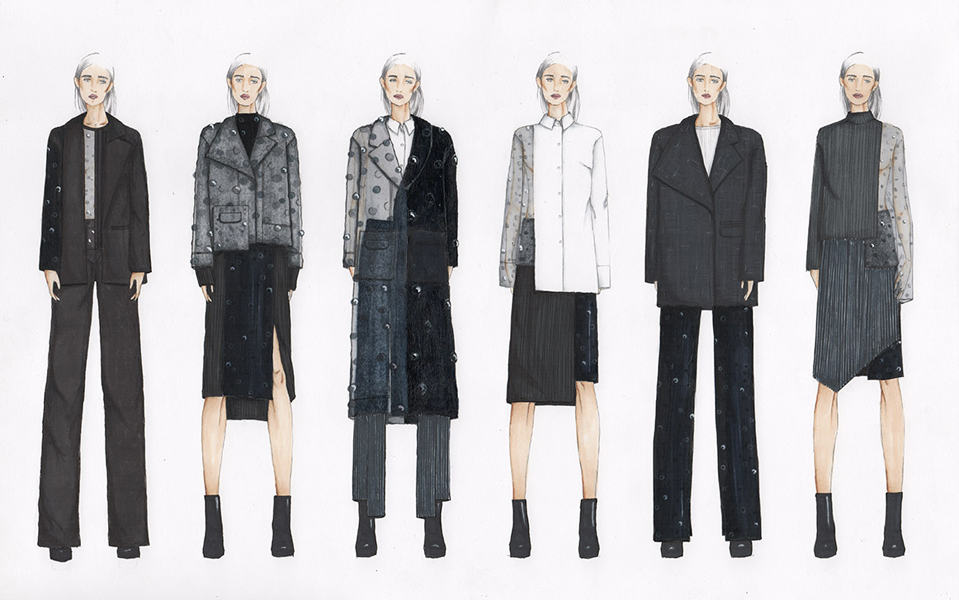 Stefanie Jessica, BFA Fashion Design, is originally from Yogyakarta, Indonesia, where her past design work was featured in the Indonesian editions of Harper's Bazaar, Nylon, and Elle. Her collection derives inspiration from anxiety, tailoring and asymmetrical shapes. To underscore the concept of tailoring, she used wool as the main material, cotton, organza…and surprisingly adds bubble wrap to provide contrast.
Fashion & Knitwear Design collaboration:


Zixuan (Stella) Quan, BFA Fashion Design, is from the city of Xi'an in China. Her inspiration is drawn from the historical importance of her city as the starting point of the Silk Road and home of the ancient terracotta warriors. Quan aimed to capture the spirit of the warriors, as well as the detailing of their garments. Her collection combines historical armor with modern fashion, using a combination of materials: textured composite polyester, fleece, boll denim, double-sided knit, waterproof cotton and neoprene. Lulu Hui-Ju Tsai, BFA Knitwear Design, was born in Yunnan, China and grew up in Taipei. The inspiration behind her knitwear collection is the "concrete jungle" of the financial district in New York City. Tsai used knitted cord to embroider mesh fabrics throughout the collection.

Luis Guillen G., BFA Fashion Design, was born in Mexico and grew up in Santa Cruz, Calif. In his collection, he was inspired by a gay subculture of pups (cub is to bear as pup is to wolf) and the 18th-century romantic period. The collection features embroidered flowers with flossed and latex fringe, high neck collars and shirt dresses for men. Embroidery credit: Anastasia Smith and Christina Cundari.
Fashion & Textile Design collaboration: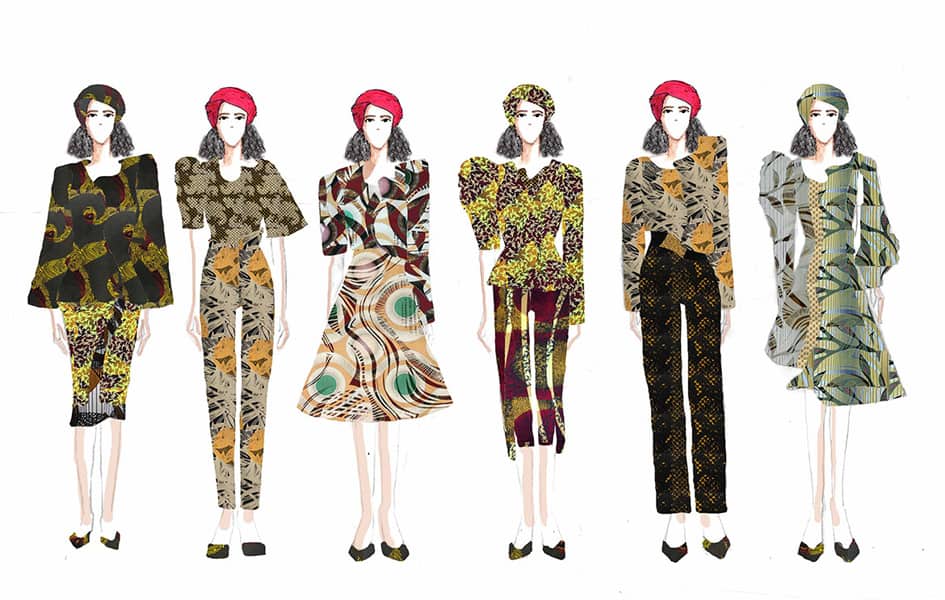 Uchechi Anigbogu, BFA Fashion Design, is originally from Nigeria and grew up in San Diego. Her collection was inspired by the past, through personal and impersonal experiences; and, in a colorful way (such as her grandmother's style), the designer's African roots and American style in the 1950s. The collection utilizes vibrant Ankara print fabrics, as well as fabrics purchased on a recent trip to Nigeria. Jie (Robert) Ren, BFA Textile Design, is from China. In addition to fashion, Ren's educational background includes graphic design and interior design. His textile collaboration draws inspiration from an "East meets West" cultural fusion and focuses on provocative shapes.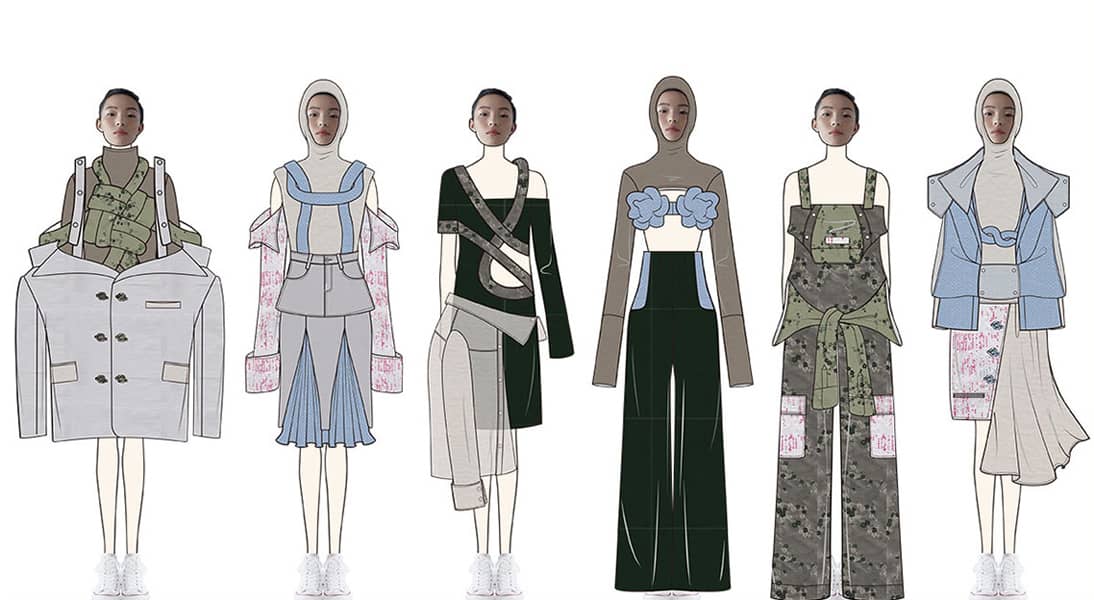 Minghan Xue, BFA Fashion Design, is from China. She describes the inspiration of her collection as "a story, a transition, where the globally recognized 'Made in China' label becomes the 'Designed in China' label." She experimented with different kinds of fabrics, repositioning garments and repurposing material to create new textures and patterns. Textile and trim credit: Mojtaba Katiraei, BFA Textile Design.
Fashion & Textile Design collaboration: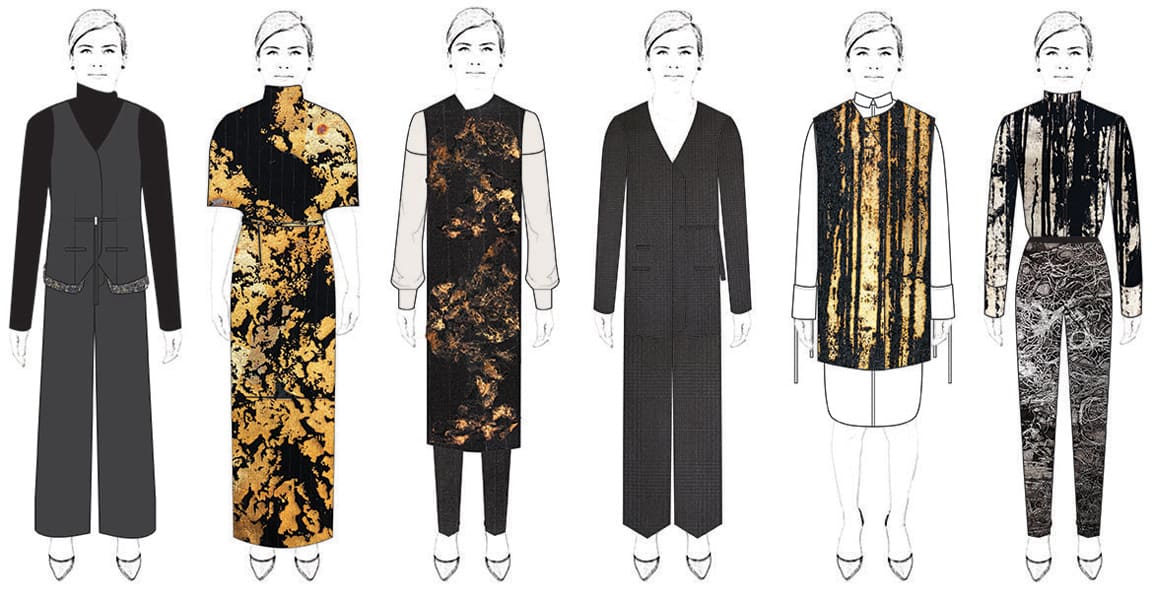 Denise Ramos, BFA Fashion Design, is a Bay Area native. She drew inspiration from trips to Savile Row, a street in London known for traditional bespoke tailoring for men, and Girona, Spain, which was one of HBO's Game of Thrones season 6 filming locations. For this collaborative collection, Ramos included traditional men's tailoring techniques and created a strong silhouette based on the powerful female characters portrayed on Game of Thrones.

Jorge Iglesias, BFA Textile Design, was born in Mexico and grew up in San Jose, Calif. He used gold leaf foil to apply pulled threads on repurposed denim for his textile designs.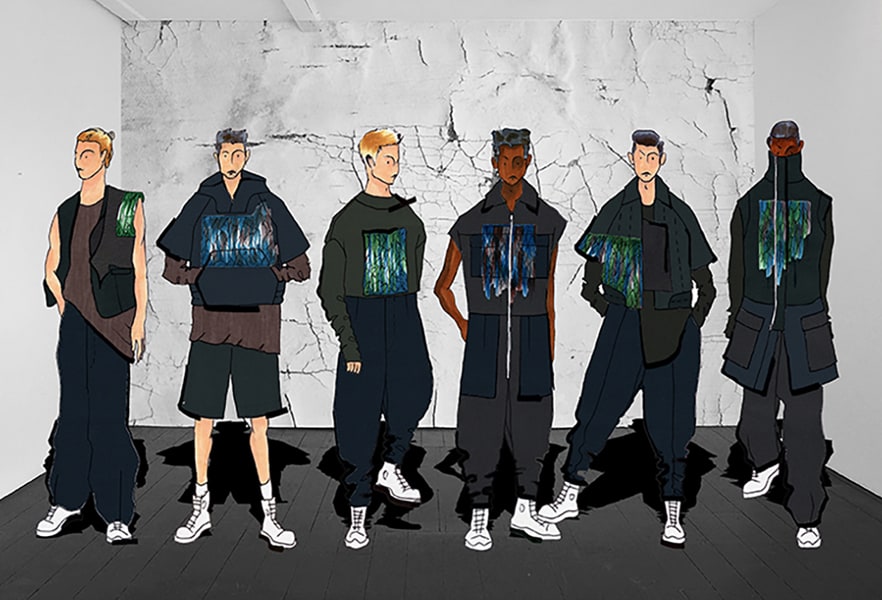 Justin Ho, BFA Fashion Design, was born in Ohio and raised in Taiwan. His menswear collection was inspired by crackled paint from artworks of Gerhard Richter, along with the images and texture of wasted wires. He translates classic menswear into minimalist contemporary design by combining tailored garments with oversized, draping silhouettes.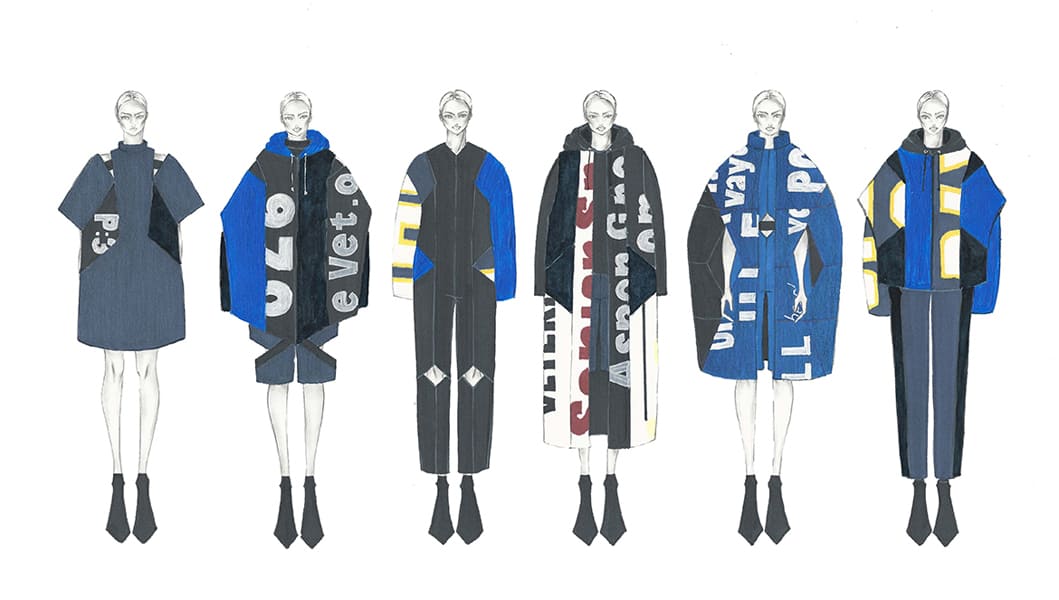 Jeannifer Tirtamarta, BFA Fashion Design, is from Indonesia. For her collection, Tirtamarta was inspired by gritty construction areas and streets of San Francisco. Continuous seam lines and the geometric shapes of her silhouettes reference building structures. In addition to cotton canvas and denim, Tirtamarta uses recycled billboard tarp for garments to help overcome waste in the fashion industry.
Fashion & Textile Design collaboration: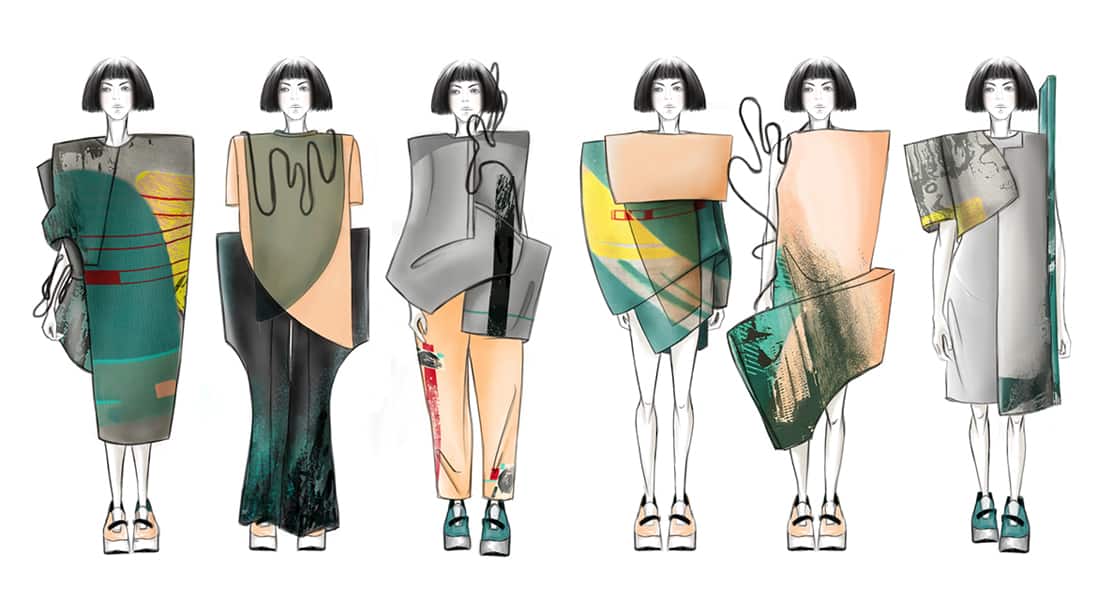 Hanh (Susan) Nguyen, BFA Fashion Design, is from Vietnam. She used organic cotton in canvas, twill and organdy for her womenswear designs, drawing inspiration from Paul Kremer's minimalist Color Field paintings for the silhouette. For jewelry, she used heat to soften and shape straight acrylic rods into curvy designs inspired by paintings of maximalist artist Trudy Benson. Emily McCarty, BFA Textile Design, is from the Los Angeles area. In her collection, McCarty wanted to "construct a visual ode to modern art, with a hint of satire." The collection became a physical representation of how McCarty sees the theme of balance of harmony and chaos in the modern art world.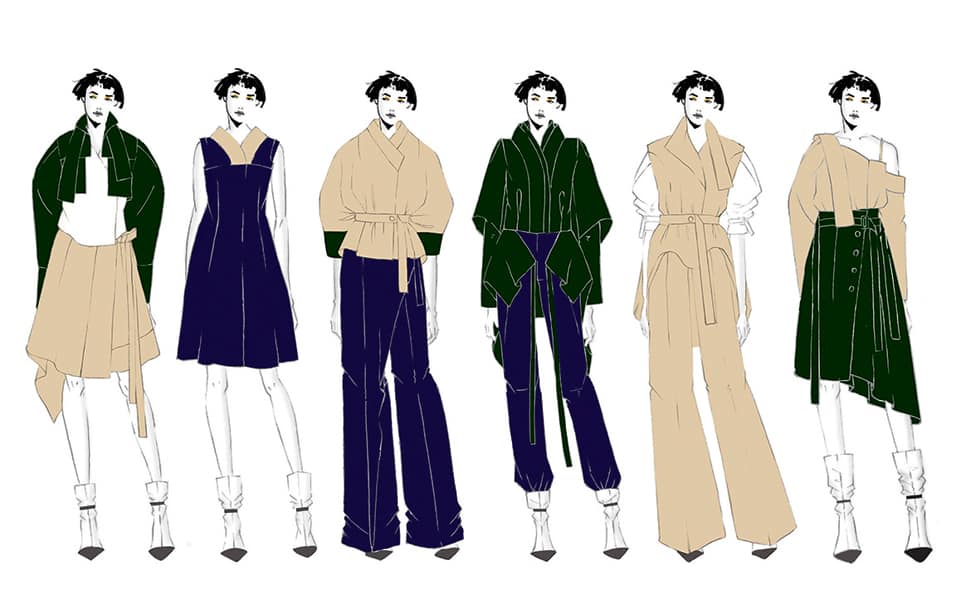 Jerry Lee, BFA Fashion Design, grew up in South Korea. Lee's collection reflects nostalgia for his home country and memories of his family. Lee used stiff fabrics to create volume, which represents an element of traditional Korean clothing and the clean lines of Korean architecture. He also referenced old family photographs for inspiration.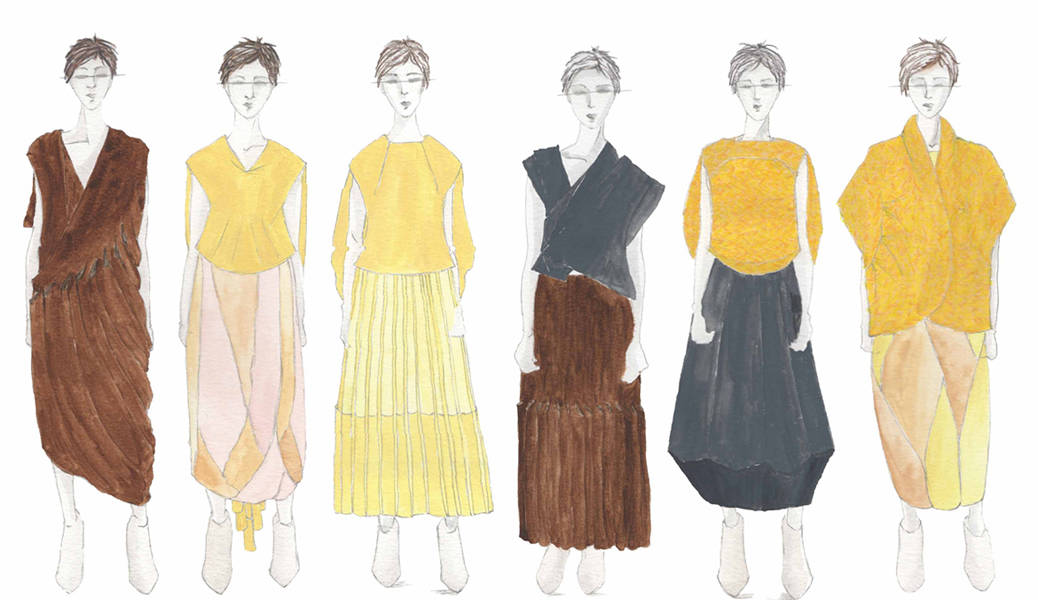 McKaela Christenson, BFA Knitwear Design, is from Wisconsin. Inspiration for this collection comes from gestures, body movement and the fluidity of the human form, as well as organic shapes of hand-formed pottery by dancer and artist Paulus Berensohn. Christenson incorporated 3D knits, used as a holding technique to create volume and shape.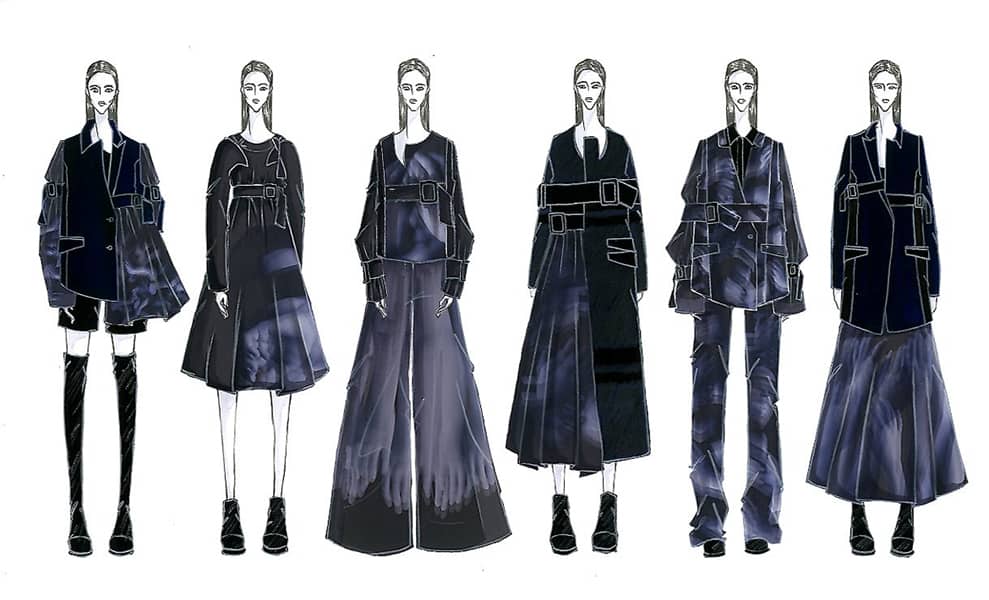 Felix Ryan, BFA Fashion Design, is from Indonesia. His collection is inspired by his personal sleeping patterns—nightmares, sleep paralysis and hallucinations. The prints he created are inspired by the unconscious and organic body movements while a person sleeps and dreams, highlighting both masculine and feminine design elements, as well as the eeriness of nightmares.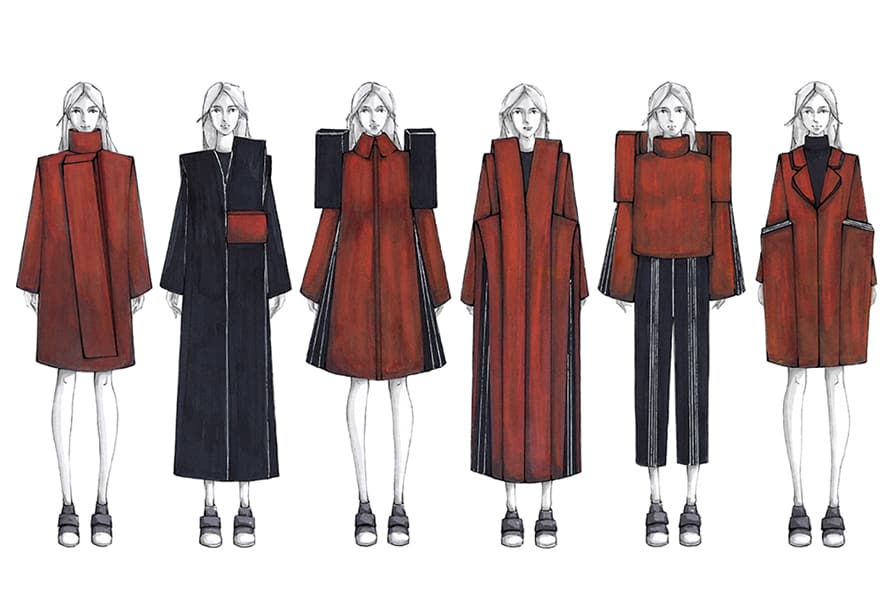 Zhouyi Li, BFA Fashion Design, is from China. For her collection, Li drew inspiration from Richard Serra's sculptures. She used wool and cotton fabrics in black and gradient rust colors. Li built simple, clean 3D shapes that appear to be slicing through the body. The enhanced colors are digitally printed on wool fabric.
HONORARY DEGREES
Honorary degrees were presented by University President Elisa Stephens to:
Alexander Fury, fashion journalist, author and critic. He is the chief fashion correspondent for T: The New York Times Style Magazine and editor of AnOther magazine. Fury was awarded the inaugural Editorial Intelligence Award for Fashion Commentator of the Year in 2014, was named one of InStyle magazine's 20 most powerful people in fashion in 2015, and is a member of The Business of Fashion: BoF 500.
Andre Walker, New York-based fashion designer who was, at the time, the youngest (age 15) designer to show at New York Fashion Week. Walker worked as a creative consultant for Marc Jacobs and Kim Jones at LVMH. His recent collection was noted as one of the 10 best of Paris Fashion Week. He also collaborates with Dover Street Market, the multibrand retailer created by Rei Kawakubo of Comme des Garçons.
Lutz Huelle, Paris-based fashion designer who began his career working with Martin Margiela on the Artisanal and Knitwear Collections. Huelle launched his eponymous label in 2000 and has been a senior consultant at MaxMara Fashion Group since 2000, and at Brioni since 2017.
The day prior to the Graduation Fashion Show and Awards Ceremony, guests Alexander Fury, Andre Walker and Lutz Huelle joined distinguished industry guests Trino Verkade, CEO of Sarabande: The Lee Alexander McQueen Foundation, and Sara Kozlowski, director of Education and Professional Development, Council of Fashion Designers of America, for a panel discussion hosted by Simon Ungless, executive director of the School of Fashion.
STUDENT AWARD & SCHOLARSHIP ANNOUNCEMENTS

YMA—Fashion Scholarship Fund, FSF $5000 Scholarships
• Hyun Nam (Nami) Kim, BFA Fashion Marketing
• Isis Bryant, BFA Fashion Product Development
• Junho Kim, BFA Fashion Merchandising
San Francisco-Paris Sister City Scholarship Exchange, Studio Berçot
• Lusha Wang, MFA Fashion Design
• Brianna Toomer, BFA Fashion Design
L'Ecole de la Chambre Syndicale de la Couture Parisienne
• Paula Miranda Do Amaral, BFA Fashion Design
• Felix Ryan, BFA Fashion Design
Graduate Fashion Week International
• Julie Eunju Kim, BFA Knitwear Design (selected to show her collection in London)
General Motors Design Scholarship Award, $1250
• Mariana Suarez, BFA Fashion Design
2018 Fashion Journalism Scholarships, $1500 Scholarship & Summer Internship at TRC Marketing
• Adriana Georgiades, MA Fashion Journalism