Back to Awards
Graphic Design Instructor Selected for 'Best of Napa' Award
Christine George covers a lot of ground in Napa Valley. In addition to her work as an instructor in the School of Graphic Design , she's an acclaimed fine artist, photographer and graphic designer…and still finds time to ride miles of Napa trails on horseback. And now she's added a 2015 Best of Napa Award to her honors.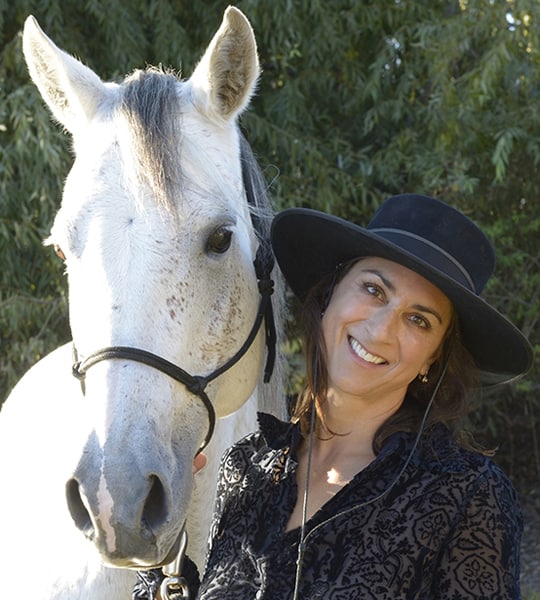 Having served as assistant director of Graphic Design for a decade, George currently teaches packaging courses while she pursues her passions—or as she puts it, "My truth: art and horses."
Her lifelong love of horses was aided by her mother, a teacher who "always made sure I was supplied with whatever I needed for creating images," George says. From pencils to charcoal, to découpage, to paint, she sought to capture the magnificence of the horse. Her mother arranged for her to display and sell at art fairs, she recalls, "and I would marvel at the way people admired the work and would buy it. 'Why?' I thought. I loved doing it, and that was all that mattered to me."
She earned a degree in graphics/packaging and has made her talents known in designs for many of Napa's famed wineries, olive oil brands and breweries…and she's an official track photographer for Churchill Downs Kentucky Derby and the Triple Crown. But she's also known for community-minded pro bono work for organizations such as the Napa Valley Art Association, which she recently rebranded, in addition to creating websites, apps, banners and more for the organization.
Beyond her extensive professional accomplishments, George's community spirit was a major factor in her selection for a Best of Napa Award. This annual award identifies those that have achieved exceptional success in the community, helping "to make the Napa area a great place to live, work and play."
Clearly, George recognizes she's fortunate to be in such a vibrant, beautiful place—and she makes the most of her opportunities, including teaching.
"Teaching allows me to give back my knowledge and inspire 'the youts,'" she says. "I'm honored to receive this award, as I pride myself on quality, and this seems to be one of the criteria for the award.
"As clichéd as it sounds, I'm living my dream life. I love living in Napa Valley with my family. I have my own studio loft, with skylights, on the river. I'm creating beautiful images, with whatever tool I choose—oil painting, photography, design—whenever I want. And then I can go ride my horse on 26 miles of trails. My clients are my friends, and we enjoy all aspects of the lifestyle, especially the food and wine here!"