The Academy's Landscape Architecture program is relatively new, and so is the gold medal—first place, Student category—that students from the school's first semester won at the 2012 San Francisco Flower & Garden Show. Their exhibit, titled "Urban Habitat," was proposed by undergrad Emanuel Gonzales and built by a team of six students.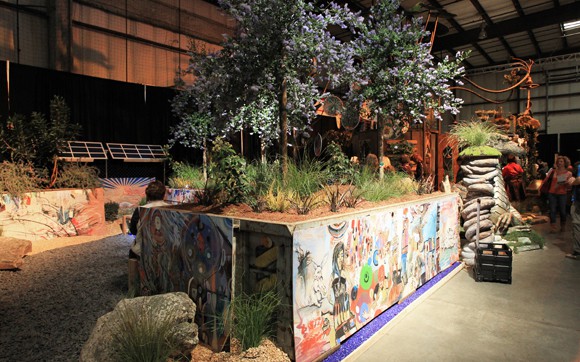 Guided by Academy School of Landscape Architecture instructor Yasmine Farazian, the student team created its own urban oasis, a 650-sq.-ft. installation featuring dumpsters, debris bins, recycled wood, glass, metal fences and other reused materials. In keeping with its green theme, all plants in the garden—most of them indigenous to California—were drought-tolerant varieties.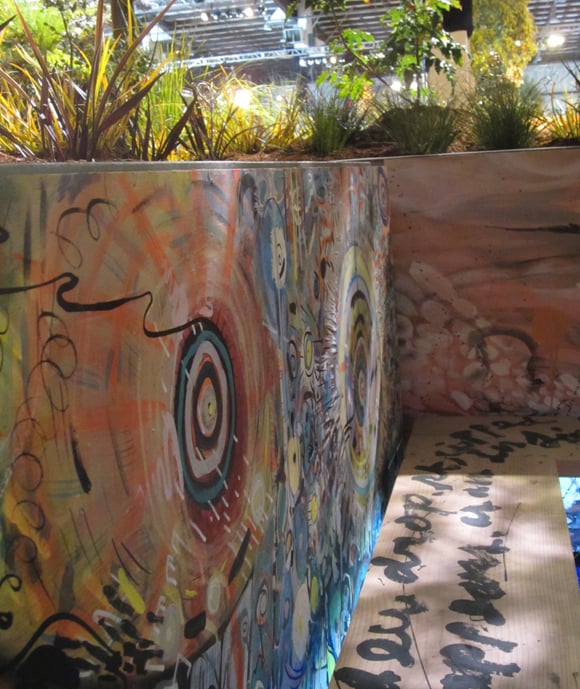 In addition to proposing and designing the final design for the garden, Gonzales also led the student team. Other student participants included Kelsey Wai, Jieun Han, Jia Zhong, Erin Millard and Kay Nguyen. All were BFA candidates in Landscape Architecture.
The garden included five debris dumpsters used as planter boxes. The dumpsters were enhanced with graffiti art panels that commented on the nature of urban life. The art panels, Farazian says, "graphically described diversity, urban architecture and the linkage of these elements to the greater environment."
Describing the garden, Farazian notes that plants in the garden were carefully selected for arid conditions and low maintenance.
"The larger trees planted in the garden included four beautifully blooming Ceanothus 'Ray Hartman' trees and three Arbutus 'Marina' trees," she says. "The shrubs and ground covers consisted of rosemary [Rosemarinus officianalis 'Irene'], which was picked for its drought-tolerant and aromatic qualities; Mahonia 'Golden Abundance,' used for its color and texture; and Manzanita or Arctostaphylos 'D. H. Mcminn,' also used for its color, texture and drought tolerance.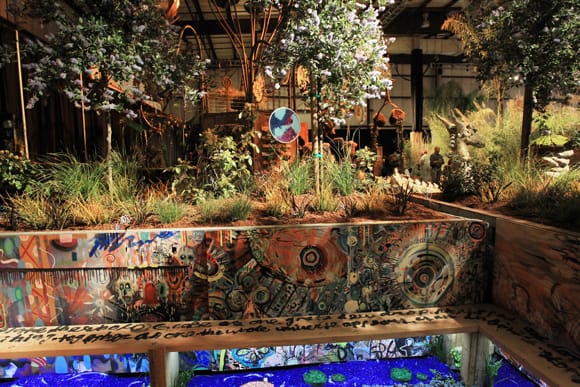 "In addition to the shrubs, native grasses such as Carex testacea, Lomandra longifolia 'Breeze,'Libertia ixioides 'Goldfinger' and Phormium x Platt's Black were used to give the ground plane a soft yet striking texture."
School of Landscape Architecture Director Heather Clendenin had high praise for the students, who bested teams from other universities. "It has been extraordinary to watch these students work together and develop strong and open lines of communication with one another…even under the duress of spending many hours on this while also going to school full time. The great thing as well is the opportunity this process has given the students to witness and participate in the transition from ¼ in.=1 ft. scale models and drawings to a full-scale project. This hands-on approach to design is one of the components we emphasize in this program.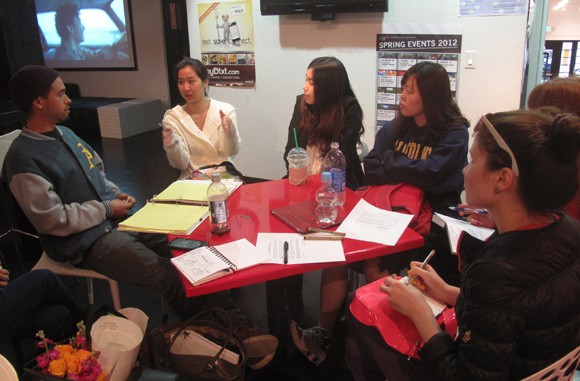 "And then there is the metamorphosis of individual students: Given the opportunity, they are able to really test themselves in new situations and define their relative roles in the design process. Having the opportunity to deal with material suppliers, and select rocks, plants and the various other materials, has been an enriching experience for them."
Themes of sustainability were prominent in this year's garden show. According to the San Francisco Chronicle, "The 27th San Francisco Flower & Garden Show brought out the scavenger in participating landscape designers, who packed a lot of punch into the 20 compact floor displays last week at the San Mateo Event Center. Gold medal winners were heavy on garbage bins, stone, plastic, concepts, symbolism—doing right by the 'Gardens for a Green Earth' theme—fodder that can transform your outdoor living areas into paradise. And don't forget the graywater for crops that will nourish your body and flowers to feed your soul."