Back to Awards
Meyer Scholarship & Awards Go to Industrial Design Students
In April, a group of Academy faculty, students and guests gathered among the gleaming vintage cars at the university's automobile museum for a ceremony to announce the winner of a design competition for the $10,000 Edwin T. Meyer Scholarship. The five finalists included School of Industrial Design students Max Benon, Kevin Chen, Mitchell Galik, Joshua Reese and Arindra Singh. It was the fourth year in a row that Industrial Design students participated in the competition.
The scholarships are made possible by a charitable trust established in memory of hot rod pioneer Edwin T. (Bud) Meyer by his longtime attorney and trustee Mark Eskander.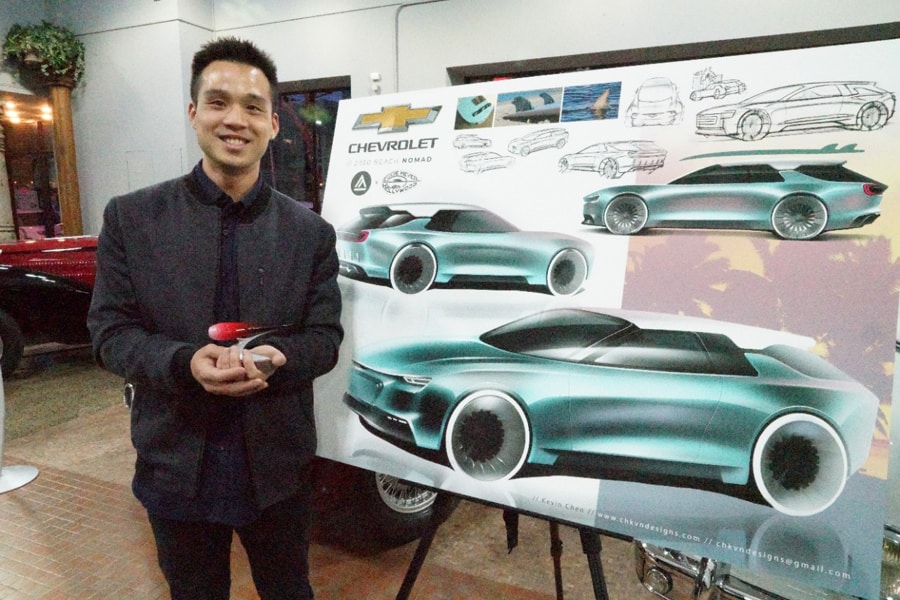 "The designs the students submitted this year are absolutely outstanding," said Eskander at the ceremony. "It's a privilege to be here and see what these young minds are coming up with. I know if Bud were alive, he would be over the clouds with this magnificent car collection, the students and the work that's coming out of the design studio at this school."
Academy President Elisa Stephens expressed her gratitude to the Edwin T. Meyer Trust for its generous gift to the school. "The Meyer family has become part of the Academy family," she said. "We thank you and are very grateful."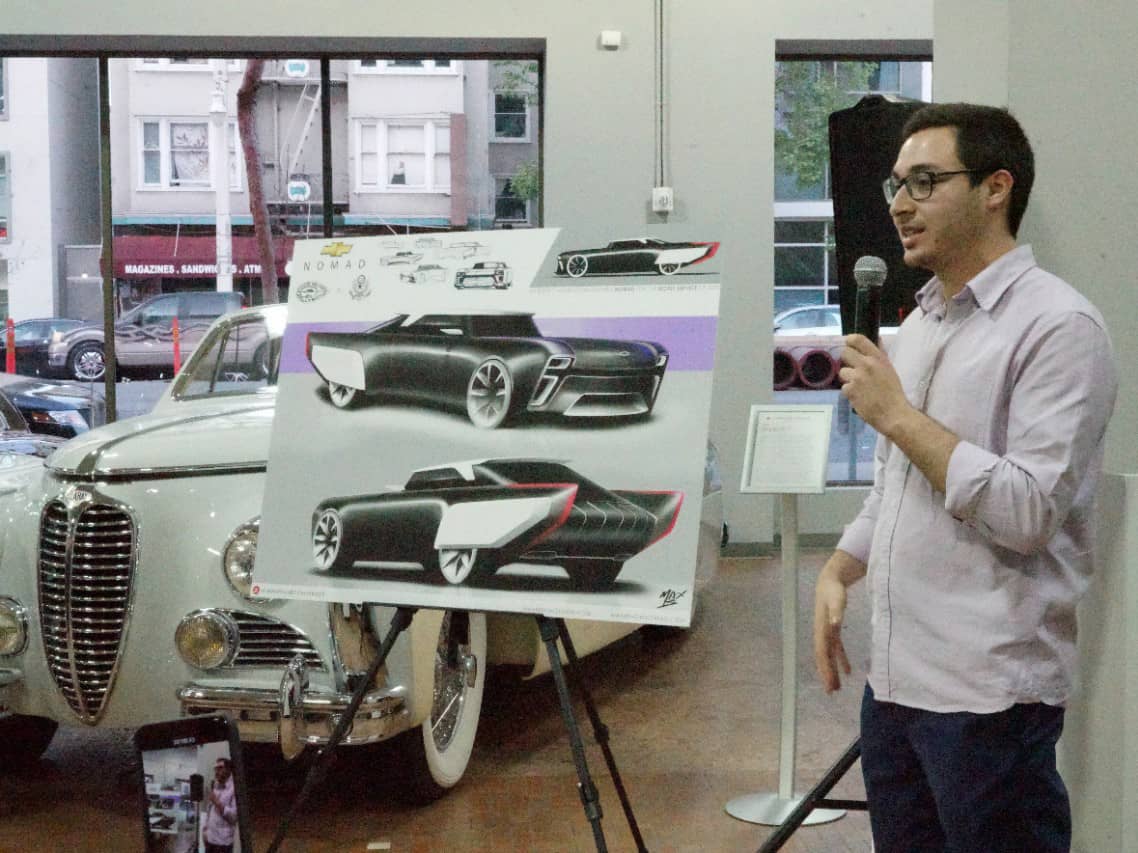 This year's competition called for participants to design modern versions of the classic Chevy Nomad, an iconic station wagon made off and on from 1955 to 1972. After researching the Nomad, each student came up with a unique interpretation of what a 2030 Nomad would look like…and the features discerning drivers of the future would demand in such a car.
Retired General Motors (GM) designer and executive Dick Ruzzin had the difficult task of selecting a winner. Ruzzin's impressive career included stints as director of design for Chevrolet and heading the Cadillac design team. He's also the author of the book Bella Mangusta and numerous magazine articles. Before announcing the winners, Ruzzin shared some interesting highlights from his career (he was School of Industrial Design Executive Director Tom Matano's first boss at GM in 1974). Ruzzin also talked about the importance of designers and what they contribute to the world.
"A designer does what no one else can do," said Ruzzin. "A designer makes a convincing drawing. When I say convincing, I mean you look at it and you have an undeniable understanding that a sketch of something that doesn't exist can be made. That's what these young people are learning to do here at this school."
Ruzzin then invited the finalists to present their designs, which can now be proudly included in their industrial design portfolio, and briefly describe the thought process behind them. When the students were finished, he announced the winner of the $10,000 scholarship: A visibly stunned and excited Chen.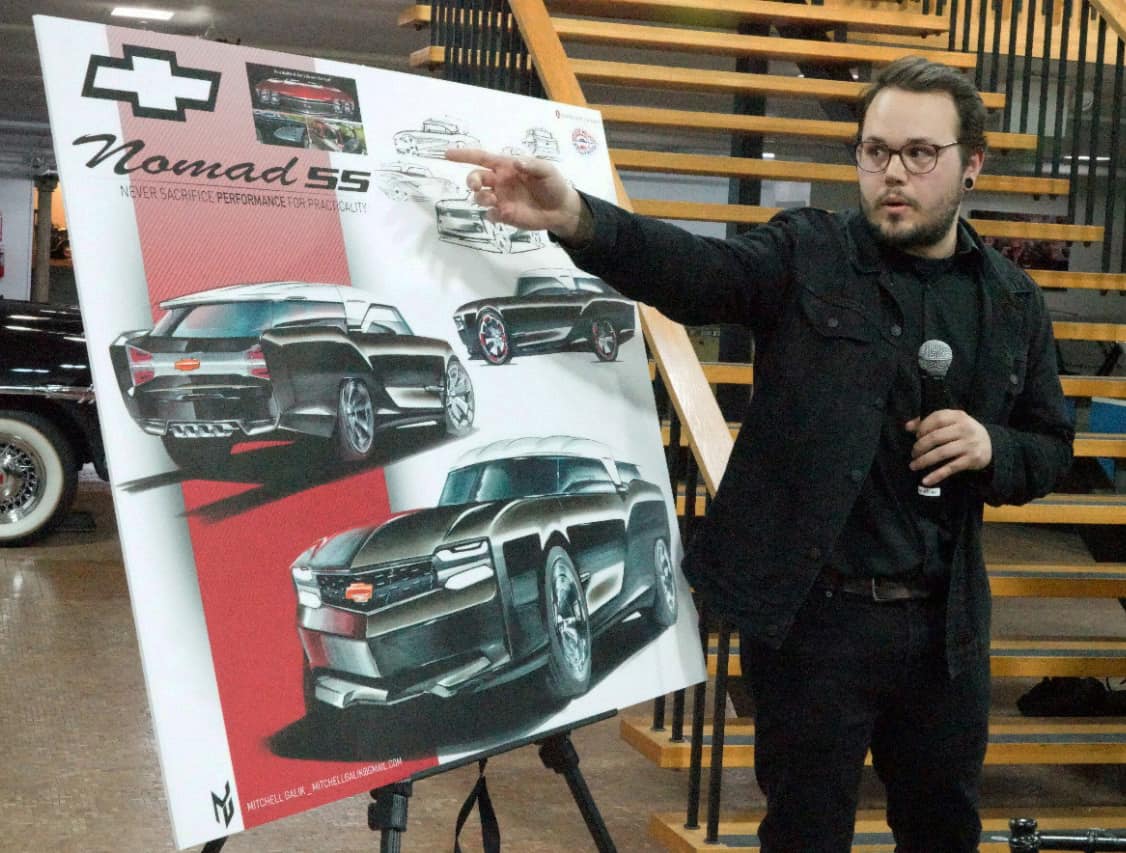 "Honestly, this is really unexpected, because if you look around the room, the boards speak for themselves," said Chen, who is graduating in 2019. "The competition was very stiff. Having something like this fall in my lap is fantastic. College is expensive, so it's a huge deal to have this for my last semester."
Ruzzin praised Chen's sporty, aquamarine Beach Nomad 2030 for its simplicity, noting that the original Nomad was "very, very simple." He said Chen had succeeded in coming up with a fresh take on the vehicle while maintaining the integrity of the classic Nomad.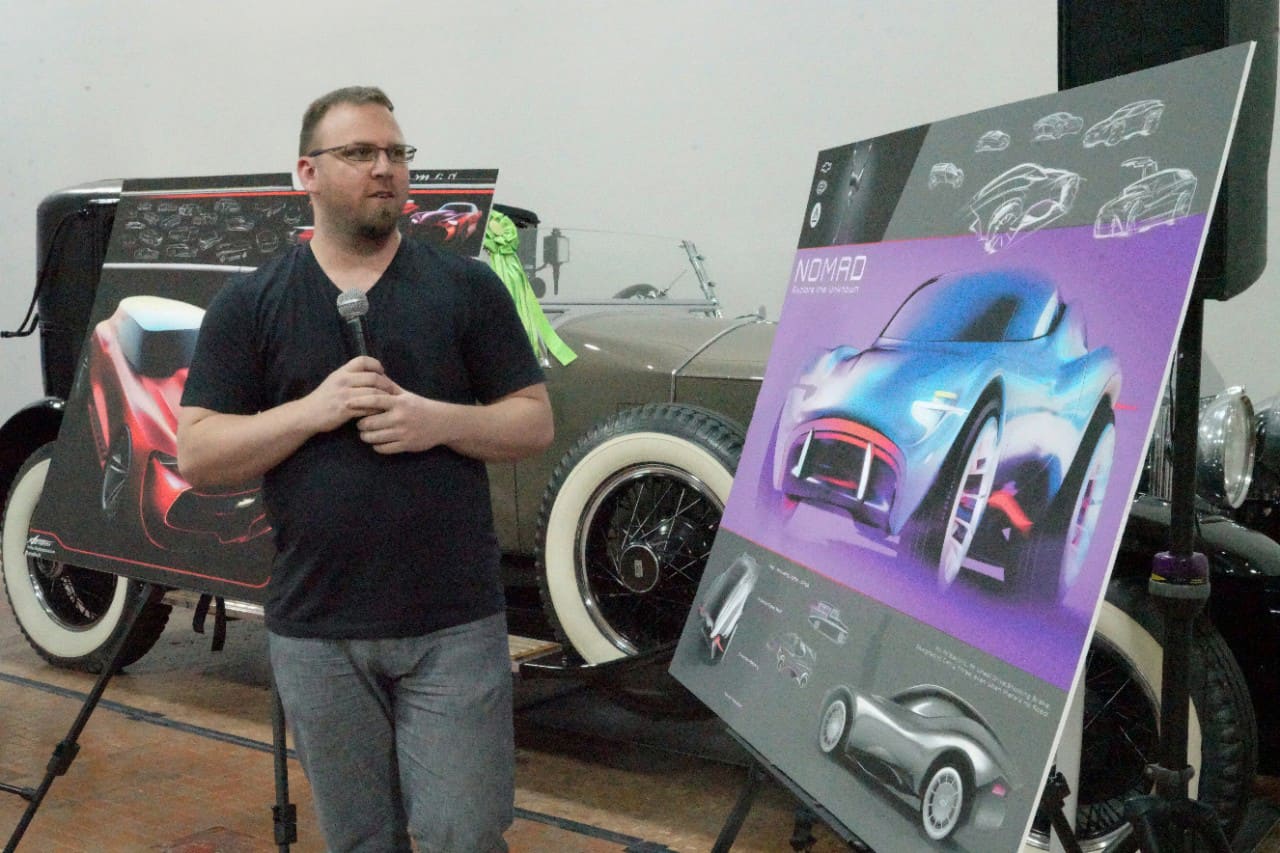 Ruzzin selected Benon's stylish Secret Service Nomad and Singh's sexy but practical red roadster as the two runners-up. Benon and Singh, along with Galik and Reese, each walked away with $1000 prizes for their hard work and creativity.
"All of you should be proud of what you've accomplished," Ruzzin remarked. "Anyone can see there's a real fine line between all of these, and so everyone is to be commended for their efforts."