Academy of Art's Fashion School Under Spotlight in COVID-19 Era
San Francisco, CA, June 3, 2020 – Academy of Art University's School of Fashion earns attention from the press for their efforts making adjustments to learning under the "new normal."
Post-pandemic. New normal. Distant learning. These are the latest catch-phrases that people will be hearing a lot more of in the next several months, perhaps even years. Everyone is trying their best to adapt to the changes, students and teachers included. The difference with the Academy of Art University's School of Fashion, though, is that they're doing it in style.
Simon Ungless: Fashion Shows are a Dinosaur
School of Fashion Executive Director Simon Ungless gives his no-holds barred assessment on how COVID 19 has compelled discussion for making changes to outdated systems of learning in this piece from Front United. "We no longer have the luxury of complaining about outdated systems yet not doing anything about it."
Case in point: graduate fashion shows. For Ungless, it's time to pivot to a more student-centric approach. "What we are doing is looking at what the students nmeed skill-wise for graduation and employment based off of their individual goals and then working backwards to create a curriculum that serves that."
Learning how to work, source and communicate in an online environment is incredibly important as more companies and jobs go this way.

– Simon Ungless, School of Fashion Executive Director
Fashion Design Student Turn Apartments Into Design Studios
As schools shut down for the shelter-in, many art and design students have had to make creative adjustments to execute their designs. Academy of Art's fashion school students, Aishwarya Gajare, Makayla Godden, and Donovan Smith, share their own stories with San Francisco Chronicle about bringing their work into their homes and how this shift in circumstances and environment also impacted their creative process.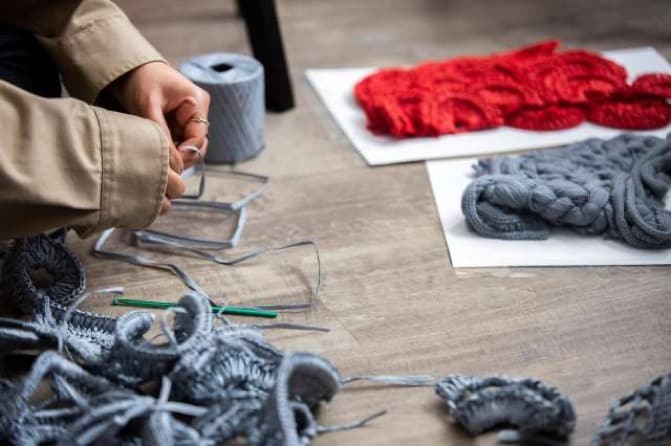 Academy of Art's Editorial Styling Senior Students Produce Three Magazines in Quarantine
Arts Threads peeks into how graduating students of the School of Fashion have kept busy during the quarantine by finding ways to collaboratively publish three fashion editorial magazines. The project, which was initiated before the quarantine, pushed through and was successfully completed online. It involved students all over km the world, with some doing it from hotel rooms in China.
Academy of Art's Fashion School 2020 Grads Brace for Industry New Normal
Academy of Art's fashion school students always looked forward to the Graduation Fashion show, the art school's annual showcase of the best of the best student work. Due to the unfortunate circumstances, however, rearrangements have to be made, not just for the fashion show, but across the board, including how they're going to enter the industry with a fresh pair of eyes—and gloves. WWD checks in with fashion school grads and how they are pivoting towards a pandemic-changed future.
---
About Academy of Art University
Established in 1929, Academy of Art University is one of the largest private accredited art and design schools in the nation. Located in San Francisco, the epicenter of culture and technology, Academy of Art University offers more than 135 accredited degree programs spanning 40 areas of study, including entertainment arts, advertising, fashion, architecture, game development, music, communication, photography and more. For more information, please visit https://www.academyart.edu.