Six months ago, the thought of San Francisco going on lockdown because of a global pandemic would have been nothing but an exciting but improbable event straight out of an action-packed movie plot. Unfortunately, it is as real as it can get today, and this is as far away from a fictional narrative as possible.
For many, the lockdown is an abrupt disruption, an overturning of the only everyday normal they ever knew of. Offices closed, plans were put on hold, and classes were suspended. But not for Academy of Art University.
See, even before the threat of a global pandemic came to the forefront of everyone's consciousness, this San Francisco art school has long been prepared for a contingency in the form of its online education program.
Already Logged In
True, the online component in its art and design programs were not specifically designed for a global pandemic scenario, but as things are unfolding, it appears it's working just as perfectly for it, anyway.
In this special feature by NBC Bay Area, the Academy's online education program is put under the spotlight, highlighting the school's online readiness, and its students' reception to it.
"[In fact], I would argue we were probably the most prepared (among art and design schools)," said Sue Rowley, chief academic officer at Academy of Art. "If we were just trying to start (putting learning materials online) right now, it would be next to impossible."
Rowley has reason to be confident in the system. After all, the Academy has been providing online degree programs since 2002. And the Academy has been very careful in making sure that online students will have access to the same quality of learning and resources as their on-site counterparts. That's why the same set of instructors cater to both student types.
Ready Despite the Surprise
Still, ready as the Academy may be, the full transition to online classes for the rest of the semester definitely came as a surprise.
"Five minutes of hysterical laughter. Five minutes of hysterical panic."
That was the reaction of Chuck Pyle, director of the School of Illustration, when he first found out the entire campus will shut down. But just like Rowley, he is confident that the transition will go smoothly. "We have spent close to 15 years building an independent, free-standing, art school-oriented way of teaching art online, across all our majors."
Nowadays, like most everyone else, he works from home, delivering his classes through Zoom. He may not be in the same room as his students, but it's just as effective for providing feedback.
"It's instantaneous. I can actually give a deeper, more meaningful critique of any sketch at any stage, and in a much more condensed timeframe," he explained. He does this by taking the students' uploaded work, and then drawing over it electronically to provide his input and suggestions.
"I think it will even end up transforming how we teach our on-site classes once this is behind us, because it has many options for a more exploratory way of teaching things in real time."
The Academy Brand of Learning is Always Forward-Looking
To date, as much as 86% of Academy students living in dorms have decided to stay. It's a number in flux, though, as some decide to go home. For those that remain, it's the most practical choice to make at this point. It also helps that they have access to the tools and equipment they need, thanks to digital design workstations set up in the lobbies of their residence halls. Those who chose to go home can borrow equipment from the labs to bring with them for the rest of the semester.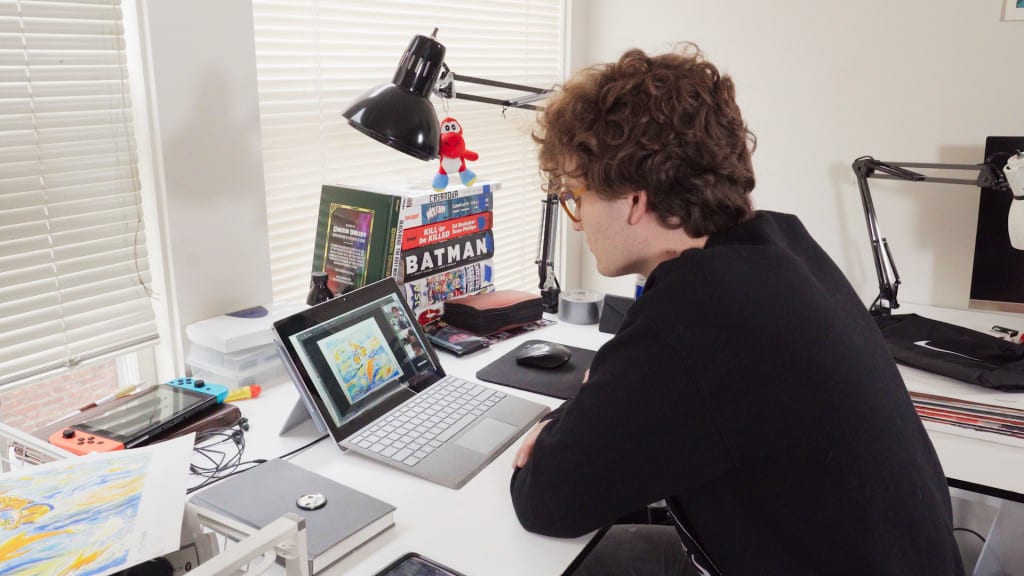 Indeed, it's an odd, perhaps somewhat awkward, adjustment that people have had to make in light of recent events. But the truth is that it's to the students' advantage to learn how to manage digital transactions of their work as early as now.
After all, the professional reality does require the same level of versatility and flexibility when it comes to delivering requirements.
Even Chuck Pyle agrees.
"I haven't seen an art director face-to-face in well over a decade," Pyle admitted. "Everyone delivers things digitally."
---
Watch NBC's special feature on Academy of Art University's transition to online classes below: