Back to Awards
Academy Artist-Athletes Honored by NCAA for Community Service
For Academy of Art University student athletes, the entire fall 2015 semester was a season of giving. Now their efforts are being recognized as among the leading community service efforts among U.S. colleges and universities through the NCAA Team Works Competition—placing first in all of NCAA Division II and third in the nation among all schools in Divisions I, II and III.
The NCAA Team Works Community Service Competition is a partnership of NCAA Team Works and Helper Helper, a mobile app and website that helps organizations track community engagement efforts.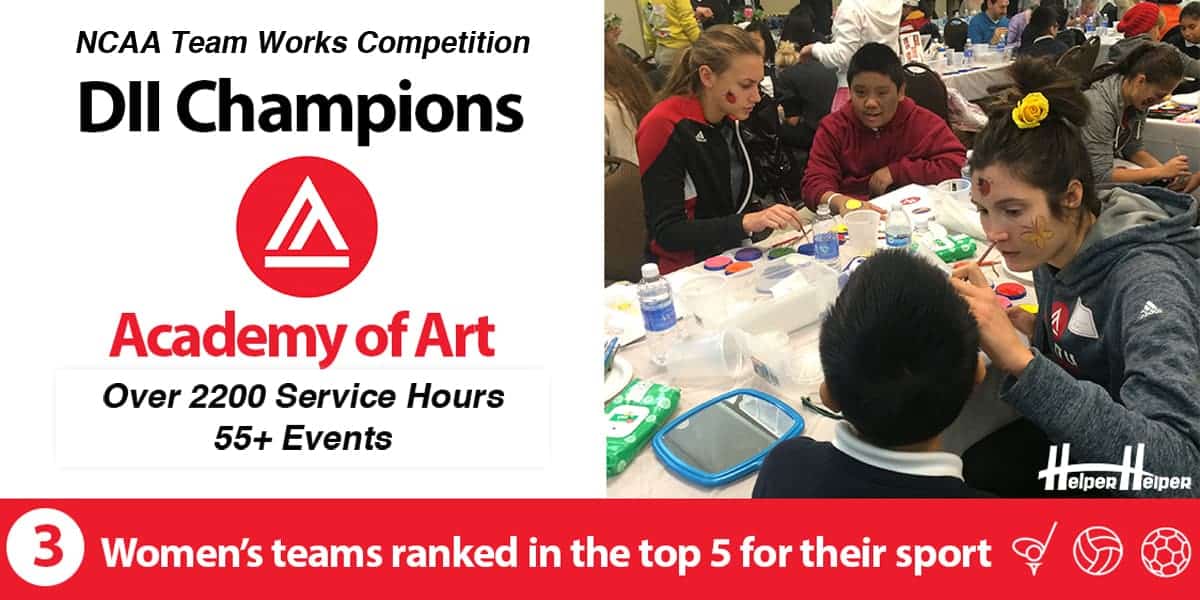 "Community service and engagement have always been a priority at our university and with our Athletics Department," says Colin Preston, former director of Athletics at the Academy. "Being awarded the top Division II athletic department in the Helper Helper challenge is a great honor. The real winners, however, are the community members we assisted this semester."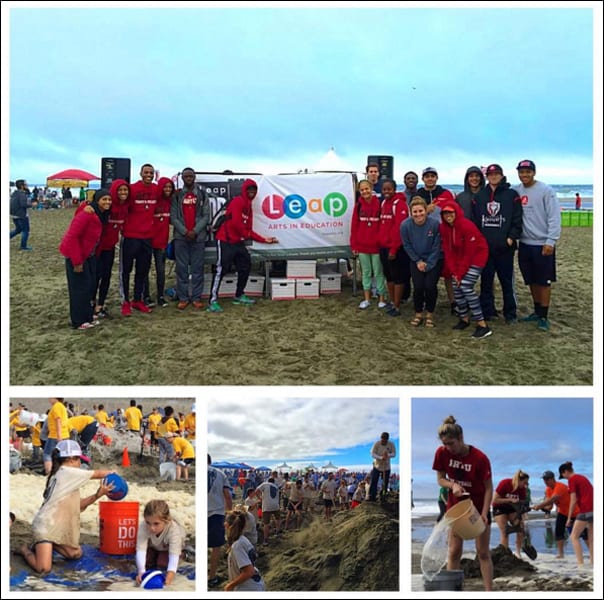 Academy student-athletes showed how to balance campus life with community service by devoting more than 2200 hours to serving Bay Area communities during the fall semester, including commitments to Redding Elementary School (San Francisco), Susan G. Komen Race for the Cure, the San Francisco Mayor's Cup charity golf tournament and many other organizations, events and causes.
Continuing a relationship that began in September 2014, the Urban Knights made numerous appearances at Redding Elementary School in downtown San Francisco, teaching and spending time with a culturally, linguistically and ethnically diverse group of students.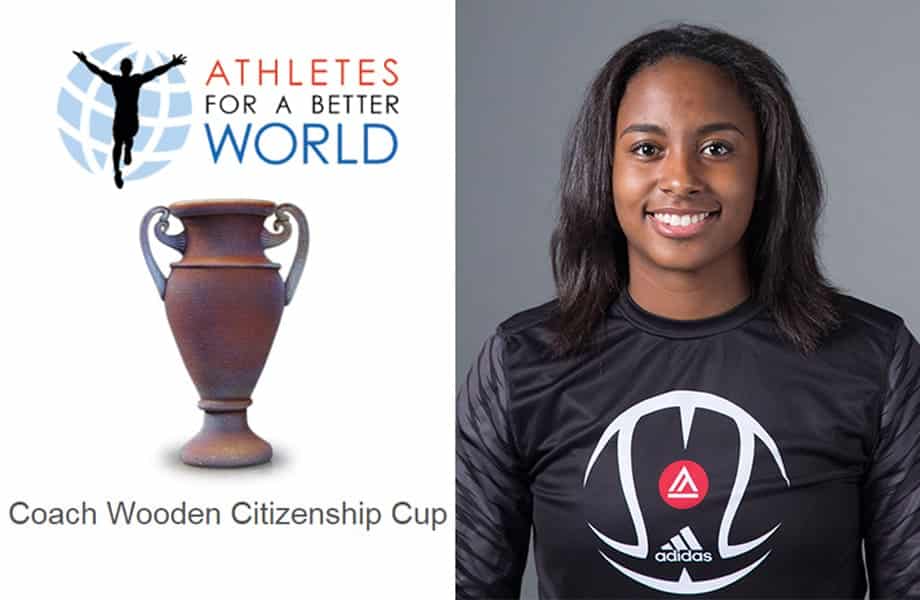 Speaking of her experiences with Redding students, basketball and track and field standout Jasmin Guinn says, "Working with Redding Elementary has been a very fulfilling opportunity. We were able to work within a community of children who come from a variety of backgrounds and be role models to them. It was amazing to see how much they looked up to us and how they looked forward to seeing us every week.
"I personally worked with kindergarten in an 'engineering for kids' program. The students looked to me as their teacher, and every time I stepped into the room each and every one of those children's faces lit up. It showed me how much impact I could have on a community by just giving a couple hours of my day to someone in need. A little help really does go a long way, especially for young kids such as these."
Guinn was recently honored as a semifinalist for the 12th Annual Coach Wooden Citizenship Cup presented by Athletes for a Better World, an organization dedicated to positive mentoring of young people in sports. Regarded as the highest award in College sports, the Wooden Cup is unique because it is open to all athletes in all sports, recognizes academic as well as athletic accomplishments, and is awarded to those who have made the greatest difference in the lives of others.
In her three-plus years at the Academy, Guinn has embodied discipline, artistic passion and leadership. She has earned numerous academic honors in pursuit of an BFA degree from the School of Animation & Visual Effects, and has participated in PacWest championships in both basketball and track and field while exemplifying the value that student athletes can bring to community service.
Commenting on Guinn's leadership, women's basketball head coach LaNay Larson said, "It's an honor to have one of my student athletes not just nominated, but be a semifinalist for an award named after one of the best coaches and motivators of all time. I have never had an athlete with such natural ability who has been so coachable and made such big strides over a career. She is someone who works tirelessly on both her game and her craft, which makes her such a well-rounded and amazing person."
In other athletics news, Academy Athletics was named one of the country's 25 finalists for the 2016 Division II Award of Excellence, presented for an activity or event that exemplifies excellence in the areas of learning, service, balance, passion, sportsmanship and resourcefulness.