When beloved still life painting instructor Frank Lanza announced his retirement from the School of Fine Art recently, it was hard for many to swallow. At 84, he deserves to take a break. Yet, in many ways, it's unthinkable: He's been affiliated with the Academy of Art University since 1949, when he enrolled in founder "Pappy" Stephens' life drawing class.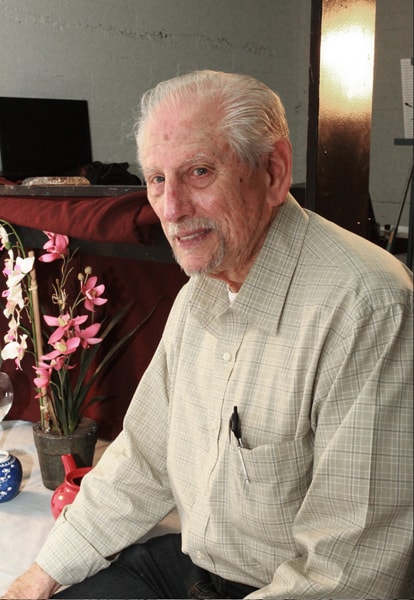 Sixty-five years later, Lanza's legacy is that of a lifelong professional artist, one who never stopped learning, taking classes, and sharing his methods with students. And though he doesn't readily bring it up, he's also generous in his philanthropy as well: The Lanza Awards, introduced 10 years ago at the university's Spring Show, have been funded by thousands of dollars of his own money.
A San Francisco native, Lanza never had a chance to consider a path other than art. Growing up in a world without television, his mother would hand her only child a notepad and pencil to keep him entertained. In junior high, his art teacher passionately encouraged him to draw. By high school, he was taking after-school jobs doing lettering for grocery store flyers and coming-attraction cards at local cinemas.
Lanza entered the Academy out of high school, relishing the live drawing classes and the opportunities to learn from older students—namely ex-G.I.s. reinventing themselves after World War II. But he would leave after one semester to fulfill his own duty in the Air Force, making charts and graphs for nuclear testing results at the Nevada Proving Grounds.
Years later, Lanza returned to downtown San Francisco to work at as an illustrator. After working at two studios, he became self-employed.
"There were other illustrator friends that were mostly freelancing, and I thought I should give it a try, because you were independent. And if you hooked up with six clients that liked you and your work, you could make a decent living," he recalls.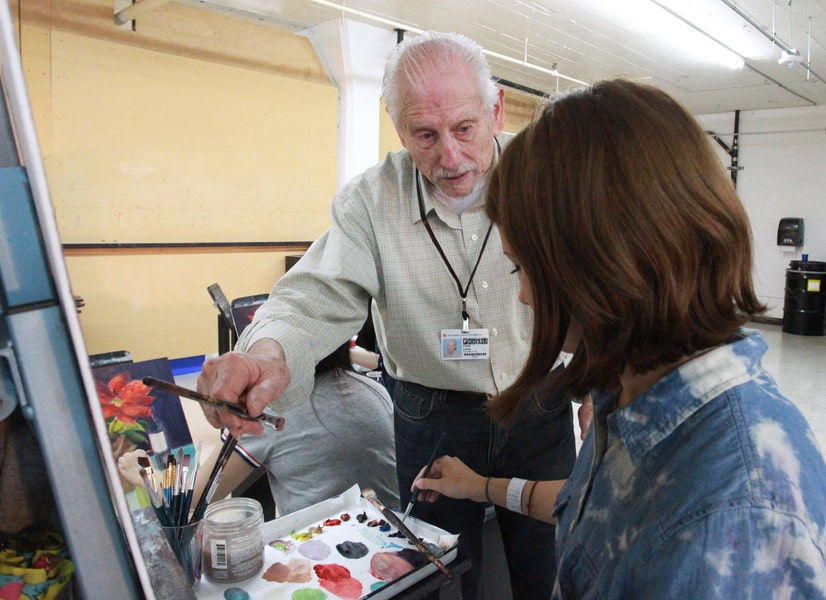 Lanza ended up running his own studio for 36 years, with clients ranging from McCann Erickson to Del Monte Foods and Washington State Apples.
In 1972, he taught his first course at Academy of Art's School of Advertising, demonstrating how to do storyboards and layouts with a new favorite ad agency medium: Magic Markers.
"The marker was a transparent medium and it flowed much like watercolor—and it was easy to adapt to," explains Lanza.
Carol Nunnelly, now on the Fine Art faculty, was one of Lanza's early students.
"He taught us to paint with markers. This was a departure from 'coloring in a flat way.' Demos done by Frank enabled those of us who took his class to learn professional advertising techniques from a painterly fine art way of working," Nunnelly says.
In time, the marker method became obsolete and Lanza switched his focus to still life painting.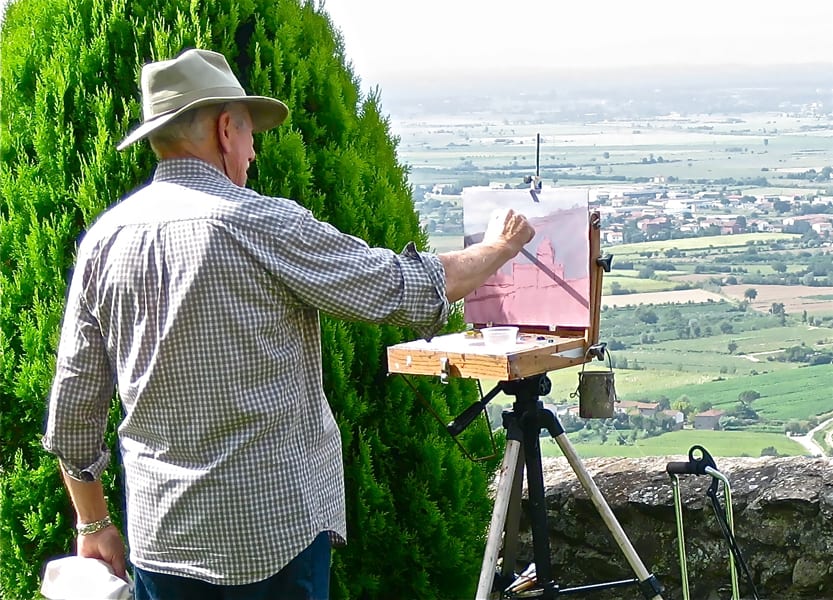 Retiring from Teaching, Still Painting
On a rainy December morning, Lanza gave his final critiques to a large group of Academy students.
Walking from painting to painting with a stride that belies his age, he noted contrasts, shadowing and the varying "temperatures" of the works, which ranged from potted poinsettias to bowls of fruit and bottles of wine.
His comments were thoughtful, direct and encouraging: "If I was to be critical in any way it would be just a different variation of colors down there"…"good use of shadow"…"it's fun to look at"…"simple composition, but very well done"…"over the years it's one of the few candlelit scenes that is successful."
It's hard to know the exact number of students Lanza has taught—certainly more than a thousand—but he seemed to have unlimited time for each one.
"He's superb with young beginning students," says Craig Nelson, executive director of the School of Fine Art—Painting. "They look at Frank in terms of his age, and I think they listen more intently than they might with a younger instructor. There's a firmness and a gentleness at the same time."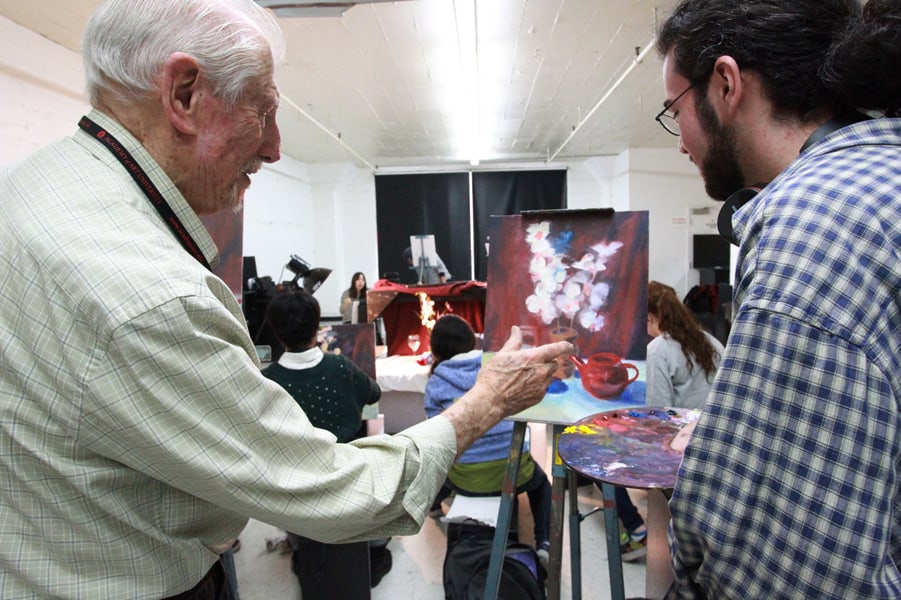 Anisa Heins, a BFA student in the School of Visual Development, was attending Lanza's final class. She admitted she was an "awful" painter before his guidance.
"He told us on the first day to 'loosen up and to just enjoy painting,' and he's absolutely right because painting is incredibly hard to do if you're tense and stressed about something," she says. "At first it was really hard to do, but Frank reminded us about it constantly and gave us encouragement, and because of that we finally started to actually listen to—and understand—what he was trying to teach us.
"When Frank told us we were his last class, we all sadly laughed a little, because we'd already told our friends to take his class the following semester," Heins adds.
School of Illustration student Quinn McSherry calls Lanza's style "remarkable."
"He has completely transformed the way I look at painting," she says. "His grasp of color theory is incredible, and his teaching style is straight to the point. Frank will always tell you exactly what you need to work on to turn an ordinary piece into an extraordinary piece."
In retirement, Lanza will continue to donate works to the annual Faculty and Alumni Fine Art Auction and provide the Lanza Award to promising students. The monetary awards range from $500 to $1500, and will continue "as long as I'm alive," he says.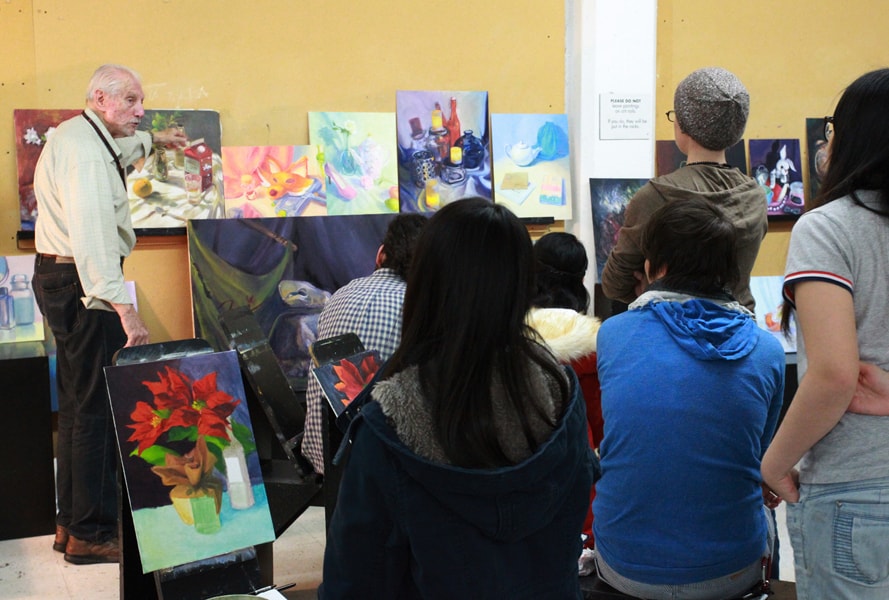 And retirement, like everything that has come before, will be all about art. Lanza is renovating his home art studio and has plans to attend local painting workshops and Craig Nelson's workshop in Italy in June.
In his thoughtful and unhurried style, Lanza reviews his to-do list—but also leaves a bit of mystery.
"I'm looking ahead to what's next—I'm retiring from the teaching, but I'm still painting."
And should Lanza change his mind, there will always be a classroom for him at the Academy, according to Chairman Emeritus Richard A. Stephens. "In all my life's experience at the Academy of Art University, one of the most memorable is the friendship of Frank Lanza," says Stephens.
"I have always respected the man and his work, and enjoyed his company. He has been an excellent instructor, a fine influence and a perfect gentleman in all of his experiences at the Academy of Art University. Through all the years I have known him, I have counted him as a friend and have regarded him highly in every way. I am shocked he is retiring; he is still a vibrant and knowledgeable artist. I beg him to stay, but of course the choice is his."