Animation & Visual Effects Facilities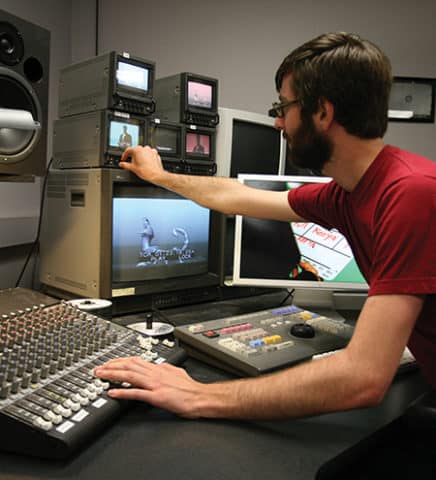 The Academy's facilities are designed to prepare you for a career in the Animation & Visual Effects industry, with equipment such as the green screen to help you achieve your desired effect. Our hands-on learning environment creates a culture that supports curiosity, investigation, and production.
Online students are also hands-on, as they engage in discussions and activities through the online platform, social media, and real-time streaming of our events. Both online and onsite studio environments are equipped to give you the skills you need to create the Animation & Visual Effects career of your dreams.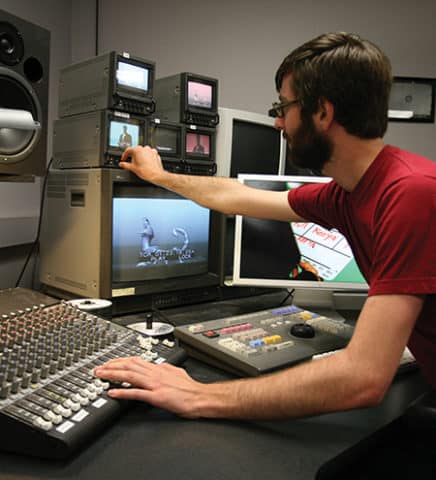 Computer Lab
Use the latest high-end PC and Mac workstations, along with Cintiq tablets, scanners, and a large format printer.
Remote Lab (rLAB)
The Remote Lab (rLAB) at the School of Animation and Visual Effects enables students to transform students' own devices (e.g., laptop and desktop computer) into a powerful lab workstation that equips with major VFX software (Maya, Nuke, Mari, Substance, Zbrush, etc.).
With the rLAB there's no need to purchase a high-powered computer, nor is there any need to buy tons of expensive software. All you need is a stable internet connection.
Green Screen Studio
You'll use real-time composite monitors and a full array of lighting equipment, including grid lighting, scrims, gel frames, green props, key lights, and more to bring your creations to life.
Video Lab
Edit and process video with Mac workstations with Final Cut Pro for input and output, a control room for production and high-end transfers, and rent cameras, lenses, and lighting kits for all your assignments in our video lab.
Voice-Over Room
Record voice-over tracks and sound effects on our 4-track ProTools console in our industry-standard sound booth.
Cintiq Lab
Wacom Cintiq tablets are available for both in-classroom and lab-based projects and allow students to draw effortlessly in a digital format.
Digital Workstations
Our MacLab offers the latest digital workstations, software, and new media technology.